Aside from Meryl Streep's legacy and architecture resembling Hogwarts, Vassar College captivated me most as I heard students tell their amazing success stories. After receiving my acceptance letter, I couldn't help but wonder about the path that I would carve for myself. What would I accomplish? What would my narrative be? And what will this liberal arts experience prepare me for? Honestly, I'm still trying to figure that out.
This past year has led me on a winding path that started last August when I left my home in Port Washington, New York. Come September, I settled in to Vassar in Poughkeepsie. Right now, I'm writing this article in Penn Station where I commute to and from my summer internship at an on-demand storage startup called MakeSpace.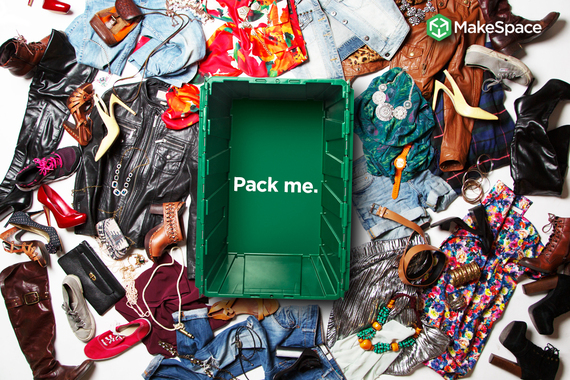 My journey to MakeSpace began a few months back when I, on a whim, decided to apply for their marketing intern position. As a rising sophomore among a sea of older, and most likely more experienced applicants, and knowing little about marketing, it felt like the cards were against me.
With a little help from Vassar's Career Development Office, I updated my resume, wrote a cover letter, and applied to MakeSpace with zero expectation of receiving a reply. Two weeks later, I somehow landed an interview at MakeSpace HQ.
When I stepped off the elevator and into MakeSpace's loft office, nervousness trickled through my body as I wasn't sure what to expect. But that feeling faded when Stanley, the office puppy, along with nearly half of the employees welcomed me.
Minutes later, I sat down with the Director of Talent for my interview. My resume, which was filled with work experience and extracurricular activities, and my cover letter, which showed how MakeSpace could benefit from hiring me, got me through the door. But what would get me through the actual interview, and hopefully the internship?
During my interview, I realized that there's no magic formula to get a marketing internship at a startup. But if you're a liberal arts student like me who has the same uncertainty I had, know that there are steps you can take to increase your odds, despite not having a traditional marketing, advertising, or journalism background. Here are the five ways I used my liberal arts education to secure a marketing internship at MakeSpace:
1. Generate genuine dialogue
It was tempting to present myself as someone I was not: a marketing guru. But with only one chance to do me, I pitched my qualifications from a more realistic angle: one that incorporated sociology research, lessons I learned in international politics, and traditions I analyzed in religion class. Today, I use these skills to research, analyze and pitch potential partners and content opportunities to MakeSpace's marketing team.
2. Think critically
Consider what you know, what you don't and contemplate the so what. After the Director of Talent came the VP of Marketing. He cut to the chase, "So what experience do you have?" With only a few seconds to think, I brought up my journalism experience and passion for networking with people -- two vital skills I'd need to pitch ideas, write blog posts, and help secure new marketing partnerships for MakeSpace.
3. Dig deep
Considering the last time I went on an interview was during my college application process, I wasn't sure how to prepare for one at a startup. I tried to recall if there was anything in particular that helped me prepare for interviews in the past. I remember relying on the daily newsletter theSkimm that kept me up to date with current events in under five minutes, and so I read their latest edition on my way to MakeSpace's office. Low and behold, it included a story about MakeSpace, which I mentioned during the interview to show that I was interested in working there and learning more about the company's press outreach.
On top of that, I did something my professors encourage us to do in just about everything, and that's to dig deep. Instead of just reading MakeSpace's website and blog, I tried to come up with ways that I could help them grow their college student customer base.
I also asked my parents, their friends, and my friends' parents about their experiences with using traditional self-storage. The majority of their experiences were bad, which I referenced during the interview when I talked about how much I admire MakeSpace for solving that very problem.
4. Wear multiple hats
If you want to work at a startup, you have to be open to wearing many hats. But with no direct marketing or startup experience, I worried if I'd be able to demonstrate my ability to take on multiple marketing projects that require a specific skill set I wasn't sure I had.  So I did what felt right. I talked about the research, analytical, writing, and public speaking skills that I strengthened in college, and how I could use them to help MakeSpace grow their brand. I mentioned how the freedom that Vassar gives its students to build their own schedule has allowed me to take multiple courses in a variety of disciplines, such as sociology, American studies and writing. All of which would helped me connect with people on a deeper level and encourage them to use MakeSpace.   
5. Take Risks
During my interview, I was asked how I felt about taking risks. Was this one of those trick questions that some tech companies ask? At a startup, you won't know the answer to every question, or how to solve every problem that could delay any number of projects. Yet, you're expected to get your work done on or ahead of schedule. Part of accomplishing that involves using the resources you have to make decisions that won't always deliver the results your team desires. That's okay as long as you learn from those experiences and improve your work moving forward, just like in school.
With no teaching assistants at Vassar, all of my questions are answered directly by my professors. This builds bonds that make me feel comfortable taking risks, such as pitching unordinary ideas that I can't guarantee will work. With the confidence to step outside of my comfort zone, I've grown accustomed to leaving fear at the door. This is a valuable trait that will take you far in an industry that thrives on challenging the norm.
I have yet to uncover my secret to success at MakeSpace, let alone on the path we all call life. In fact, I can't even definitively declare my college major. However, one thing I can declare is that my liberal arts education is serving me well.
REAL LIFE. REAL NEWS. REAL VOICES.
Help us tell more of the stories that matter from voices that too often remain unheard.