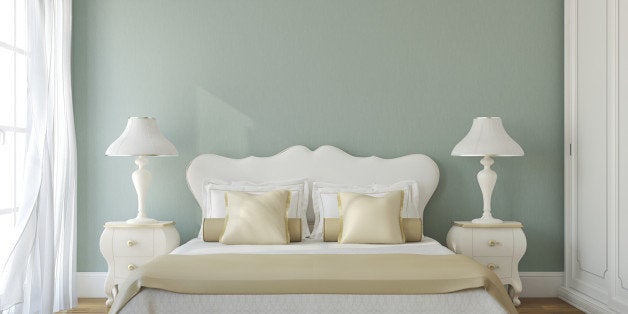 You will spend one-third of your life in your bedroom. Think about that. One third of your total life spent in one little room. With that in mind, its time to ask yourself, is your bedroom the stuff dreams are made of? Or, does it bore you to tears? If your answer is the latter, and you're ready for an overhaul, try my simple tips to help get you started. Best of all? You don't have to break the bank to give your bedroom a small update that makes a big statement. Promise.
Brush This Way
Painting is the fastest way to enhance the look of a room, and a little color in an unexpected place can make a big impact. Whether you tackle an entire room, or keep things straight forward with an accent wall to add depth to your room, a new coat of paint is a simple and effective way to change your bedrooms vibe. From light and bright to dark and dreamy, paint can completely alter the mood and give you the kind of rest and relaxation you need.
Let There be Light
Looking for a bright idea? Illuminate your dreamy bedroom with luxurious lighting, from antique bedside sconces to contemporary pendant fixtures. After all, the right (or wrong) lighting can instantly change the mood of a space, so get creative with hanging pendant lights, revamp the classic floor lamp, or go modern with organic table lamps and marsala inspired pieces to find the look thats sheds the right light on your space.
Mirror Mirror on the Wall
A mirror not only adds instant depth to a small bedroom, it also adds the kind of reflective light that can brighten up even the darkest of days. Mirrors are a decorator's best friend for good reason because a well-placed mirror makes the most of a room's natural light, opens a small space and adds style and pizzaz (and all that jazz.)
Get Artsy
Tired of the old artwork you've been looking at for years? If you can't get your hands on a Michelangelo (and after all, who can?) why not unleash your creativity by turning your travel photos into a gallery wall in your bedroom or perhaps do a little DIY on a frame to add new life to an old look. Still want to keep things artsy? Try checking out Etsy for unknown artists work, or go bargain shopping at local shops. Remember, new artwork is like a mini facelift for rooms, give your room the makeover it needs!
Cut A Rug
Let's cut a rug shall we? After all, a rug is the perfect platform from which to start your day (next to coffee and a kiss from someone you love) and will add a tactile layer to your bedroom. Area rugs give you a warm surface to walk on when you get out of bed and add texture and personality to your bedroom. Try to include colors from the bed, chair or bed bench, wall art or window treatments to bring the room together. If you want to strengthen a color scheme or add a new color, matching area rugs with bedding, accent pillows and large Euro pillows that rest against the headboard creates a harmonious effect that are sure to keep you cozy and ready to settle down for a long winters nap.