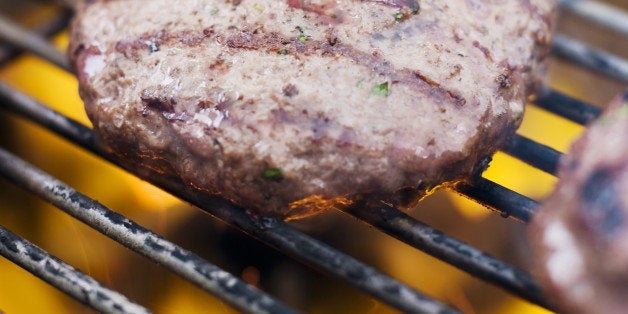 If you're a foodie, when you think of August, the first thing that comes to mind might not be swimming or catching lighting bugs, but rather picnics and barbecues. Many Americans enjoy grilling, and hamburgers are often the go-to. Even in New York City and without a grill, I find that we eat a lot more burgers in the summer months (veggie for me, beef for my husband and sons). For those of you who enjoy "real" hamburgers (as my son calls them), I invite you to upgrade those burgers in the following ways):
Always buy organic, grass-fed (pastured) beef.
Opt for unsweetened ketchup. Most at the health food store have lots of sugar, but Westbrae and a few others make ones without added sugar.
Go better than whole wheat with a sprouted whole grain bun, such as those made by Food for Life.
Add lots of veggies to the top and more on the side! I top my burgers with raw onions, micro greens, sprouts, and lettuce -- and I love tomatoes this time of year. Sometimes I'll add mushrooms, red peppers or avocado.
Try sauerkraut as a topping for a healthy dose of good bacteria.
And for those of us who don't eat meat or want to limit our meat consumption, there are many alternatives. My mom is a certified holistic health coach, and she often makes delicious millet burgers. Black-bean burgers are another favorite. I don't recommend the pre-made veggie burgers, homemade are much tastier and healthier! Please share your favorite veggie burger recipes below, and I will do the same in an upcoming post.
Stay sane this summer,
Maia