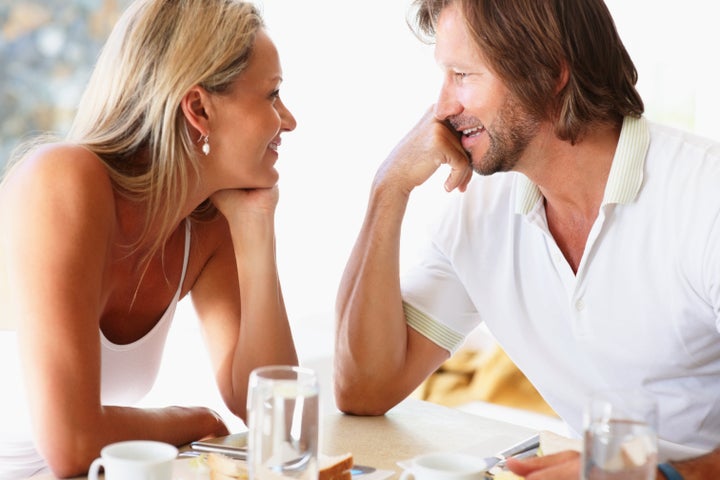 Dating a single mom might not be the right choice for every single man. It takes a special kind of guy to want to be involved with a woman who is committed to devoting a significant amount of time and attention to her children. But it is also true that a vast majority of single moms -- who are nurturers by nature -- can be wonderful partners. They engender an amazing capacity to be flexible, compassionate and committed. So, for the single guy who has found himself drawn to a single mom, here are a few tips to win her heart.
1. Plan a family date night. If you've met a single mom and your relationship has progressed to the point where it is time to meet her children, take the initiative and suggest a family date night.The first time you meet her kids should be short, sweet and very kid centric. The goal is to endear yourself to her children. For example, invite them all out for ice cream, to the park or to see a kid-friendly movie. The kids will be impressed with their mama's super cool new friend. Your lady will be incredibly impressed that you've come up with the idea. It will ease the kids into getting to know you.
As a side note, as much as you would like to kiss her or hold her hand, refrain during this meeting. You've done a great job of making the kids feel special. Any kind of affection tendered toward their mom in front of them might make the kids feel threatened. You want to be a welcome addition to her family, not a threatening interloper.
2. Find a babysitter. Oftentimes the biggest obstacle in a single mom's dating life is finding adequate childcare. If it happens that she cannot arrange for her regular babysitter or a family member to stay with her children, offer to help her out. Perhaps you have a younger sibling who could step in to babysit. You might suggest a trusted member of your office staff or a neighbor you know and trust. Or search out one of the online babysitting services, like care.com or sittercity.com. Calm any stranger jitters by allowing your date to talk to or meet the babysitter prior to your evening out. This kind of single mom assistance will definitely give you "knight-in-shining-armor" brownie points.
3. Treat her to pamper time. Single moms, especially working single moms, rarely take time out for themselves. Any kind of me-time activity is worth it's weight in gold. If you have the wherewithal to take her away for the weekend without her having to stress about child care worries, (see #2) do it! If it isn't possible to go away for an extended period of time, or money is tight, consider treating your special lady to an hour-long massage, facial or even a simple mani/pedi. It will do her a world of good and make you a superstar in her book.
4. Support her parenting without stepping on her toes. Although it may be challenging to not express your thoughts and opinions about how she raises her children, do your best to try and not interfere. This may be especially challenging if you are a single dad and have a particular standard for how you raise your children. Regardless, it is not your place to push your child-rearing methodology or to reprimand her kids. The only exception might be if and when your beloved asks for your help or input. In that case, you both may want to discuss your child-rearing thoughts privately. Then allow the single mom to incorporate your ideas into her child-rearing style. Kids will always be more likely to accept input from their biological parent. It's best to keep your relationship with her kids as even keel and non-confrontational as possible.
5. Know her kids come first. Finally, the most important tip I can share with any man who is seeking the companionship of a single mom is to understand that her kids come first. This can frequently be a deal breaker for many relationships, but it doesn't have to be. As an independent and compassionate man, you understand that she's brought these children into the world and feels responsible for their welfare. Verbalize this to her and it will be gratefully received. The good news for you is that a woman's need to be a dedicated mother does not mean she can't be a loving companion. She can. Single moms have an amazing capacity for sharing all their love with everyone.
In my book "It Takes All 5," I share with single moms that "Dating is a journey, not a means to an end." Every relationship, whether it leads to a happily ever after or not, is a gift and a learning experience in this trip we call life. Enjoy!
Popular in the Community