Two weeks ago I traveled to the beautiful island of Oahu in Hawaii with my dear friend Lois. As it happens Lois, like me, is a woman living her midlife differently than our parents or grandparents did. Each of us subscribe to the notion that you get one spin on this merry-go-round called life and we want to live it to its absolute fullest.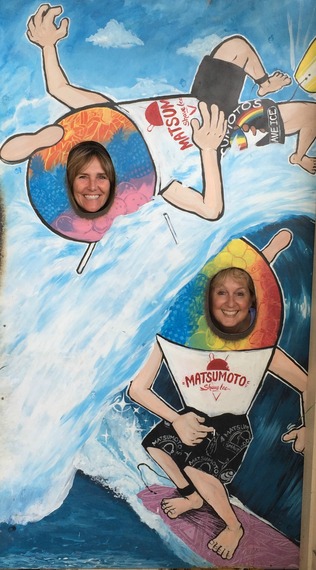 One of the things Lois and I found ourselves mulling over while away was the countless benefits of travel, benefits that far exceed the obvious; relaxation. Together we began to list how travel at this stage in the game is actually healthy for our brains.
1. Waking up in a strange hotel room. If you are anything like me when your eyes open in the middle of the night, before you get out of bed, you take inventory regarding your surroundings. Sometimes it takes a few seconds for your mind to remember. In my case that first night away I had to stifle the urge to say out loud, "Oh that's right, I'm not at home, I'm at Turtle Bay Resort!" Next thing I knew my brain galloped ahead to recall where I was, where the bathroom was located and how to reach it without stubbing my toe or waking up Lois who was fast asleep in the other luxurious queen bed.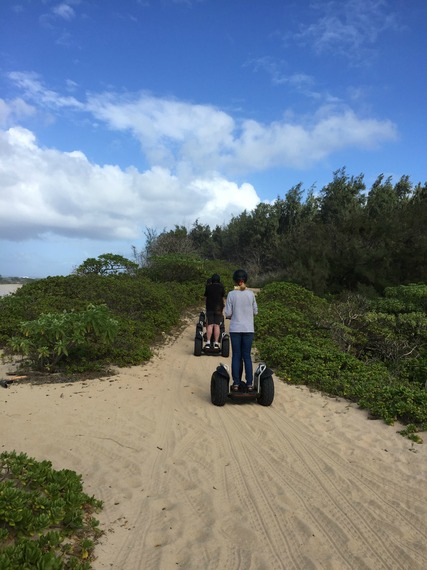 2. Trying new things. The day we arrived we had the opportunity to take a tour by riding a Segway. I had never been on one before so, although I didn't admit it, I felt a little bit of trepidation over whether or not I would be able to master it. A quick lesson provided by the resorts outdoor adventure team and I was on my way! Together with a small group we wended our way through a trail that alternated between a path lined with gorgeous trees and sand that bordered the ocean. The views were breathtaking and the trees in Hawaii left me yearning to find a way to head back one day just to hike through them.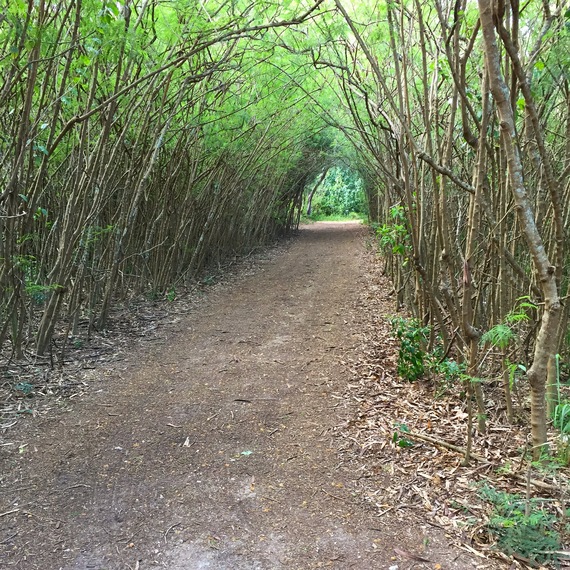 3. Food glorious food. It's a known fact that travel is not the time to diet and Hawaii is no exception to that rule. The food there was unreal! From the food trucks that were parked in the market place outside the Polynesian Cultural Center to the fabulous roadside restaurant housed in the old sugar mill, we had food that would make any foodie jealous.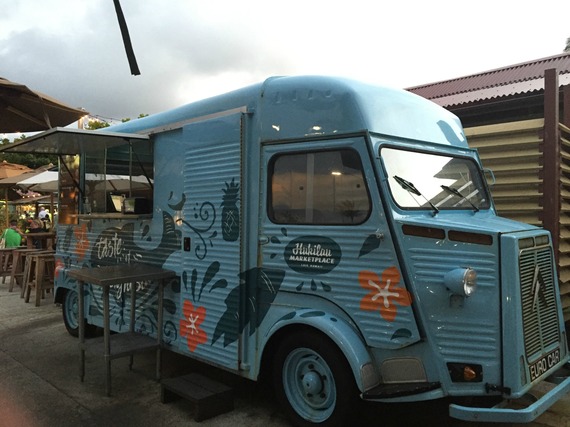 Just feast your eyes on some of these dishes.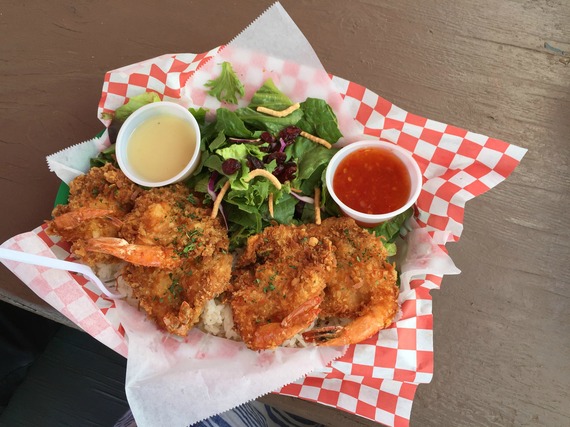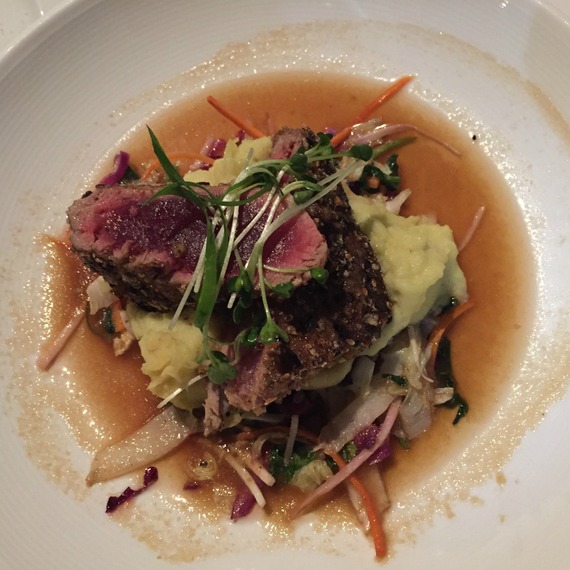 4. Exploring in a Kayak. One of my new favorite things to do is to explore my new surroundings from a kayak and it is safe to say that all the tasks one has to master while kayaking are brain healthy. Although I have been kayaking before, I had never been when the waves were choppy, I found I had to focus on the technique of using the paddle and make sure I guided the boat into the waves to ensure I would not capsize. Also good for me were the benefits of taking in beauty from the water, the boat was equipped with a clear bottom so I was able to spy some fish. Additionally I was one of the lucky few who saw a turtle swim past.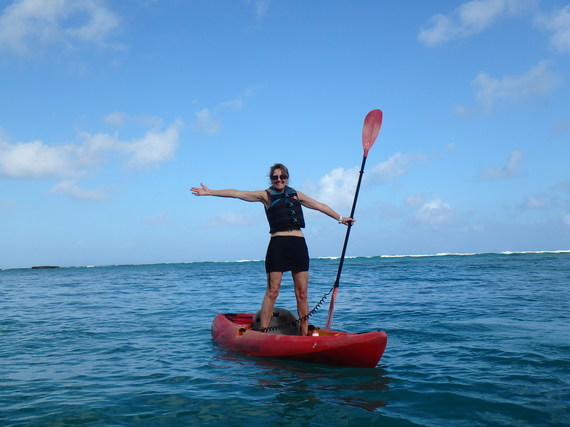 And last, with the spirit of adventure close to my heart, I took a chance and stood up in my kayak, although not as easy to maneuver as a SUP, it was fun to try.
5. Learning about different cultures. One of the most memorable experiences we had was the day we took an active tour of the Polynesian Cultural Center, a place where the cultures of the Polynesian Islands are depicted in ways you can actually participate in. While learning about Samoa we introduced to cooking methods that have been relied on for centuries.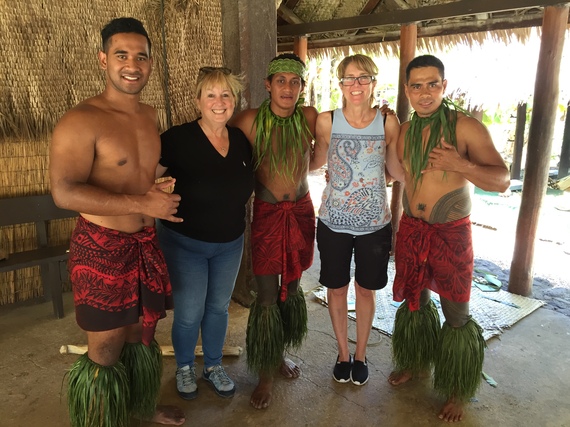 Once again our brains were activated in ways that had we not left home, would not be possible. We wove gorgeous baskets from leaves that we would later eat from, we watched as two men squeezed milk from coconuts to marinate the food and some of us even learned to peel bananas using a stick. Once all the food was prepared we learned how to arrange the foil and husk wrapped food on an open fire, once it was all placed we then placed rocks on top of the food and fire pit, the rocks would become hot and help to cook the food.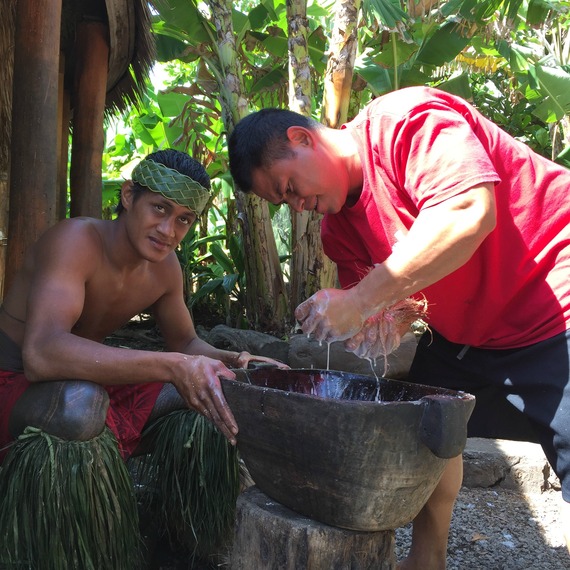 No matter where your adventures take you it is important to remember that when you engage with your new surrounding you are helping your brain, I can't think of a better excuse to book my next travel adventure!
PHOTO GALLERY
7 Hot Travel Trends For Boomers
Calling all HuffPost superfans!
Sign up for membership to become a founding member and help shape HuffPost's next chapter