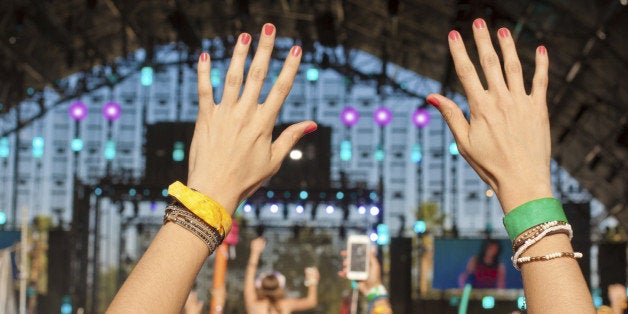 If your kids have started to listen to music, are loving it, and now have their favorite artist, they'll sure ask you to take them to a live concert soon. Now, if you're a concert-going and music-loving parent, you'll know how live concerts can be thrilling but not so safe for kids. So before you say "yes" to your Taylor Swift-obsessed youngsters, here are five preparations you can make to make sure it would be fun and safe for everyone going.
1. Listen to the artist first.
While you can't always control what kind of music your kids get to listen to, you can control which concerts they can go to (at least before they become teens). Obviously, not all artists have music that's kid-friendly. So listen to the music artist, first and use your best judgment. You can also do an online search of the artist's live performances so you can get a feel of how it is like during their live performances.
2. Set your kids' expectations.
Find time to sit down to have a talk with your kids. Tell them about how the concert that you're going to will be like -- crowded, loud, enthusiastic, and exhausting. Make sure they understand the whole idea and that they won't bail out while the concert is just starting. After all, tickets are not that cheap so you want to make sure they're all into it.
If you've listened to the music, watched a previous live performance, talked with the kids, and you've decided it's a go, then the next thing to do is to check out whether you can purchase presale online tickets. Doing so ensures you and your kids get the best possible seating position there is that your family can afford. Just be sure to buy only from a legit online tickets service, one which has a visible SSL certificate and a reliable refund policy.
Earplugs are good but if you want to make sure your ears would be safe from an arena of wildly screaming fans, then buy noise-cancelling headphones. They may be more expensive but are worth it, especially for your kids' sensitive ears.
Concession stands in concerts sometimes sell snacks at an unbelievably high prices. So check out the official website of the event's venue and look out for what are the things you can and cannot bring with you. If food is permissible, bring your kids' favorite homemade snacks. Bring bottled water, too. And rather than be sorry, throw in some medicine in case someone develop a headache because of how loud the music and the crowd can be. Om the other hand, if you're not allowed to bring any, make sure your kids have full stomachs before entering the venue so you can spend your money on concert memorabilia and not on pricey pop corn and drinks.
Live concerts are one of many activities you can enjoy with your kids. Make the necessary preparations for a thrilling and safe experience that they'll never forget.