In the world of digital marketing, making sure your content can effectively engage your target audience is a constant challenge. For many publishers and advertisers, this challenge is exacerbated by the overwhelming presence and impact of ad blockers.
According to the Interactive Advertising Bureau, this will be an ongoing battle as malicious software has led to massive ad-revenue losses, ($781 million of $1.1 billion per year) for publishers.
Given the sheer number of ad-blocker users - about 200 million active consumers worldwide - and its growth rate (see figure below), publishers, especially those with limited financial resources, will need to think of creative and effective ways to circumvent ad blockers and/or to reduce their impact. All these efforts will need to focus in on one main goal - monetizing content.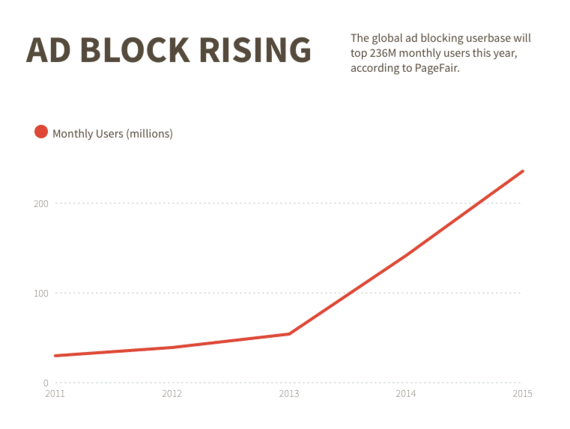 Image source: http://www.forbes.com/sites/lewisdvorkin/2016/01/05/inside-forbes-from-original-sin-to-ad-blockers-and-what-the-future-holds/#2b5ccc4318ae
Since many publishers can neither afford to pay ad blockers to remove their advertising restrictions nor block their effectiveness by purchasing external software to help monetize lost traffic, small and medium publishing companies should consider focusing on the role content-related strategies can play in reducing the effectiveness of ad blockers.
To help make sense of this, here are 5 content-related ways for publishers to defeat the effectiveness of ad blockers.
1. Invest in native ads. By investing in native ads, or in ads that often appear as original content (these can be in the form of an article, video or graphic) but are in fact sponsored by a brand, publishers can get their branded content to the masses. For instance, two content discovery software giants, Outbrain, and Taboola, have been known to get around ad blockers by recommending readers to similar articles of interest.
CodeFuel, meanwhile, emphasizes the ability for publishers to promote on-site engagement as a major factor to increase the impact of native advertising. Their solution keeps users focused and on-site for an extensive period of time, exposing users to sponsored, high-quality content within the existing publication website, thus generating more opportunities to monetize content.
2. Launch effective email and newsletter advertising campaigns. With so many ad pop-ups, it's not surprising that many online users download ad blockers in order to have less of an invasive web surfing experience. Keeping this in mind, marketers and publishers should consider advertising alternatives to help increase customer engagement and generating revenue streams.
For instance, one approach could be to launch branded email and newsletter advertising campaigns aimed at capturing user attention. Such campaigns should be cleverly crafted and in line with the brand's specific marketing strategies, customer segments, budget, and additional available resources in order to be most effective. From there, specific results should be tracked, including open rates and CTRs.
3. Incorporate in-image ads. While ad blockers have proved themselves effective, the power of images always seems to be a step ahead of the rest. By incorporating in-image ads, publishers can often bypass adblocker technology and still spread the branded content message to readers/viewers.
The reason in-image ads can be very effective lies in the general acceptance of images within articles and general content. Essentially, audiences won't suffer from coerced ads, but will feel, especially with the presence of various in-image advertisement software that match the images to specific content. This, in turn, creates a more natural experience, even if ultimately the user is exposed to an ad.
According to Amit Aloni, the co-founder of in-image advertising platform Imonomy, one of the main benefits of in-image advertising for publishers is indeed the organic feel of the ads.
"Ads are placed on the editorial images without interfering with the user's experience with the site content. In addition, our in-image ads are based on a technology that uses Big Data and semantic analysis to ensure that ads are relevant to your users. For users, the benefit is a more engaging ad solution that removes one of the most significant incentives to use ad blockers in the first place."
4. Consider charging for gated content. While not many small and medium businesses may consider this approach, as there is a common feeling that we should do everything necessary to get our content out to as many readers as possible. However, by prioritizing high-level content, and making it more exclusive for potential readers, whether at a specific price tag or more extensive registration process, publishers can move away from the traditional display advertising typically prone to ad blockers.
5. Market high quality and targeted content across social media channels. Today's heavy internet user is constantly checking the popular social media channels for content, news, and images. Publishers should take note of this and invest in promoting brand-sponsored content across major channels, namely Facebook, Twitter, and Instagram. However, emphasis will need to be placed on the quality of the content in order to drive customer engagement and then subsequent ROI.
With the alarming growth rate of ad blockers and similar technologies, publishers will need to think outside of the box and re-examine ways to approach and more importantly, engage their target audience. Some examples include: investing in native ads should as a great alternative to traditional display ads such as banners, utilizing different communication outreach platforms such as emails and newsletters to optimally increase engagement between brands and consumers; leverage the power of engaging content-related in-image ads in order to reduce the effectiveness of ad blockers; charging for premium or gated content in order to spur sincere user interest/engagement; as well as use the power of social media channels to launch effective brand-sponsored marketing campaigns.
Related
Popular in the Community