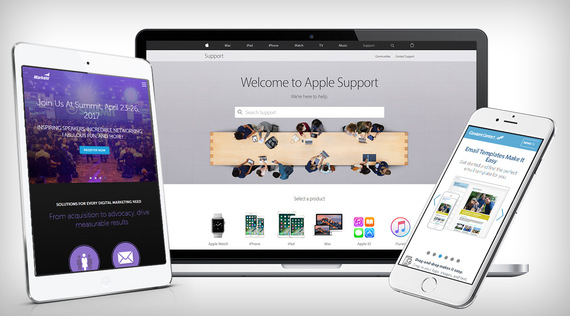 A positive user-experience with your brand online is a critical component to your company's credibility. In a study from Econsultancy, almost 50% of users expressed an overall less positive perception of a company after one bad onsite experience. Generally speaking, customers that grow frustrated after engaging with a brand online are not very likely to return back to that site for a 2nd or 3rd time, or to make a purchase.
Too often, I've seen companies make seemingly trivial mistakes with their website design that end up being costly to developing and maintaining a loyal and long-term customer base. For most brands, the way that you lay out your content, including the format, style, and overall design, is linked to how users engage with your organization. When creating a website strategy, and determining how you want to lay out important design features that are connected to your content, keep in mind the following guidelines to ensure that you're optimizing your website for your customers and their respective needs.
1. Small Sizing and Style
One of the most important elements to think about with the way you lay out your onsite content is how you visually display your copy. Onsite copy is essential for users, as it allows them to better understand your services, products, or brand overall. That being said, if you use a small font size or a hard to read font, users will find it difficult to absorb the content, and thus likely fail to grasp what your brand offers.



Email provider Constant Contact is a great example of appropriate font and styling size, especially on their service pages. Font choice is readable and large enough so that users on smaller devices (like an iPhone) can easily read it. To ensure that text is quick and easy-to-read, limit each line to no more than 13 words. The use of iconography next to each small block of text helps to differentiate each thought and make it simple to read.
2. Too Much Content
Similarly to the sizing and style of your content, it's important that you consider how much content is too much content. For the most part, users don't want to read through paragraph after paragraph of text. Using concise wording that is simple and to the point is without a doubt the most effective way to get your message across. Succinct messaging makes it much easier for your thoughts to resonate with consumers, whether it is about what products you sell, or a particular offering that your company is highlighting.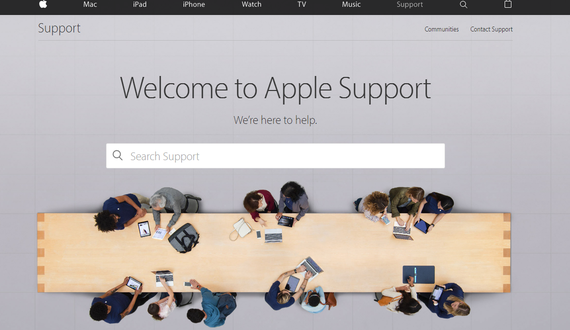 If you take a look at the above, you'll find the Apple 'support' page. The brand uses an incredibly simple message to convey the objective of the page and how it can help users with their respective needs. If customers want to learn more about their support services they can scroll down and if they want to search for a particular issue, the prominent search bar is easy to use.
Instead of presenting users with excessive amounts of copy immediately when they land on a given page, consider using a bold call-to-action (read more, view more, search here) to lead interested users to a page where they can find more content. This brings us to the next point.
3. No Call-To-Action for Additional Content
Once you have your core messaging laid out appropriately (from both a content and visual perspective), using a call-to-action that leads users to a separate portion of the page or new landing page is a good way to continue engagement. As mentioned above, users generally don't want to read line after line of text right when they land on a page. By leaving it up to the user to click on a button such as "read more" you're crafting an experience that is on the user's terms. Don't showcase all of your content right away, allow the user to pursue more information about your company's offerings at their own pace throughout their online experience.



Marketo's marketing automation offerings are plentiful. Their solutions are broken into different solutions based on user needs. Instead of showing users a list of possible solutions (9 separate sections) right on the homepage, they present users with the option to "see products" on a different page. Showing the 9 different categories on the homepage certainly would have fit in terms of size, but it would have been too overwhelming for the user.
4. Social Media Signals Where It Doesn't Make Sense
When thinking about how you lay out your content, blog content should definitely be a focal point. However, aside from the format in which you display those posts, the placement and design of your social media signals is crucial. Social media gives your content extended reach, allowing you to engage a much wider audience than you normally would with a normal post. Placing social media signals or share buttons in arbitrary places on your website doesn't make sense.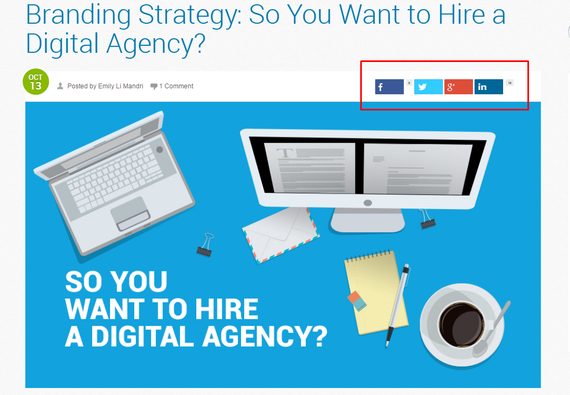 If you look at the example above from our company's website, Blue Fountain Media, you'll find social media share buttons incorporated to the design of each blog post. Instead of placing this on the homepage, we chose to include this for each article that is published, since this is the type of content that users are most likely to share across their social platforms.

5. Copy That Fails To Entice
There are many brands that use email marketing as one of their tactics to both engage and reengage customers. While this can be incredibly effective at driving conversions, before you begin your email marketing, you need to capture email addresses for interested users. Simply encouraging users to "sign up here" to receive email notifications generally is not very effective. However, using language that is compelling in nature, and incentivizing the experience can be highly effective at driving sign ups.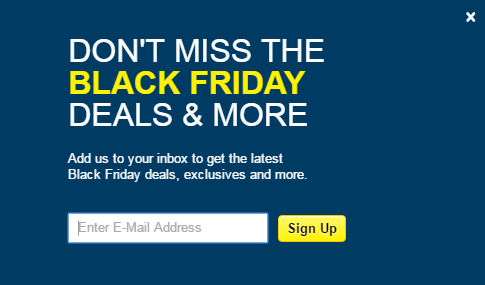 As you can see above, Best Buy uses compelling copy to highlight an upcoming sale that users will have "inside" knowledge about should they sign up. This content is concise and succinct while still fulfilling its ultimate goal of capturing the interest of users.
Building a Site For Success
The onsite experience you offer your potential and existing customers is so incredibly important to your long term success. The way you display your content is critical to how users will engage with your brand, and how credible they will find your products or services when it comes time to make a purchase or convert. Without a user-experience that offers a seamless interaction online, you'll miss out on countless opportunities to win over new business.
To learn more about how to create a website design that offers an exceptional user-experience, visit Blue Fountain Media online.
Popular in the Community