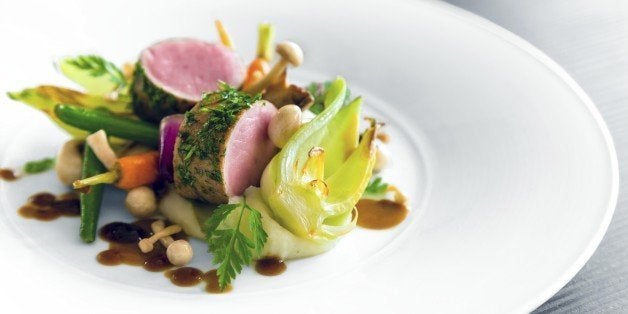 For years, wedding menus were known to be pretty standard -- salad first course, then an entrée -- chicken, beef or fish -- and wedding cake for dessert. Luckily for all of us, food and beverage trends that we have been seeing in the best restaurants for years are finally making their way into wedding menus across all budgets.
Here are the top 5 wedding food and beverage trends we are excited about for 2016.
Oysters
While oysters have been raw bar staples for years, there are companies who have figured out a more fun way to serve them. Your caterer can work with companies like Oysters XO to create an interactive guest experience where servers move amongst your party guests shucking and serving fresh oysters from buckets around their waist.
Craft Beer and Artisanal Cocktails
A movement beyond signature drinks, carefully crafted artisanal cocktails matching the season of your wedding while utilizing fresh ingredients is a trend we are thrilled to see making their way outside of hipster restaurants. We are also loving the fact that our clients are selecting to serve locally brewed craft beers to their wedding guests in addition to their mass marketed counterparts. To help tell a personalized story at your wedding, select beers you would drink in your home town or that are a perfect fit for your destination wedding. Here in the Tampa Bay area, Cigar City and 3 Daughters have been favorites, while in the Bahamas our clients tend to select beers like Kalik and Sands.
Interactive Chef Stations
Food stations as an alternative to traditional buffets have been around for ever, but when you can create an interactive station with a chef attendant utilizing a new mix on ingredients, that never gets old. If you've seen too many pasta or mashed potato stations, consider a grilled cheese bar with gourmet cheeses paired with meats or spreads. In this environment, the chef can also help accommodate your guests' food preferences or allergies by using items like gluten free bread on request.
Local over Organic
For the last few years we have been hearing a lot about organic ingredients, and while those are still important, the new trend has been towards local ingredients. Your guests want to experience the locale when they come to your wedding, and what better way than to have your venue or caterer incorporate locally grown produce, artisan breads, or traditional spices from the area into your menu.
Harissa
Speaking of spices, harissa is a chili paste that is traditional in North African and Middle Eastern cooking that has been making its way into western kitchens and now finally to wedding menus. A perfect complement to many different proteins, vegetables and appetizers when you want to give them a spicy kick, it will be seen as a trendier upgrade to sriracha.
Please feel free to share in the comments what you are doing to give a personal touch to your wedding menu in 2016.