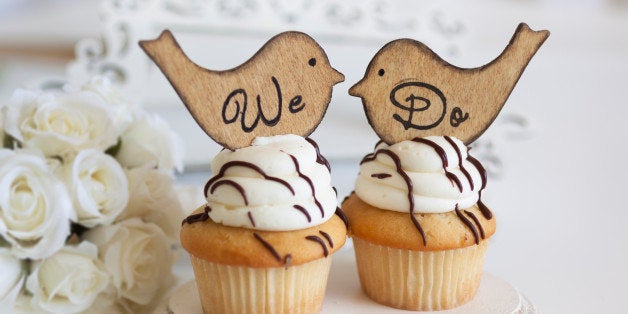 We've all experienced it. That awkward moment at a wedding when we feign delight over the peculiar and unpractical thank you gift that we know we're going to toss aside the minute we get home.

Ah yes, wedding favors. Not the biggest decision on the bride's to-do list, but a tricky one that has many a bride at a loss over what parting gift to bestow upon the guests who took the trouble to show up on the biggest day of her life.
Hint: Edible treats make the best wedding favor gifts.
Something practical is always a winner. It's no surprise that edible treats make some of the best wedding favor gifts. They're useable and if someone doesn't eat or drink it they can pass it along to someone who does, so they won't go to waste.
Here are some simple edible wedding favor ideas that guests are sure to find tasteful, and best of all, they're fairly inexpensive and easy to make yourself.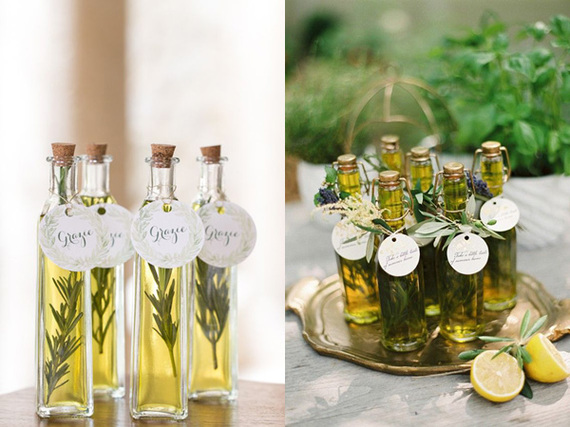 Image: Paris Ciel (Original photos: 100 Layer Cake and Belle & Chic)
Herb-infused oils provide a flavorful twist on an ordinary olive oil and are great for cooking or drizzling over salads. They're one of the most useable gifts and easy to make. The most popular is rosemary infused olive oil, but almost any herb can be used. Apart from herbs, other ingredients that work well are garlic, lemon, chillies, and even fruit like tangerine and blood orange.
Alternative: Balsamic vinegar and olive oil gift packs.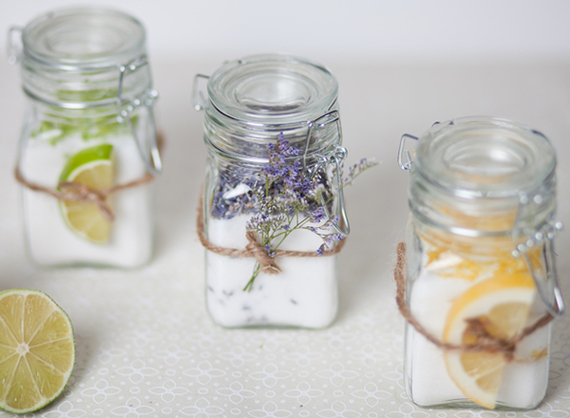 Image: Sugar and Charm
I love this idea. While infused oils are becoming fairly common these days, not many people think of infusing sugar. Add vanilla, cinnamon, fruit, coffee, lavender, rosebuds, ginger - the list is endless. Fill up some glass jars (look for unusual and interesting shaped jars or bottles) and tie a pretty ribbon around it. Up the cute factor with a thank you tag saying "So sweet of you to share this day with us". Flavored sugar is so versatile. They can be used in baking, cooking, sprinkled over cereal or pancakes, and added to hot or cold drinks.
Alternative: Crystal sugar sticks - great for stirring into coffee, tea, or hot cocoa.
3.Personalized Wine Bottles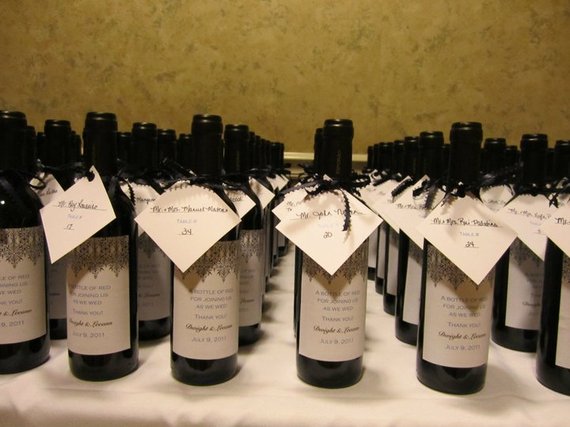 Image: Between Yes and I Do
A good quality bottle of wine always makes a classy gift. You don't have to break the bank and buy the most expensive one. There are plenty of decent wines at a good price out there. Add a personal touch with your own label. Hop online and find a company like iCustomLabel that makes this easy. Choose from the many templates or design a label from scratch. When it arrives, just peel and stick on the bottle. And just like that, you have a lovely personalized gift.
Alternative: For guests who don't drink alcohol, soda in a classic vintage bottle. For a personal touch, make your own lemonade.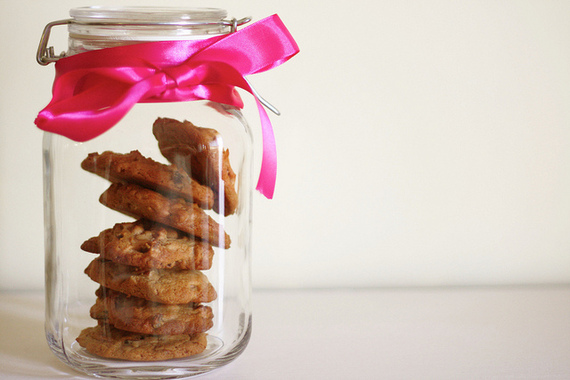 Image: Flickr by emma-louise @ a splash of vanilla
Cute mini cookie jars are a sure crowd-pleaser. Little Things Favors has a variety of cookie jars and you can personalize the label. Cookies can be made to fit the theme with icing in the same colors as the wedding, and the initials of the bride and groom can be added. In fact, there are any number of ways to be creative with this one. Plus guests can make use of the jar after gobbling up all the cookies.
Alternative: A slice of cake individually wrapped in its own custom-made and beautifully decorated cake box. Tip: Ask the confectioner doing the wedding cake to bake some extra slices especially for this.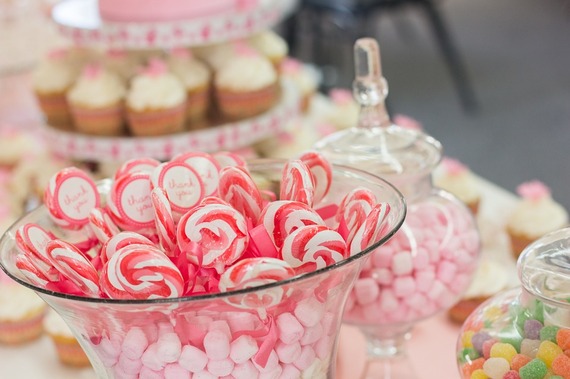 Image: Pixabay by alinemais
I like the idea of a self-serve candy bar (also called a candy buffet). It's a whimsical spin on the wedding favor and simple to put together. Just buy a selection of different size jars, bowls and containers and fill with a variety of candy and chocolate. Add one or two decorative cake stands with macaroons and cookies. Cake pops are great for a candy bar as well. Have some small paper bags or cardboard boxes at hand for guests to carry their sweet treats home.
Alternative: A "help yourself" table with mini jars of honey, jam, preserves, or pickles.
Got any other novel ideas for wedding favors? Share your idea in the comments below and help any struggling brides out there find the perfect gift!
Deevra Norling is a freelance writer who has covered topics such as CRM, health, career & entrepreneurship, travel, and personal development. Connect with her on Twitter @DeevraNorling or email: deev67@gmail.com.