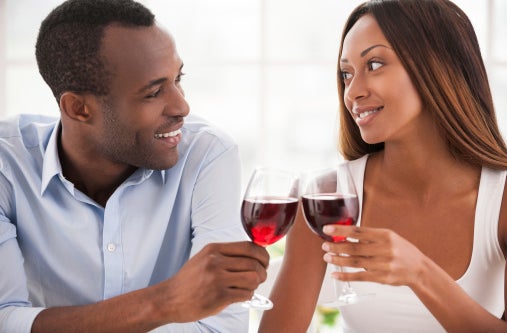 Does this scenario sound familiar?
You take your date out to a nice restaurant, look at the wine list and realize you don't know a damn thing about wine. You look down at the menu, turn a couple of pages, scratch your chin and say things like "Hmmm," and "Everything sounds great," just in time for the sommelier to come and confuse you even more. So to move things along you just say, "We'll take the house red."
It's no wonder you've been alone all winter — and most of your life.
There are many ways to make a great impression on a first date. One is to be able to make a wine selection. Here's a fun way to choose based on the app you met your date on. I teamed up with 24-year-old, certified sommelier Heather Gordon to bring you this helpful guide.
If you swiped each other on Tinder, you might like...
Viña Zaco Albariño, a fragrant, fresh, and aromatic white wine with citrus and floral notes. Light and fruit-driven, it's ideal for throwing back glass after glass which is great in the off-chance your Tinder date isn't a total disaster for once and you decide to do multiple rounds. It's also fairly inexpensive which is also great because chances are if you're on Tinder, you have multiple dates lined up and can't afford to shell out too much on this evening.
Did you get matched on The League?
If you met on The League, you probably have high standards and a high net worth. The Domaine Dupeuble Pere et Fils Beaujolais is a Beaujolais that is awe-inspiring. This juice is a first-class, bona fide luxury. The nose is full of crushed granite and a light dusting of powdered freeze-dried tart raspberries. On the palate, it is lush and opulent with a curvaceous body. It's like they bottled Sophia Vergara.
You met on Grindr and are on an actual date?!
Ciù Ciù Merlettaie is a body-backed, white wine with 14% alcohol that is sure to get the job done and help you quickly break the ice because chances are you had sex before the date and now it's a little awkward. Even if you're a red-wine drinker, you'll enjoy the Merlettaie. These fermented grapes are brimming with notes of white clay, freshly ripened yellow peach juice and flint notes.
If you're bonding over things you hate because you met on Hater...
Artesa Chardonnay Carneros is a wine that'll give you something to talk about. California Chardonnay. You love it or hate it, not many people are neutral on the subject — like most things in life. But Artesa is one of the good guys. They don't over oak their wines making them easy drinking and palate pleasing with bright acid and honeyed fruit notes, finishing bone dry with lively energy.
And if you met on OKCupid because you still believe in true love...
A sparkling red like Les Capriades - BCF Methode Ancestrale will make your knees weak — even if your date doesn't. It's acidic with a Lambrusco-like vibe, but not super bubbly. It tastes like meeting your soul mate, with a side of balsamic-drenched, sour and tart cherries that have been tossed in a beautiful summer salad.