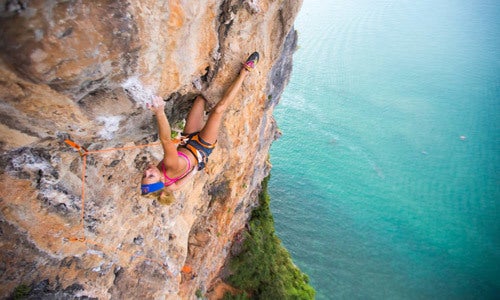 The beautiful the dangerous and the impossible
It was a random invite. My friend Benjamin Oberman invited me to attend the Mountain & Adventure Film Festival happening on Mt. Baldy, CA. The only word in the whole title of the event that resonated with me was Festival. I do like a good party! For those who know me, I'm not a big fan of the outdoors, mountains, or adventure. He was bringing together some of the world's best mountain climbers...gosh, the only thing I ever climbed was a social ladder.
True confession, I was hoping I'd meet some hot climbing mountain man who reeked of pheromones. But to my surprise, what I did meet was an incredible group of strong, resilient women who are not only super sheroes in the climbing world, but fantastic human beings who taught me a lot about the truth in metaphors like: "Reaching for the top," "Making it to the summit," and "Holding on for dear life." I got to hang out with these exceptional women and hear their remarkable stories of triumph and tragedy. I still won't ever go climbing, but I will take their wisdom with me when an obstacle or metaphoric mountain shows up in my life. And, no...I didn't meet any hot climbers, I was too busy listening to these women's amazing stories.....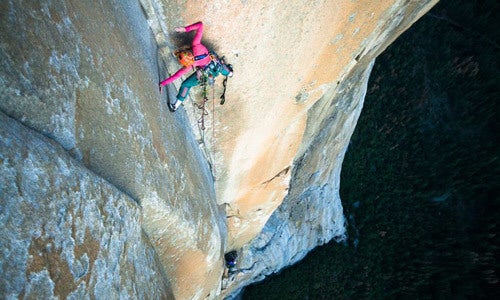 LIBBY SAUTER "Become your best version!"
Libby Sauter looks like your girl next door. She's a pretty blonde who can rock hair braids like nobody's business. On the way up to Mt. Baldy I asked her how she was doing. She politely replied that she was tried. "I get it; morning flights can be a pain," I groaned sympathetically. But that wasn't it. You see, she just got back from Karbala, Iraq, a conservative Shi'ite Muslims city around a hour south of Bagdad. What was this cute blonde, who looked like she just spent a week on a beach doing in Iraq? To my amazement, not only does Libby hold a few world records as the fastest female big wall speed climber, she's a nurse who specializes in teaching pediatric cardiac intensive care. Libby was in Iraq for three weeks with the Novick Cardiac Alliance helping educate local hospital staff in the complex care of children with cardiac disease. When Libby is not competitively climbing big walls of solid rock, she's in scrubs in some foreign war-torn country for 22 weeks a year.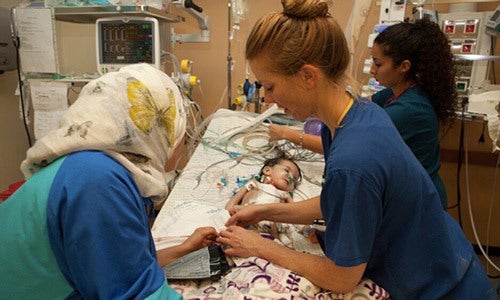 Libby trained at Stanford Children's Hospital in the Pediatric Cardiovascular Intensive Care unit. Which is close to Yosemite. At 24 she moved there to join the Yosemite Search and Rescue and started volunteering with the Novick Cardiac Alliance.
"A part of what makes it so beautiful, so important in a climber's life is the inherent risk of the sport. Daily, we navigate and calculate, making regular life or death decisions up on the rock. It teaches us. It guides us. It helps to shape us into the very best version of ourselves. And if we are lucky, we get to share that 'best version' with the world."
BRETTE HARRINGTON "Make Memories!"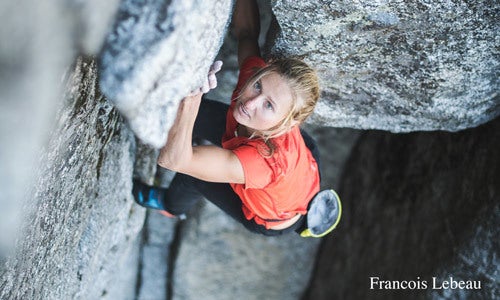 Brette is a tiny, bright firecracker who carries her joy on her face. She is a professional climber and focuses predominantly on Big Wall free climbing and Alpinism. I still don't know what that is. She has traveled to remote places such as Baffin Island in 2016 where she established two new lines on Great Sail Peak. She has also established many new routes in the Canadian Rockies, The Chinese Puzzle Wall, and The Waddington Range, Canada. Brette aims to combine her climbing skills to develop ever more difficult and desirable lines. In January, she'll return to Patagonia, Chile with Mayan Smith-Gobat to attempt to be the first people to free climb the iconic route, "Riders on the Storm".
My most magnificent memories are those in which I've found purpose, drive, motivation and challenge.
"People ask why do I do what I do. Why do I go into harsh alpine terrain and continue pushing on through the storm. And it comes down to what's most memorable in my life. What's going to build me as a person. Fighting through and trying my hardest and not known if it's going to go well while using my intuition builds super strong memories and keeps my head super clean."
Brette eloquently explains that doing what most people would find absolutely frightening gives her the opportunity to find her tipping point and push through. The risk is real, so what she does before any climb is take some time to envision the situation and map out what the possible and what's not. "It is a constant evaluation process, and in doing it, opportunities for solutions present themselves."
STEPH DAVIS: "Todo o nada! All or nothing!!"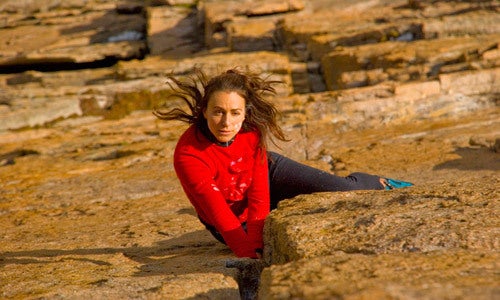 If there was a real life "Wonder Woman" Steph would most likely have trained her. Not only has this powerhouse climbed some of the most ridiculously dangerous walls in the world, often without a rope, many times when she gets to the top, she jumps off wearing a wingsuit. Yes, literally flying through the air. Steph is no stranger to the dangers of rock climbing and wingsuit flying. Her husband Mario Richard died while making a wingsuit flight with her in Italy in 2013. But Steph made a decision to choose life and to choose joy, and to focus on resilience in life as well as in the mountains.
Her wisdom when it comes to reaching your personal summit:
If you fail enough you will find strategies to succeed.
Figure out what is making it hard for you to succeed and solve it.
Total focus and total commitment -is what make your dream come true.
Take small steps and use patience. It sets you up to fail if you go too fast.
Over time you'll get there...but at first it takes time.
SASHA DIGIULIAN "Live in the present!"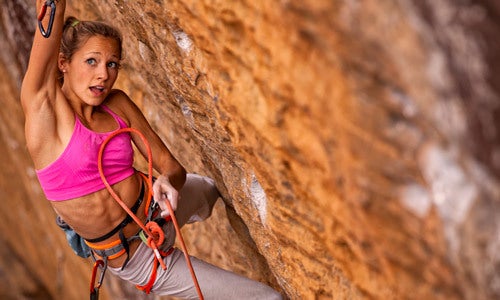 You might have seen Sasha in action in the Oprah's Super Soul Sunday's "Breathing Space" video. It's best to just watch what she does, because I can't even explain it. At 25 years old, Sasha has accomplished more than most do in one lifetime. She is considered one of the best climbers in the world. Sasha graduated from Columbia University. She is on the Board of the Women's Sports Foundation and serves as a Global Athlete Ambassador for Right to Play, Up2Us Sports, and the American Alpine Club. She also has served as an Athlete Representative on the board of the International Federation of Sport Climbing. She has been the recipient of multiple prestigious awards, including GLAMOUR Magazine's Top College Women of the Year, 2016, the Cutting Edge Athlete Award for 2014 performance, presented by the American Alpine Club, The Golden Piton Award, and the Arco Rock Legend Award for Outstanding Achievements in the Outdoors.
Through climbing I have gained a sense of confidence and inner strength. It provides me with this sense of direction and ability to work hard for what I am passionate about.
Sasha shares, "Climbing is physically taxing like any other sport, but it also requires total mental concentration and puzzle solving. No piece of rock is the same. Every new climb is a new problem to solve. The only way to the top is to believe in yourself and to try your best.
When I am climbing well, I am completely in tune with the grit underneath my fingertips. The rock has a dimension to it that feels connected to me. When I find this sense of flow, I feel weightless, like a dance on the wall.
I climb because it is the space in my life where I feel the most in control of my body and my mind. My world is still when I am on the wall and my worries are about whether I am going to twist my body into the position it needs to be to make the subsequent move possible. The subtleties that make all the difference between success and failure."
Heidi Wirtz "Love, Play, Respect!"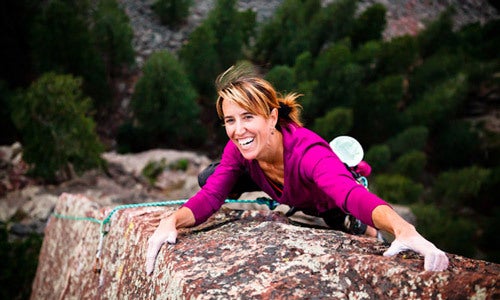 This beautiful soul looks like she's always having fun—and she is! Along with that great smile, she has been a professional climber for The North Face since 2003 and has put up new routes around the world. She have been guiding for over 15 years as well as teaching yoga.
Heidi has pioneered new routes up unclimbed big walls and mountains and pushed the limits of female exploration. She is known in the climbing world as "Heidi Almighty" for her bold and technical climbing as well as speed ascents in Yosemite Valley.
Heidi is also known for her philanthropic work and her passion for giving back. She is co-founder of Girls Education International, an organization that provides educational opportunities to underserved girls in remote and undeveloped regions of the world.
For Heidi life is an adventure and she believes that everyone has time to play. So, she started Earth Play Retreats, which are adventure yoga retreats. It was her way to share her passions of yoga and climbing with others in an intimate setting.
Climbing as a metaphor for life: Climbing, like life, is about dedication, positive attitude and willingness to listen and learn from those who have come before you.
Calling all HuffPost superfans!
Sign up for membership to become a founding member and help shape HuffPost's next chapter
This post was published on the now-closed HuffPost Contributor platform. Contributors control their own work and posted freely to our site. If you need to flag this entry as abusive,
send us an email
.