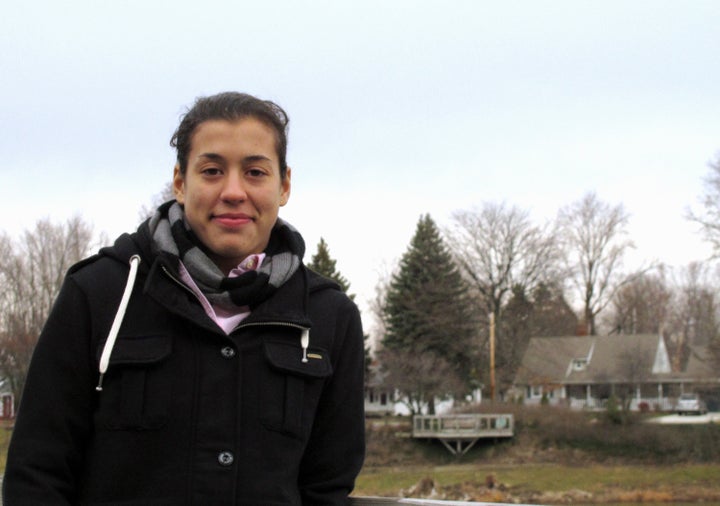 Today saw the long-awaited repeal of "Don't Ask, Don't Tell," the 1993 law prohibiting gay men and women from serving openly in the U.S. military. The law led to the discharge of over 14,000 men and women, and the repeal is being lauded as a historic victory for gay rights.
KATHERINE MILLER, former Cadet
Katherine Miller made headlines last year for her decision to resign from West Point Military Academy, where she was ranked ninth in her class.
A top student across the board, Miller said that her decision to leave was entirely due to the "Don't Ask, Don't Tell" policy. She could no longer bear to conceal her identity or compromise her integrity by lying about who she was, reported ABC. In her powerful letter of resignation, Miller wrote about the double life she was leading:
I have created a heterosexual dating history to recite to fellow cadets when they inquire. I have endured unwanted approaches by male cadets for fear of being accused as a lesbian by rejecting or reporting these events. I have been coerced into ignoring derogatory comments towards homosexuals for fear of being alienated for my viewpoint. In short, I have lied to my classmates and compromised my integrity and my identity by adhering to existing military policy.
BETH SCHISSEL, former Air Force Captain
Beth Schissel was a member of the 10th class of women to graduate from the United States Air Force Academy. She attended medical school on a military scholarship and there fell in love with her best friend -- another woman. She was honest about her sexual preference and discharged on September 20, 2001 -- just over a week after the 9/11 attacks. "Naively, I thought that mission needs would trump my being a lesbian," Schissel wrote on the Service Members Legal Defense Network website. "Every day, I am reminded that, simply because of who I love, my country has said I'm not good enough to help save the lives of our women and men in uniform," she wrote.
Ellis is an enlisted Marine who came out long ago to friends and family at home, but is closeted to her supervisors in the military. She was featured as part of photographer Jeff Sheng's photo series on military personnel forced to serve in the closet.
"For someone who's been out her entire adult life, Ellis is finding her double existence in the military emotionally stressful," reported the L.A. Times.
AUTUMN SANDEEN, retired Navy officer
Autumn Sandeen joined the U.S. Navy 30 years ago, lying about the fact she was a teen cross-dresser. Sandeen's unique story on what it was like to be a transgendered woman serving under DADT was published in the Gay & Lesbian Times. Here's an excerpt:
I know from personal experience that DADT policies affect transgender people. It affects transgender people because most folk outside of the GLBT community don't see much of a difference between effeminate acting straight men, effeminate acting gay men, crossdressers, drag performers and transsexual women, as well as not being able to see much of a difference between masculine acting straight women, masculine acting lesbian women and transsexual men.
BRIDGET ALTENBURG, former Army engineer officer
Bridget Altenburg published her DADT story, "Why I Got Out," on the New York Times blog "At War" a year ago today.
Born into a military family, she graduated from West Point as an Army engineer officer and was deployed three times oversees. When returning from her third deployment, she was forced to celebrate her reunion with her girlfriend in private. Altenburg wrote "I think it was at this point that I decided living in the closet as a soldier under "don't ask, don't tell" was something I could no longer do ... But, the biggest reason I left was that I hated living a lie. I hated playing the pronoun game."
She resigned in August of 2000 and now works for the Academy for Urban School Leadership and serves as a founding member of Knights Out, a LGBT organization at West Point.
"I was willing to make the sacrifices, to deploy three times in four years, to live in a tent with 10 men for nine months, to wade through hip-deep mud," she wrote. "But I was not willing to give up sharing a life with someone."
CORRECTION: Autumn Sandeen is a retired Navy petty officer (the Navy's version of a non commissioned officer), rather than former officer which implies commissioned officer status.
Popular in the Community