For many viewers, the recently released box-office hit "Wonder Woman" could have ― and should have ― been set entirely on the women-only Amazon warrior paradise of Themyscira.
In fact, I would have contentedly traded Chris Pine's Steve Trevor for more time with Artemis, Antiope or Hippolyta at any given point in the film's 141 minutes. It felt profoundly satisfying to watch women of all colors, sizes, shapes and ages wield so much physical power on a humongous screen, and as the story went from Themyscira to World War I-era Western Europe, I found myself missing the women warriors and wanting to know more about them.
Turns out, the real women beneath the armor are just as fierce as their characters.
Ann Wolfe, Artemis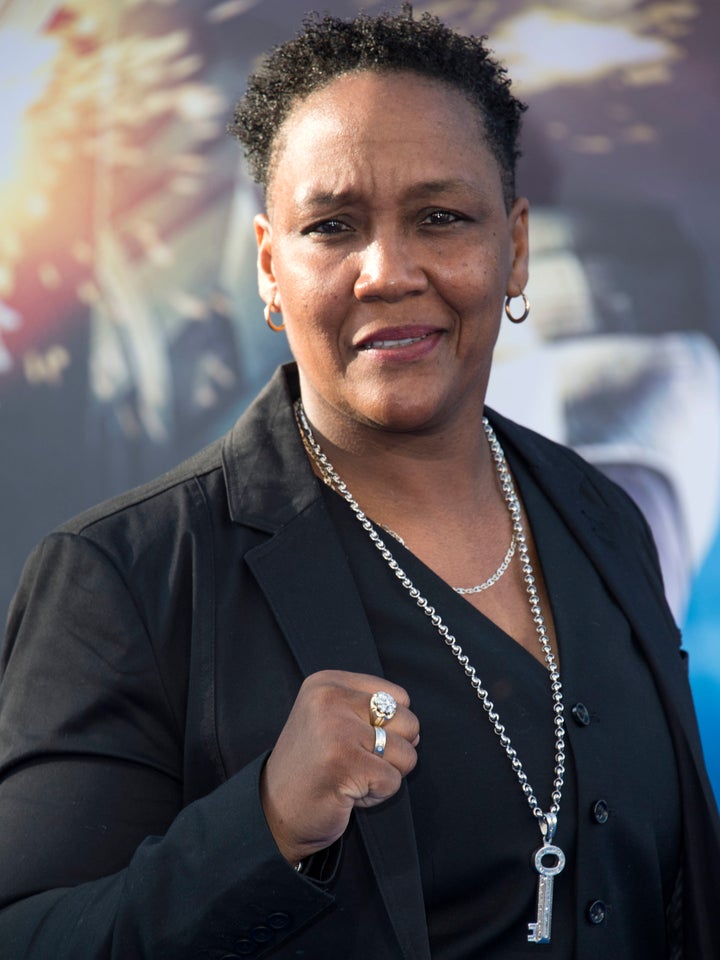 Ann Wolfe is considered by many to be the best female boxer in history, known in particular for her strong and unforgiving punches ― in fact, her 2007 knockout of Vonda Ward has more than a million views on YouTube.
Wolfe told HuffPost a bit about how, after her storied boxing career, she came to be in the blockbuster hit.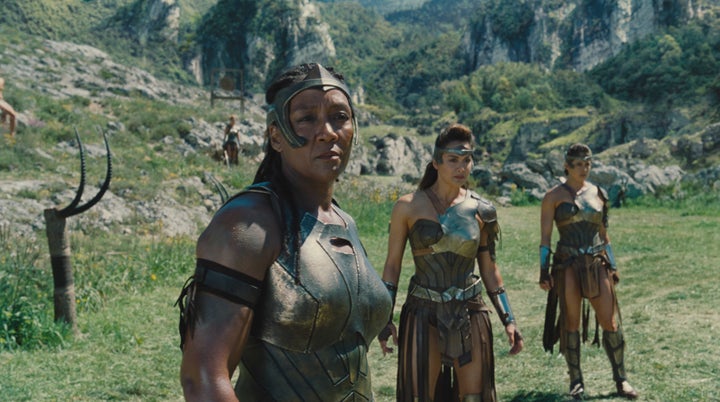 "Wonder Woman" director Patty Jenkins had approached her for the role because of her knowledge of Wolfe's background in boxing. Jenkins' husband, Sam Sheridan, a former professional fighter himself, had long been following her career. As other women were auditioning for the role of Artemis, Jenkins kept going back to Wolfe. She eventually got the part, and was flown out to London to meet everyone before starting filming in Italy.
"I had never been on a set," she told HuffPost. "Patty got out of the director's chair and said, 'Sit down!' And then Gal [Gadot] came over and looked at me and said, 'Yep, that's Artemis.'"
The rest, according to Wolfe, was magic. She told HuffPost that working with so many other athletic women was a gift, especially after spending so much of her boxing career being trained by and working with men.
"It felt like we were truly Amazons," she said. "I have never been around that many strong women at one time. It was like a puzzle, and we all fit in it together. It felt like we were real, true Amazons."
Madeleine Vall Beijner, Egeria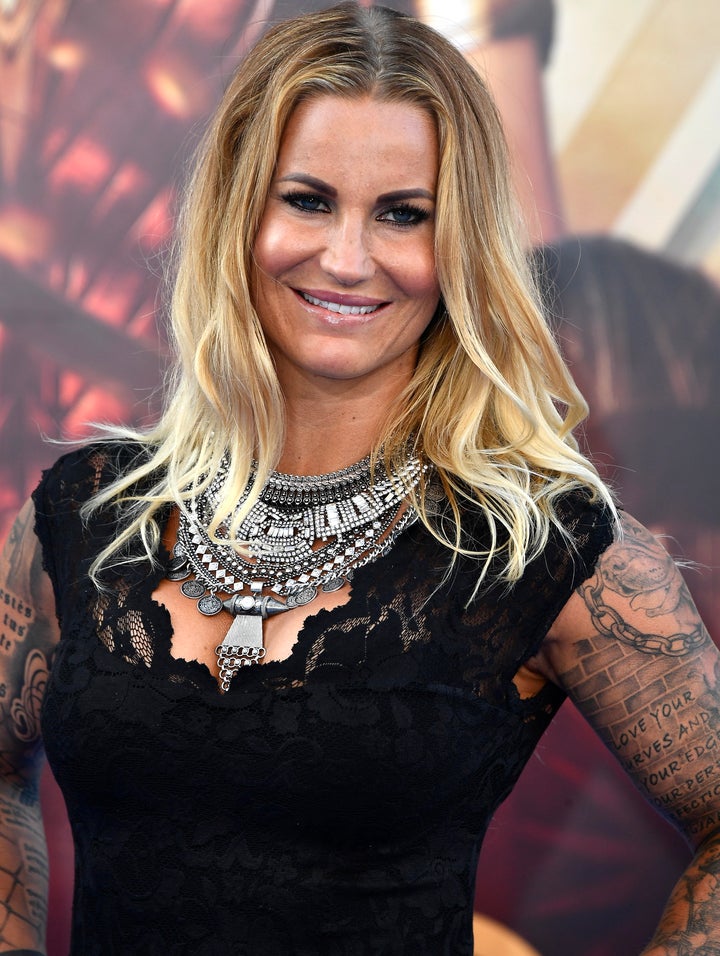 Like Wolfe, Madeleine Vall Beijner came to "Wonder Woman" from the world of professional fighting. For over 10 years, she was a world-ranked Thai boxer. After an injury took her away from her plans to transfer into MMA, she instead took her skills to stunt roles and film. The intense physical demands that she and the other Amazons went through on set were pretty standard for her skill level.
"I'm used to training two to three times a day," Beijner told HuffPost. "The difference was in the techniques and choreography, but since I'm used to constantly learning new moves, pro-fighting translated itself pretty easily into stunt acting. I feel like I have a great base to build on from all my years taking punches and knocking people out."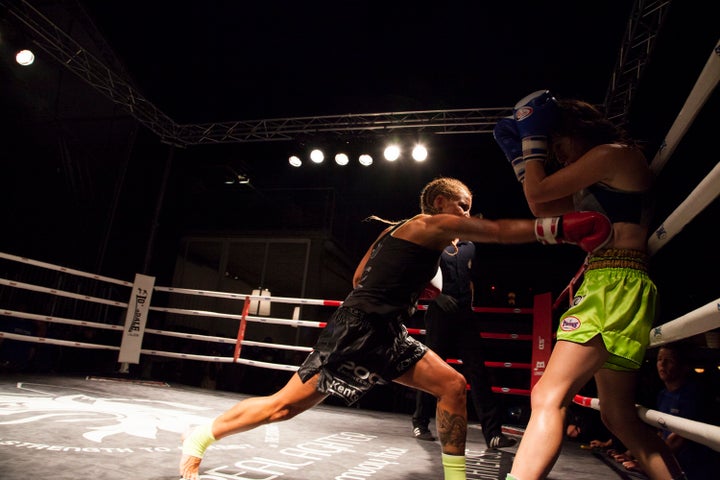 What was new for the Swedish fighter, though, was getting to do so much heavy lifting with other women.
"It wasn't actually until 'Wonder Woman' I got to be in a girl-power world. Being a female Thai and kickboxer, I've been in a man's world for the last decade, so being around this many women was completely new to me," she said.
"I was a little nervous at first," she added, "but as soon as I arrived I just felt this ... surge of power and unity."
Both Beijner and Wolfe talked about that bond on set, and the environment that Jenkins created to nurture it.
"I give a lot of credit to Patty Jenkins for creating this vibe, it truly went top-down," Beijner said. "This movie is about a lot of things, but female power, wisdom and badassery is what's at the core. And Patty managed to get that out of each and every one of us, as well as a team, or troops. Us Amazons challenged each other while training, only to push each other further and to become stronger. Beyond that, we used our fighting spirit to support each other. There were days we were so tired we could sleep standing up, but we went at it, again and again and again."
Doutzen Kroes, Venelia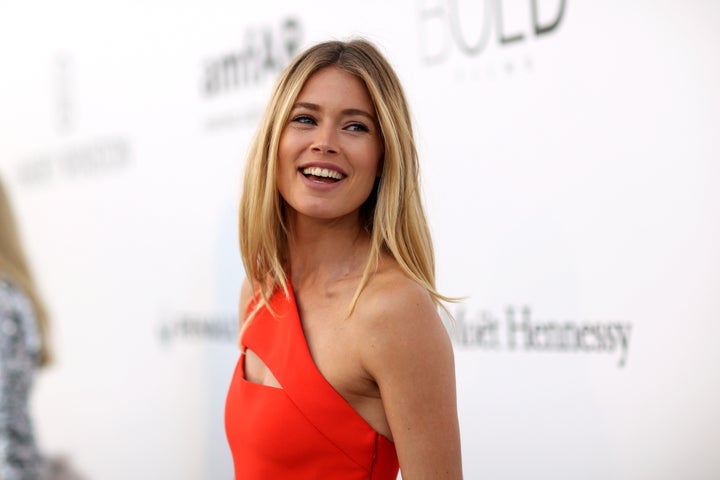 Doutzen Kroes may best be known as a Victoria's Secret Angel and supermodel, but she's also trained in horseback riding ― and showed off these skills in her role as Amazon warrior Venelia.
Kroes told HuffPost that having an equestrian background made the training a bit more natural, but it was still outrageously intense.
"I've loved riding horses my entire life," she said. "But riding at full gallop with a weapon was challenging, but empowering and so much fun."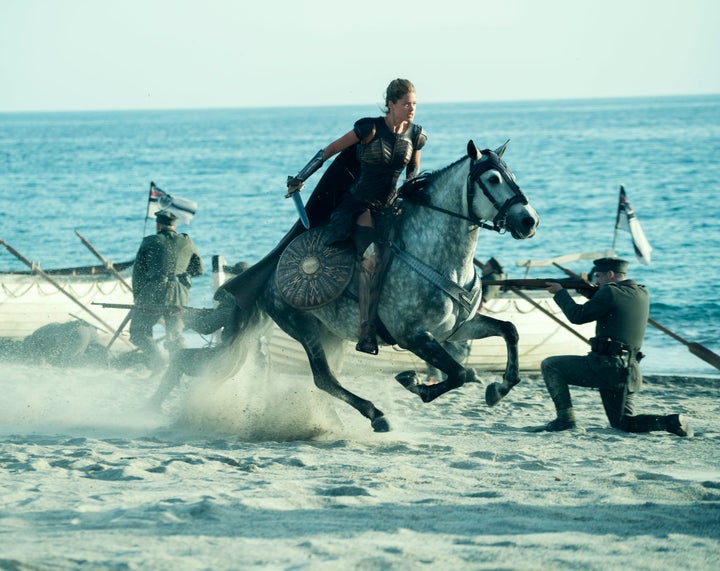 She too was quick to credit Jenkins for steering the ship and allowing women to be their baddest warrior selves.
"She is like a real-life Queen Hippolyta ― Patty set a mood that was welcoming, warm and supportive," Kroes said.
She was also grateful for that tough-yet-maternal culture among the other Amazons. "Many of the other Amazons are also mothers, so we were all able to have our families with us during filming," she said. "It was just a very special moment — to be in this gorgeous Italian paradise, shooting this historic film and iconic story and then having the opportunity to share it with so many cool women and their children ... The experience of working on Wonder Woman was something I've never had before."
Brooke Ence, Penthesilea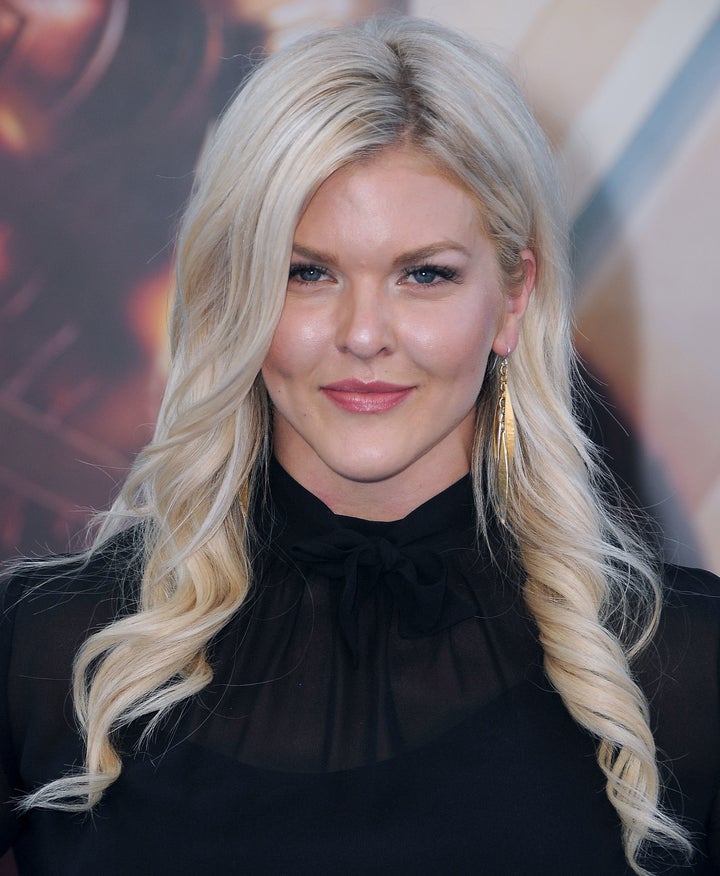 Like some of the other Amazons, Brooke Ence caught the attention of the director as a professional athlete ― she's a competitive CrossFit athlete, and was scouted by film producers just before the 2015 games.
"I got a call from Warner Bros. asking me if I would come in and read," she told HuffPost. "I had no idea what it was for."
Ence told HuffPost that she initially felt conflicted about accepting the role because the filming would clash with her training schedule for the 2016 CrossFit Games.
"I was really hesitant to [accept the role] … But it just seemed like a really great opportunity that people audition for all the time and never get," she said. "And it literally just fell in my lap. I just couldn't say no."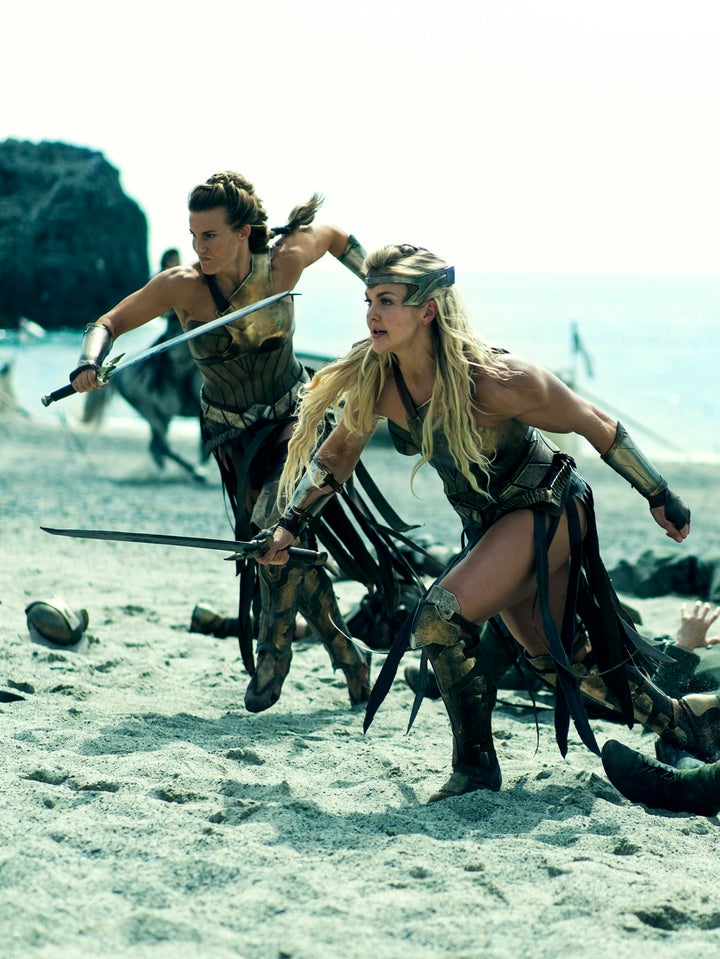 Because Ence was training for the CrossFit Games during filming, she felt right at home among the other athletes. In fact, she was the last Amazon that they flew out to train ― most of her training was pretty much already done, and she was already in Amazon shape. But that didn't mean she didn't have more to learn.
"Everyone that was an Amazon [had] so much mental strength," she said. "Everyone just walked with more power. They walked with this Amazonian vibe."
"It was a great realization of all the different types of strength. Strength for me is physical and super, super mental," she continued. "And there, not only did I get to see and feel strength in a physical sense, but a lot of it was in attitude, and determination ... It was very empowering to be around so many different types of women with the common goal. Everyone came together as this army."
Samantha Jo, Euboea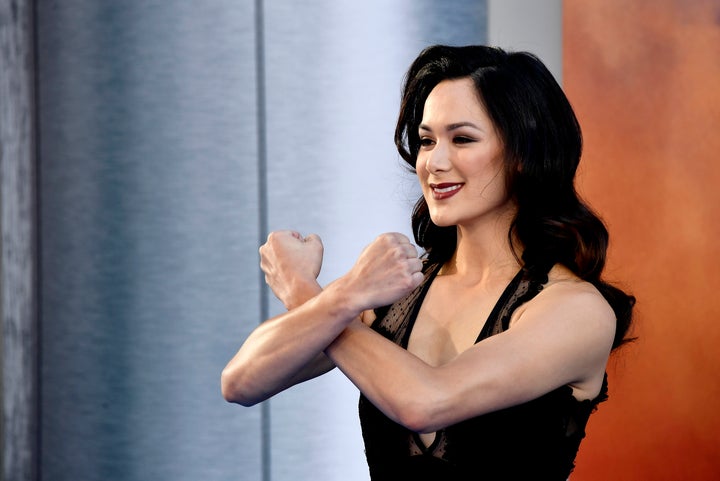 Many have already seen Samantha Jo on film before without even knowing it. She's worked as a body double for major Hollywood blockbusters like "The Twilight Saga: Breaking Dawn ― Part 2," and "300: Rise of an Empire."
Jo also told HuffPost how much she loved being on set with so many ripped women who were there to play the role of warriors, especially in contrast to her experience in "300," when she was the only woman on set with dozens of men.
"It was really interesting to contrast the experience of working with 40 men, where I was the only woman," she said.
"Females just have a different kind of energy. There was this bonding that happened. I think it was probably through the suffering [from training]," she added.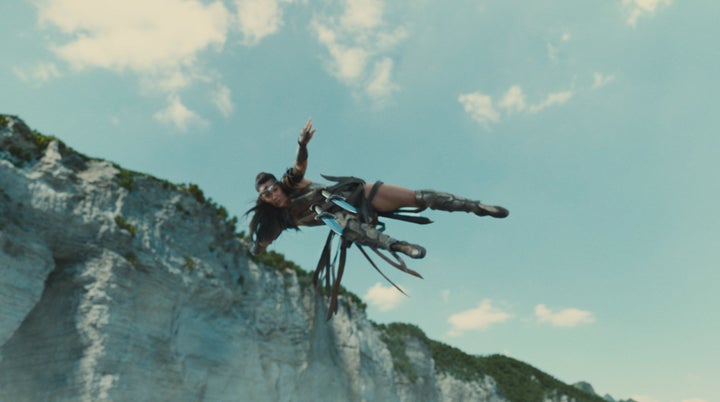 She told HuffPost how, on the first week of shooting, part of the training for the women playing Amazons was to stack weights on top of a sled and push it back and forth.
"It was my first week, and my muscles weren't quite developed, and I wasn't as strong as everyone else yet," she said.
At one point, after about 20 seconds, she began to feel dizzy and felt herself fading.
"All of the women in the gym ran up behind me and started yelling and cheering for me. I don't think I would have made it had they not given me that extra push. I almost started crying [at] the love that I felt," she said. "And that was only day three."
What's abundantly clear, from Jo and the rest of the Amazons, is that "Wonder Woman" being led by Jenkins was what made the experience ― and the film itself ― so damn special.
"The whole vibe of the set really starts from the top down," she said. "It was interesting to get a female perspective." Jo said that the story itself was that much better because it was told and directed by a woman.
"Yeah, there's a lot of action and cool moments. But at the heart of it, it's about love and compassion and unity," she said. "It translated so well coming from a woman's voice. We all knew that we were going to be a part of something really special."
Related
Before You Go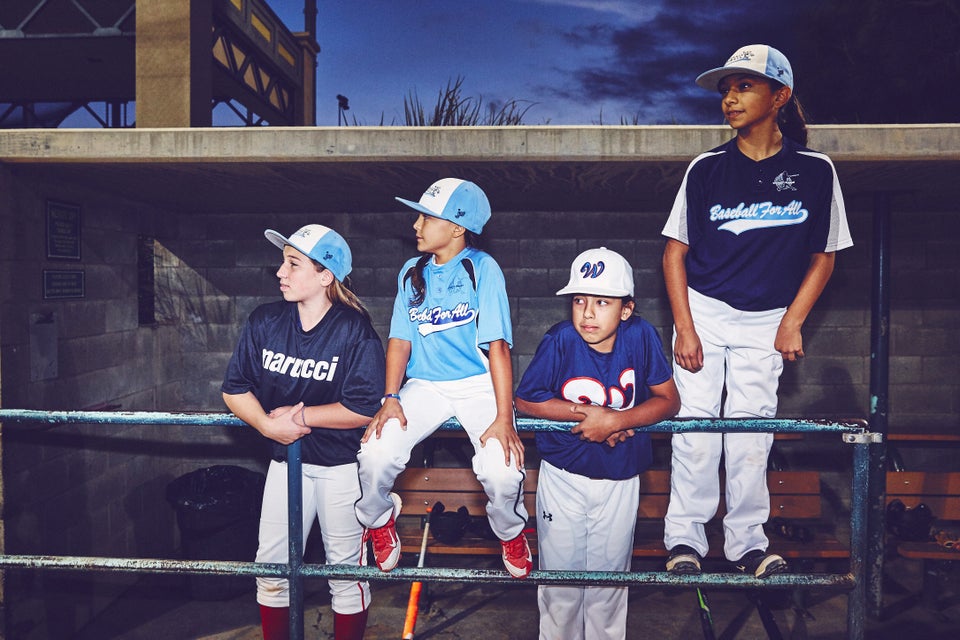 Empowering Photos Showcase Fierce Girl Athletes
Popular in the Community