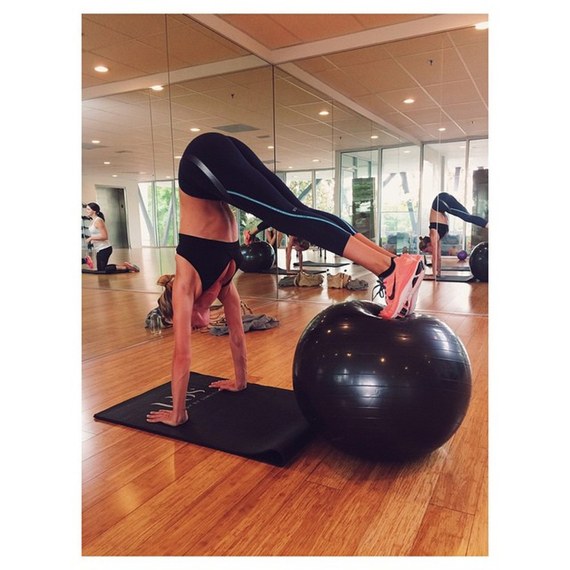 Photo: Courtesy of Instagram/@rosiehw
From Gigi Hadid to Lena Dunham.
We love Nike and Under Armour just as much as the next fitness fanatic (hi Ellie Goulding!), but try as they may when it comes to locking it down on the fashion front they don't have things down quiet as pad as some of the up-and-comers. Leave it to celebrities, who always need to look the part, to lead by example when it comes to sweating in style.
With that said here's a look at 5 stylish up-and-coming brands - and the celebrities who love them. We're betting you'll be adding them to your wish list whether you actually make it to the gym or not.
Checkout Rosie Huntington Whiteley demo'ing the staying power of Splits59's leggings. Made from high performing fabrics these are pants that will never ride down, no matter how contorted your position may be.
2. BETH RICHARDS SWIMWEAR - HANNAH BRONFMAN

It's not often that Bronfman ditches adidas so when she does, we take note and on more than one occasion she's taken a snap while wearing a piece from the Beth Richards Swimwear collection, a line whose pieces double as bodysuits and athletic wear.
3. MICHI -LENA DUNHAM

You can thank Michi for ushering in the omnipresent trend of sheer paneled activewear, but that's not all they do. Checkout Lena Dunham rocking one of their multi-strap bras.
4. BALLET BEAUTIFUL - GIGI HADID

Ballet Beautiful founder Mary Helen Bowers just launched her own collection of ballet-inspired activwear. Unsurprisingly, given that she trains models like Gigi Hadid, Miranda Kerr, Karlie Kloss, and Lily Aldridge, it has already become a favorite amongst the model set.
5. STACY G + MILLY - HILARY RHODA

Milly designer Michelle Smith has taken her love of Soulcycle to the next level by teaming up with her favorite instructor, Stacy G, for a line of tops. Looks like she's not the only one who's a fan of Stacy G. Hilary Rhoda was snapped in one of the collection's limited-edition inspirational tees.