I may be biased, but young adult fiction gets better and better every year, and 2017 is no exception. YA book lovers have a lot of amazing titles to look forward to.
I'm the founder of a YA book subscription box, so I'm always looking for the next big thing. Here are a few of the big, sweeping trends coming 'atcha in the new year.
Diversity Strong
The number of books that include diverse main characters grows steadily every year. The following books represent a much bigger trend, featuring novels with a diversity of race, ethnicity, religious beliefs, gender, sexual orientation, etc.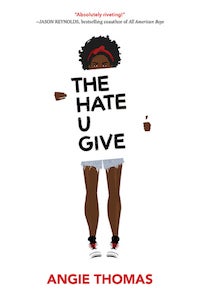 The Hate U Give by Angie Thomas - Inspired by the Black Lives Matter movement, Angie Thomas's searing debut about an ordinary girl in extraordinary circumstances addresses issues of racism and police violence with intelligence, heart and unflinching honesty.
That Thing We Call a Heart by Sheba Karim - Featuring complex, Muslim-American characters who defy conventional stereotypes and set against a backdrop of Radiohead and the evocative metaphors of Urdu poetry, this is a honest, moving story of a young woman's explorations of first love, the value of friendship, and what it means to be true.
You're Welcome, Universe by Whitney Gardner - When Julia finds a slur about her best friend scrawled across the back of the Kingston School for the Deaf, she covers it up with a beautiful (albeit illegal) graffiti mural. This book introduces audiences to a one-of-a-kind protagonist who is unabashedly herself no matter what life throws in her way.
History is All You Left Me by Adam Silvera - OCD-afflicted Griffin has just lost his first love, Theo, in a drowning accident. In an attempt to hold onto every piece of the past, he forges a friendship with Theo's last boyfriend, Jackson. When Jackson begins to exhibit signs of guilt, Griffin suspects he's hiding something, and will stop at nothing to get to the truth about Theo's death.
The Inexplicable Logic of My Life by Benjamin Alire Sáenz - Sal used to know his place with his adoptive gay father, their loving Mexican-American family, and his best friend, Samantha. But it's senior year, and suddenly Sal is throwing punches, questioning everything, and realizing he no longer knows himself. If Sal's not who he thought he was, who is he?
Insta-Famous
What if one day you went from being a regular person and then the next you've became instantly famous?! If you've ever dreamed of worldwide recognition or a little bit of the limelight, then these YA books are for you!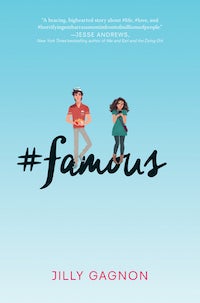 #famous by Jilly Gagnon - Told in alternating points of view, #famous captures the out-of-control thrill ride of falling for someone in front of everyone.
Tash Hearts Tolstoy by Kathryn Ormsbee - After a shout-out from one of the Internet's superstar bloggers, Natasha "Tash" Zelenka finds herself and her obscure, amateur web series, Unhappy Families, thrust into the limelight: She's gone viral.
Grace and the Fever by Zan Romanoff - Rainbow Rowell's Fangirl meets Jenny Han's The Summer I Turned Pretty in this contemporary YA about what it means to be a fan and what it means to be a friend when your whole world is in flux.
This Beats Perfect by Rebecca Denton - Overnight a photo of Amelia Ayres backstage at The Keep's only UK gig has made her a subject of global speculation. Suddenly the world needs to know #Who'sThatGirl? – but for all the wrong reasons.
Lucky In Love by Kasie West - Maddie doesn't believe in luck. But one night, on a whim, she buys a lottery ticket. And then, to her astonishment -- She wins! Now Maddie isn't sure who she can trust. Except for Seth Nguyen, who doesn't seem aware of Maddie's big news. But what will happen if he learns her secret?
Rarely Retold Stories (Retellings: Part 3)
Retellings have been part of the past two trend articles I've written, and if it was up to me, this trend would never end. The following books reimagine stories that are rarely retold.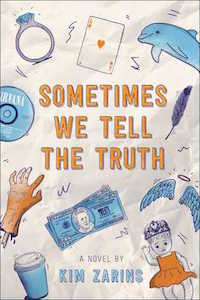 Sometimes We Tell the Truth by Kim Zarins - In this contemporary retelling of The Canterbury Tales, a group of teens on a bus ride to Washington, D.C., each tell a story—some fantastical, some realistic, some downright scandalous—in pursuit of the ultimate prize: a perfect score.
Seeking Mansfield by Kate Watson - Finley Price has perfected two things: how to direct a world-class production, and how to fly way, way under the radar. The only person who ever seems to notice Finley is her best friend Oliver. When teen movie stars Emma and Harlan Crawford move next door, they immediately set their sights on Oliver and his cunning sister, Juliette, shaking up Finley and Oliver's stable friendship.
Speak Easy, Speak Love by McKelle George - Full of the well-intended misunderstandings, wit, and delicious twists that are hallmarks of a Shakespeare play, this book is a beguiling reinterpretation of Much Ado About Nothing, set against the ever-changing decadence of the Jazz Age.
No Good Deed by Kara Connolly - This story is a reimagining of the legend of Robin Hood. Girl power rules supreme when a modern girl finds herself in the middle of a medieval mess with only her smart mouth and her Olympic-archer aim to get her home.
The Duke of Bannerman Prep by Katie A. Nelson - A contemporary retelling of The Great Gatsby, this debut is perfect for fans of John Green's Looking for Alaska, Kate Brian's Private series, and anyone who's encountered the cut-throat world of competitive high school.
Kingdoms in Chaos
In YA lit, there's never a shortage of princess stories, but this time around there's a twist: kingdoms are at war. Whether the characters must stand their ground or join the fray, these novels bring the battle close to home.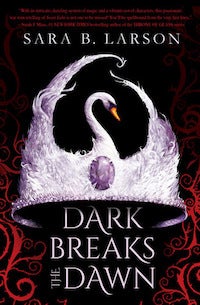 Dark Breaks the Dawn by Sara B. Larson - Princess Evelayn of the Light Kingdom can finally access the full range of her magical powers. While her mother, the queen, remains busy at the war front, a corrupt king is plotting, wanting control of both kingdoms. Events will fling Evelayn onto the throne much sooner than she expected.
Royal Bastards by Andrew Shvarts - A band of royal bastards band together, realizing they alone have the power to prevent a civil war that will tear their kingdom apart—if they can warn the king in time. And if they can survive the journey...
The Glass Spare by Lauren DeStefano - Wil is the youngest spare and the only daughter to the world's wealthiest king. After a tragedy changes the course of her life, she must help the kingdom that's turned its back on her, even as it descends into war.
Blood Rose Rebellion by Rosalyn Eves - In this historical fantasy, Anna Arden must choose: deny her unique power and cling to the life she's always wanted, or embrace her ability and change that world forever.
Shimmer and Burn by Mary Taranta - Faris grew up fighting to survive in the slums of Brindaigel while caring for her sister, Cadence. But when Cadence is caught trying to flee the kingdom and is sold into slavery, Faris reluctantly agrees to a lucrative scheme to buy her back, inadvertently binding herself to the power-hungry Princess Bryn, who wants to steal her father's throne.
Daughter of Passion and Stone by Rebecca Ross - Brienna Colbert desires only two things: to master her passion and be chosen by a patron. When a disgraced lord offers her patronage, Brienna accepts, knowing he needs her ancestral memories to aid his secret plans for retribution. Yet Brienna soon learns that she is assisting three exiled lords in a dangerous attempt to not only dethrone the king of Maevana, but to restore the rightful queen upon the northern throne.
Short Story Revival
Since the popularity of Stephanie Perkins' Christmas-themed short story collection, My True Love Gave to Me: Twelve Holiday Stories a few years ago, there seems to be a resurgence of new YA anthologies. This unique format that includes insight from a variety of authors tugs at readers' curiosity and imagination.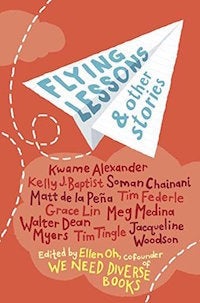 Flying Lessons and Other Stories edited by Ellen Oh - Whether it is basketball dreams, family fiascos, first crushes, or new neighborhoods, this bold anthology—written by the best children's authors—celebrates the uniqueness and universality in all of us. Includes stories from Sherman Alexie, Jacqueline Woodson, Matt de la Pena, and Tim Federle and more.
Triangles: The Points of Love Anthology - The anthology explores the myriad tragic, frustrating, humorous possibilities of the teen love triangle, and features 15 new stories from authors like Natalie C. Parker, Rae Carson, Garth Nix, Veronica Roth, Sabaa Tahir, Renee Ahdieh and Julie Murphy.
Because You Love to Hate Me: 13 Tales of Villainy edited by Ameriie - This unique YA anthology presents classic and original fairy tales from the villain's point of view. The book's unconventional structure - 13 of the most influential BookTubers on YouTube join forces (writing-prompt style) with 13 acclaimed and bestselling authors - gives these mysterious, oft-misunderstood individuals characters a chance to tell their stories, their way. Authors include: Victoria Schwab, Adam Silvera, Susan Dennard and Nicola Yoon, etc.
Things We Haven't Said: Stories of Abuse and Recovery edited by Erin E. Moulton - Statistically, teens make up the demographic most affected by rape, sexual assault, and sexual abuse, and yet the topic is shrouded by stigma and silence. Things We Haven't Said seeks to make a change by providing teens with stories that engage, questions for further discussion, and resources that could save a life. Stories from Melissa Marr, Stephanie Oakes, Carrie Jones and more.
Here We Are: Feminism for the Real World edited by Kelly Jensen - Here We Are is a scrapbook-style teen guide to understanding what it really means to be a feminist. It's packed with essays, lists, poems, comics, and illustrations from a diverse range of voices, including TV, film, and pop-culture celebrities and public figures. Authors include: Kody Keplinger, Brandy Colbert, Malinda Lo and Siobhan Vivian, etc.
What do you think of these YA trends for next year?
Popular in the Community