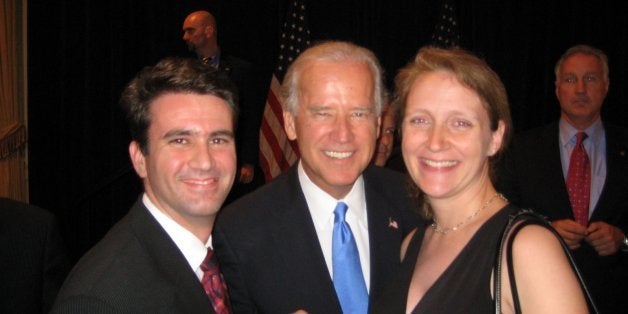 Like so many, I was devastated to learn that Vice President Joe Biden's son, Beau, died from a brain tumor at the far-too-young age of 46. I was especially affected because Vice President Biden was among the hundreds of kind well-wishers who sent my husband and me heartfelt personal notes of condolence five years ago after our daughter Hudson died from an aggressive bacterial meningitis infection at the far-too-young age of 17 months.
While the Vice President's note was certainly unexpected (we later learned that some dear friends reached out to him. They had remembered we met him in 2008 when I was pregnant with Hudson), it was not at all surprising. Having lost his first wife and baby daughter in a terrible car accident almost 40 years before, Biden understands like few others how much comfort the simple act of witnessing another's grief, of refusing to turn away from it, can bring to the grieving.
In his note to us, Biden wrote that there were no words that could ever take away the pain of losing our daughter. So many other notes we received during that terrible time echoed that sentiment -- people said over and over again that if they could do anything to take away even the tiniest bit of our pain, they would do it. They wanted so much to carry even a fraction of it for us so that we wouldn't have to bear it all by ourselves. But they knew that was impossible -- they knew that nothing they could do could ever take our pain away. And they were right. The unfathomable pain of losing our daughter will be with us and part of us for the rest of our lives.
Related