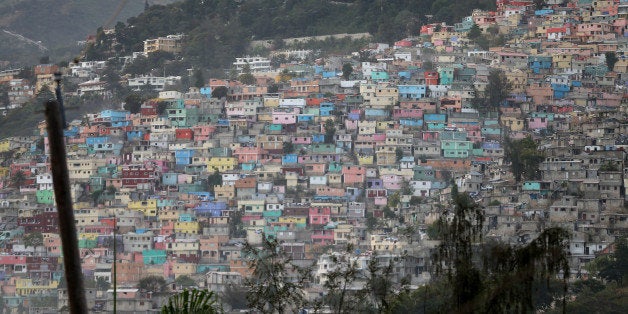 With skill and precision, trained workers in a pristine and modern facility diligently assemble computer tablets for national and overseas markets. This could be a high-tech company almost anywhere in the developed world, except it's not. This is the Surtab factory in Haiti, which, as the Seattle Times notes, is aiming to spark a technological revolution. Defying the stereotype of this Caribbean nation as a place of low-wage, low-skill labor, Surtab is creating high-skill jobs and high hopes for the people of Haiti. This homegrown technology company is one example of innovative small Haitian businesses that have benefitted from initial support from the U.S. Agency for International Development (USAID). If given the same opportunity, other Haitian companies and workers can be equally successful.
It is nearly five years after the Haiti earthquake that shocked the world. As Haitians and their many international donors consider how best to advance gains made since 2010, it is appropriate to reflect on why Haiti is poor and why donors, despite good programs and intentions, have not been able to help Haiti move quicker toward meaningful poverty reduction and economic development. Decades of political instability, natural disasters and high rates of emigration of many of the country's most educated citizens have undoubtedly contributed to Haiti's difficulties. Haiti doesn't have to be poor.
Many among Haiti's diaspora are successful professionals and entrepreneurs who demonstrate that, in the right environment, their potential can be unleashed. Haitians at home can achieve the same, but they need the same opportunity. To empower Haitians and further discourage dependency, donors should do more to help Haitians develop their own durable institutions. At USAID, we're striving to facilitate this shift. We are working closely with the Haitian government to create a modern financial management system so that donors, including USAID, can provide more direct support to ministries. Through staff training and systems development, for example, we are helping the ministries of Health and Social Affairs to provide services directly to Haitians.
This shift encourages us to keep an eye toward the future. Working closely with Haiti's Education Ministry, USAID is helping schools introduce proven methodologies for teaching kids how to read. This will help diversify and expand Haiti's labor pool to compete for 21-century jobs. Haiti's civil society also has an important role to play in the country's development. USAID is investing in civil society, as well, through programs to strengthen the financial management and programmatic abilities of these groups, and providing targeted funding to support their set-up. We expect that many of these groups will eventually take over from some of the foreign-based non-profits, thereby putting more Haitians in charge of development programming. Finally, Haiti's private sector has a crucial role to play, as well. By supporting new companies like Surtab, USAID is encouraging the birth of a dynamic private sector, from where Haiti's future job growth will emerge.
This vision does not preclude donors from helping Haiti in more traditional ways, however. Indeed, without such help, Haiti would not have such strides as we see today in its post-earthquake recovery. With the help of international donors, over 90 percent of displaced Haitians have been resettled and almost all rubble has been removed. Agricultural production is growing, as are farmer incomes, and fewer Haitian babies and children are needlessly dying from lack of proper nutrition or basic medical care. Thanks in large part to USAID and the Centers for Disease Control, the incidence of cholera is down dramatically from the height of the outbreak in 2010 and 2011, and we will continue to work with our Haitian and international partners to monitor, treat, and prevent the disease.

Haiti still has a long way to go. But five years after the earthquake, Haiti merits a fresh look at its future prospects based on all that it has achieved. For Haiti to reach its full potential, we must look beyond the obvious challenges and look for its potential. Let's do our part to help Haitians to consign the cynicism, despair, and hopelessness too often unfairly associated with Haiti to the dustbin of history, along with the remainder of the post-earthquake rubble.
Calling all HuffPost superfans!
Sign up for membership to become a founding member and help shape HuffPost's next chapter