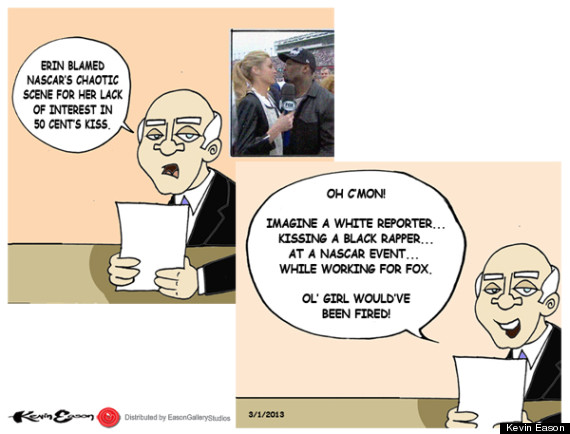 50 Cent is usually pretty lucky with the ladies. He's been seen on the red carpet with a range of women from Vivica Fox to Ciara, and is even known for being wrapped up in a bit of a love triangle with comedian Chelsea Handler.
Although Andrews attributed the mix up to the chaotic atmosphere at the race, cartoonist Kevin Eason has another explanation for the awkward moment. According to Eason, a show of affection between the reporter and the rapper may have ruffled a couple of feathers at Fox News and elsewhere.
What do you think? Would a smooch between 50 and Andrews be cause for a firestorm? How would Fox News react? Share your thoughts in the comments section below.
About the artist:

Kevin Eason is a freelance editorial cartoonist and illustrator from New Jersey. His brand of satire covers news events in politics, entertainment, sports and much more. Kevin's work features include: Gannet, TVOne, Uptown, The Urban Daily, NAACP, Cengage Publishing, Bossip, WBLS_107.5FM, and various newspapers and magazines throughout the country. Follow him on Facebook.
PHOTO GALLERY
The Political Satire Comedy Of Kevin Eason