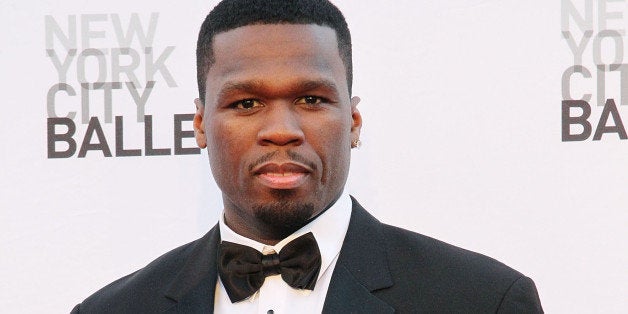 Curtis Jackson, better known as 50 Cent, might have made some inflammatory comments against the lesbian, gay, transgender and bisexual community in the past, but the rapper insists he is not a homophobe.
In a candid interview with TheWrap, 50 Cent sat down to discuss his featured role in "Dream School," a six-part unscripted series for the Sundance Channel, helmed by chef Jamie Oliver and produced by Jackson, IndieWire noted. The series, which premieres next week, will focus on troubled teens who get mentored by stars like David Arquette, Oliver Stone and Swizz Beatz. One person featured on the show is a transgender teen named Alan.
"I don't have homophobia. I never did," Fifty told TheWrap, despite the fact that he has used the term "faggot" in song lyrics. "I would use the terminology that would be going around. My grandfather may say terms -- people may actually say terms based on their experiences that were happening at that point. ... You've got people that would call some people a redneck, or some people n-----. It's the term of that time or that period. They're not necessarily racist, but they've heard those terms used around them, and they use them."
He added that he supported his mother's same-sex relationship even when society might not have.
Though he denies having held any anti-gay sentiment, the rapper has made headlines for previous derogatory comments.
In 2010, he tweeted, "If you a man and your over 25 and you don't eat pu--y just kill your self damn it. The world will be a better place. Lol." The statement was made around the time of a rash of gay teen suicides.
Last year, while discussing same-sex marriage with Vibe magazine, he did say "everyone should be happy." But he also proposed the idea of a straight rights group.
"I started realizing that I felt different when I was in middle school, when I was hitting puberty," the teen explains in the series, per a transcript on 50 Cent's website. "I would bind my chest down and try to pass as a boy. That was because I felt like a guy and I wanted people to see me as a guy. I got good grades. I was on honor roll. And once the bullying started that all stopped. I didn't want to go to school. I can't remember the last time I went to school. I honestly can't say that I feel safe in school."
"Dream School" premieres Monday, Oct. 7 at 10 p.m. on the Sundance Channel.
REAL LIFE. REAL NEWS. REAL VOICES.
Help us tell more of the stories that matter from voices that too often remain unheard.
BEFORE YOU GO
PHOTO GALLERY
Straight Allies