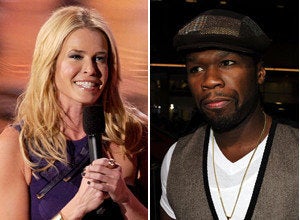 Now 50 explains Chelsea's sex appeal to Vibe without confirming they are an item:
"Chelsea is confident. I think confidence is the sexiest thing about a person. She's the kind of person that if you're blessed with the opportunity to hang out with her, you'll enjoy it. I'm not sure you'll look at her and actually want to jump over the table and fuck her, but you might. You would leave after talking with her feeling that she is a cool person."
Chelsea was also indirect when Glamour asked her about 50 in December.
"He came to my show in New Orleans with 15 people, and they take a photo of us and assume that we're a couple," she said. "But he's really cute, and I have to be honest, there's a good chance that I will end up hooking up with a rapper at some point."
Popular in the Community