There are many misconceptions about travel to Africa, which is a beautiful continent with many wonderful places to visit. After all, it is the Motherland! My first trip to Africa was to Nairobi, Kenya in East Africa, which was fantastic! Subsequent journeys to the continent, on three different occasions, included my husband, our daughter and our son as we visited Senegal and the Cabo Verde Islands (which is where my husband's family is from on his maternal side). We started with Portugal (Europe will be covered in a separate post) on this trip, as we wanted to begin with the colonizers, as one of our goals was to understand the impact of the slave trade and to explore family history. Next, we visited South Africa including Johannesburg, Capetown, Soweto and Robben Island, where Mandela was held as a prisoner for a significant portion of his life. Lastly, my husband, my son and I visited Egypt, which was outstanding and one of the best trips of my life. In brief, it is challenging to give thorough coverage of these experiences but I am thrilled to be able share some highlights of glorious Africa (North, South, East and West)! In this first parti, I will cover Kenya, Senegal and Cabo Verde!
I traveled to Kenya alone and stayed at the Hilton Hotel, which is close to the Convention center in Nairobi and the Maasai market. I went to Kenya to give a presentation at an international health conference. The people were absolutely gracious and warm throughout my entire trip. Beyond my work, I traveled on several excursions including a safari at the Maasai Mara, which was as great as I imagined it would be. I also visited a Maasai village, which is a beautiful experience. The people were so regal and everything about their culture intrigued me. I purchased a blanket and other wares from them that are all special pieces in my home. A visit to Lake Nauru National Park was spectacular as I saw 100's of Flamingos in one place, which was just breathtaking. Shopping for Kenyan crafts, etc. was a cultural joy as I selected masks for my collection, beautiful jewelry, fabric and dresses and other hand-made pieces that will always remind me of Kenya. The Karen Blixen Museum and Giraffe Manor was a special treat as I had the opportunity to stand very close to a giraffe and touch it, which was very cool (http://www.nahdytravel.com/tours.php?active_page=safari&safari_idea=15). My experience in Kenya left fantastic memories and began my desire to see more of the continent. I looked forward to returning to Africa and did so with my family.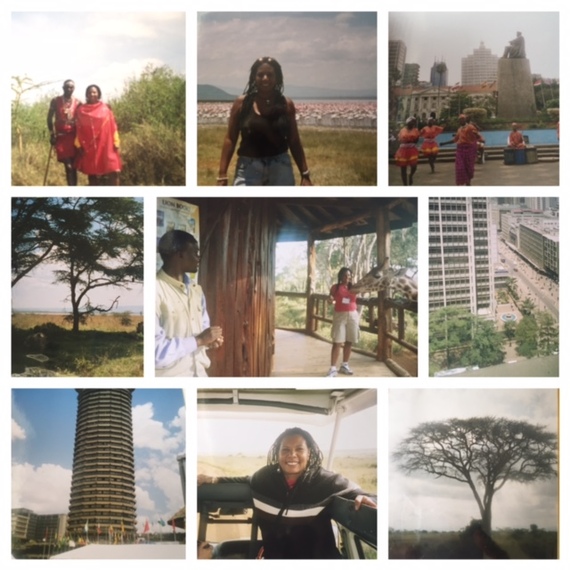 Senegal
My trip to Dakar Senegal with my husband, our daughter and son included a brief voyage to Goree Island, which is a UNESCO world Heritage site (http://whc.unesco.org/en/list/26). It began with a visit to the Maison de Esclaves (House of Slaves) where we each stood in the "Door Of No Return." This is a necessary but heart-wrenching experience. I believe that it is important as it provokes thoughts and feelings about what it must have been like to be taken from West Africa, across the Atlantic ocean, to the awful situation of slavery, never to return home again. Maison de Esclaves is a museum, which renders an experience that does not bring joy but true understanding of a horrific tragedy that impacted negatively, the lives of so many African people, which sadly was the fate of my ancestors.
Dakar, Senegal is awesome in so many ways including the people, the food, and the artisanry--just everything about it. I also enjoyed the hustle and bustle of the city, as the vibrancy of the people is always present. You see it in their attire, their beautiful smiles, welcoming attitudes and their businesses as they tend to their daily activities. Our hotel in Dakar was on the ocean and was perfect for our stay. It accentuated my romantic notions of the beauty of Africa as I stood once again looking at the ocean recognizing the importance of having this experience with my family. Visiting a small village outside of Dakar was a highlight also as we had an opportunity to spend time there and to get to know the people and their humble lifestyle. It was a wonderful experience overall!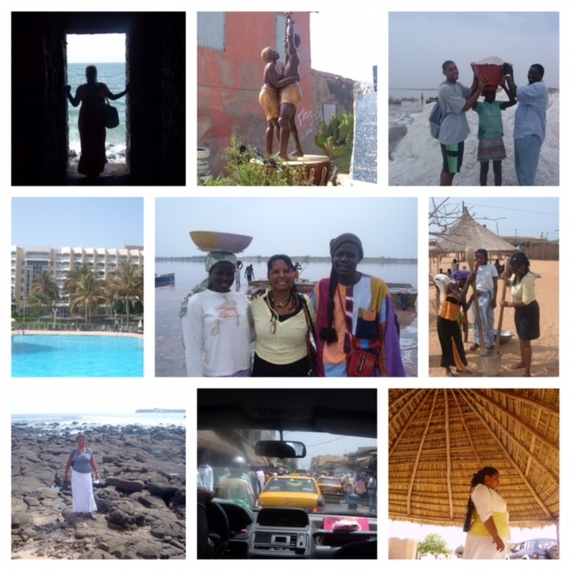 Cabo Verde (aka Cape Verde), is a West African nation, which consists of ten volcanic islands in the Atlantic Ocean. It is known to many as an exporter of hurricanes. Our trip to Cape Verde consisted of a visit to three islands there, which are Sao Vincente, Praia and Sal. For many Europeans, Cape Verde is a vacation spot. It consists of pristine beaches, fantastic food, beautiful scenery and lovely, kind people. My husband's maternal grandparents and other relatives were born there. In Praia, the capital city, we saw the home of the famous, now deceased singer, Cesara Evora known as the "Barefoot Diva (https://www.washingtonpost.com/local/obituaries/a-local-life-singer-cesaria-evora-was-called-the-barefoot-diva/2011/12/17/gIQAp2710O_story.html"). In Sal, our hotel was on the ocean and there we had the opportunity to meet the Cape Verdean soccer team. We ate delicious Cape Verdean dishes, that I had come to know through my husband's family, including Manchup, which is the national dish (http://leitesculinaria.com/9998/writings-manchup-cape-verdes-national-dish-is-a-savory-mix.html), jag (rice and beans) and other traditional specialties. This trip was especially important for us, as my husband had the opportunity to see the homeland of his mother's family and our children now know what Cape Verde is like since they had heard so much about it growing up and it is part of their lineage. I enjoyed each island that we visited. We had to take a small plane to get to each one and my favorite of all was Sao Vincente (http://www.tripadvisor.com/Tourism-g482854-Sao_Vicente-Vacations.html). We stayed at a hotel in Mindelo, which was perfectly quaint. The beauty of this island was such that I decided then, that living there someday for a time, to write and get to know the people more would not be an implausible option. No trip to West Africa should take place without visiting some of these lovely islands. The history of Cabo Verde is also incredibly interesting! (http://www.historyworld.net/wrldhis/PlainTextHistories.asp?historyid=ad50).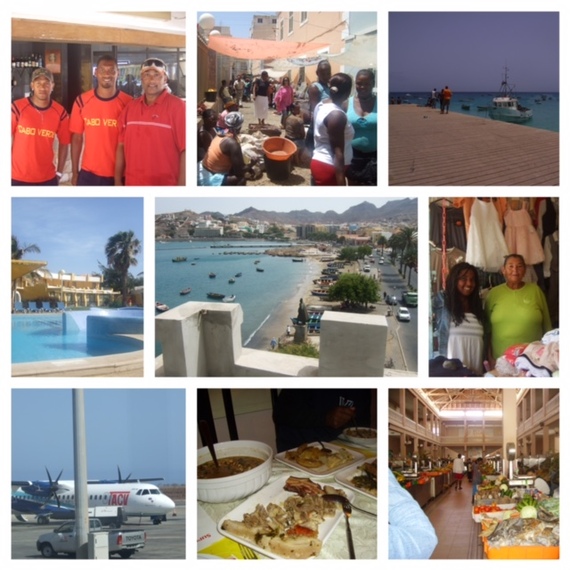 So this concludes Part I. Stay Tuned for my next post, which will take us to South Africa and Egypt! You don't want to miss either of these amazing places! Until then, below are some travel tips to ponder.
1. Do not take pictures of people without their permission.
Particularly in Kenya (where it can be quite taboo to do so) and in general, taking pictures of individuals is best with their permission. It's the respectful thing to do.
2. Explore Visa Requirements
Research Visa and all other requirements thoroughly before buying your plane ticket.
Some Visas take longer to acquire than others. Be sure that you have time to get your visa before your scheduled flight.
3. Tours As an Option
Consider a tour if you are trying to cover a lot of territory in a short period of time.
Africa is a continent, not a country. So first you must decide, which countries you want to visit and then which cities within the country and then select the experiences you want to have from there. I normally don't do tours but we did so in South Africa as I will share in part II. Research your tour choices thoroughly.
4. People First, Then Animals
I am an animal lover, so let's start there. However, imagine if people traveled to the U.S. with the sole purpose of seeing animals without any consideration of getting to know the people and culture. This is what happens sometimes when people travel to certain locations in Africa. People have a tendency to go to locations on the continent to only enjoy safaris. If that is your thought, you may want to rethink that notion, as the people that I have met, in every nation that I have visited on the continent of Africa, were wonderful and are beautiful. The safaris are cool too but you may never be able to enjoy a zoo again after seeing the animals roaming free in their natural environments.
5. Be respectful With Your Attire and Understand the Culture
As an example, note that current day Egypt (which I will cover in part II) is largely an Islamic nation. The attire worn when visiting this beautiful nation should be modest. I was not required to cover my head while I was there but I chose to dress modestly. As with any nation that I visit, I try very hard to respect their culture as I am a guest and must respect the requirements/traditions of my hosts accordingly. You should read as much about the culture you are traveling to before visiting there.