I have always had an interest in traveling to South Africa and Egypt. I was deeply interested in learning about the impact of the apartheid atrocity and I was intrigued by Winnie and Nelson Mandela. As for Egypt, my younger (by five years) brother, who is now deceased, had lived there as an exchange student while in college. I was supposed to visit him there but I didn't make it before he returned home. He told me so many wonderful things about it, including Cairo, the Pyramids, the Sphinx and so much more, that I knew I would get there as he told me that my life would not be complete without this experience. It became a bucket list item that had to be accomplished and so it was, with my husband and son.
Below are some highlights of these two amazing trips. I highly recommend both travel options as you don't want to miss seeing these phenomenal places.
South Africa
This trip was truly outstanding! Johannesburg is a formidable city of great magnitude, beyond what I had expected. We roamed through the city, marveling at all there was to see from the people to the shops and the energy of the city. Normally, I prefer not to travel via arranged tours, but there was so much to see that we took that route for this trip. It was a private tour, so it was just the four of us (my husband and I and our son and daughter) and a driver. All details were arranged beforehand, which made the trip easier to manage.
We had the sad but deeply enlightening experience of visiting the island where Mandela was imprisoned and saw his prison cell which was heart wrenching. http://naturaliscoolenough.blogspot.com/2013/12/nice-pauses-to-pay-homage-to-nelson.html We also went to Soweto to visit the home where he once lived (now a museum of sorts) which was in stark contrast to the home that we saw that he lived in while President. We also visited the Soweto museum. Our visit to Capetown was very interesting, as well as our enjoyment of a day and night safari at Kruger National Park. The night safari was a little scary as we ran into a herd of elephants of which one of the males came charging toward us. Luckily, all ended well but I don't think I would participate in a night safari again. For a portion of our trip, we also stayed at the Palace of the Lost City which has a large tidal wave pool! This hotel is tremendous in size and scope. Additionally, the food in South Africa, overall, is fantastic. Be sure to visit Wandie's Place in Soweto which was our favorite food spot http://www.wandies.co.za/.
The seasonings used in food preparation there are great and all was delicious. So if you visit, be sure to eat heartily!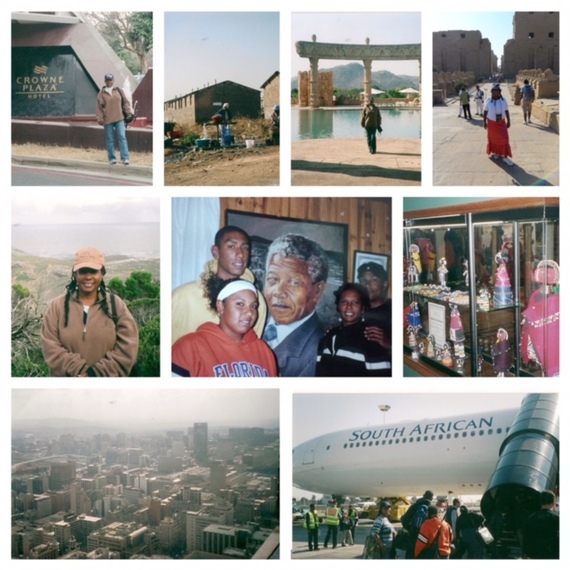 Egypt, by far, has been one of the most wonderful experiences that I have had in my life. Seeing the pyramids caused a visceral reaction for me. They were so huge, mysterious and interesting that I felt emotional as I stood before them. The Sphinx was also a site to behold. We (my husband, son and I) cruised down the Nile for a week, on a lovely cruise ship, stopping to see numerous great, temples throughout the voyage. We also made our way to Abu Simbel to see the Temple of Ramses the Great, which was mind blowing. Our hotel in Cairo, which was a Marriott was absolutely perfect including the ambience, the pool, the food, the rooms and everything about it. http://www.marriott.com/hotels/travel/caieg-cairo-marriott-hotel-and-omar-khayyam-casino/ I highly recommend this hotel as a selection.
The temples and tomb visits were intriguing because by looking at the drawings on the walls, made by the Egyptians during antiquity, my knowledge that the Ancient Egyptian Pharaohs and their Queens, children and the people of the land then, were, in fact, Black people, was solidified. This is also confirmed by timelines, which reflect when other groups, such as Europeans and Arabs arrived in Egypt. After all, Egypt IS in Africa! This is easily proven with any map or globe!
Lastly, the Cairo Museum is also an experience worth every moment. Give yourself time as it is huge and be sure to pay a bit extra to visit the mummy room. There you will see mummies of Pharaohs and others and understand the incredible skill set involved with mummification. I wrote about this some time ago so check it out here:
http://naturaliscoolenough.blogspot.com/2010/08/african-hair-in-antiquity-hair-of.html. Egypt is a trip that is definitely a must do!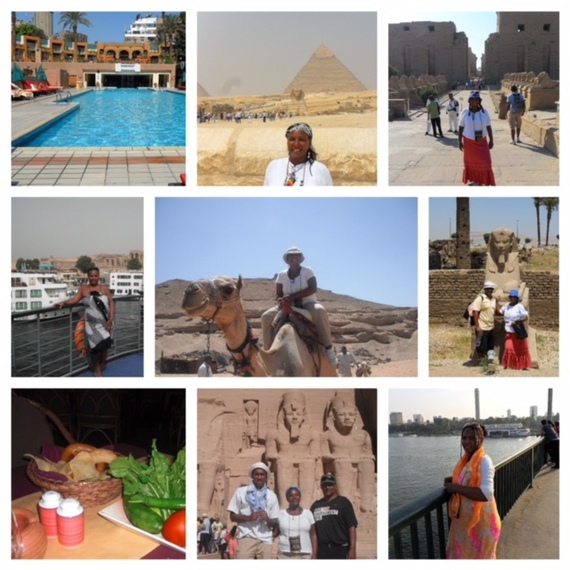 Below are travel tips, which may be useful for your travel adventure. In my next post, I will cover another location that is absolutely worth visiting, although the journey is quite far--Fiji!
1. Consider Joining A Rewards Program With a Hotel Chain.
In doing so, the rewards points add up leading to free hotel stays, upgrades and more. I am a Marriott Rewards member, which has proven to be very helpful for my global stays.
2. Do Not Miss Abu Simbel If You Travel to Egypt.
Abu Simbel is usually an extra journey requiring a short plane ride, beyond the Nile excursion. Many people skip this segment of the trip with subsequent regret. The temple of Ramses the Great is outstanding. You don't want to miss it during your stay in Egypt.
3. Select An Airline With a Mileage Program and Join.
You will need to find out all of the affiliate airlines associated with the program that you join and try to fly on those for all additional short flights related to your long journeys. You want to accumulate as many miles as possible for future trips across the globe.
4. Ladies, Consider Braided Hairstyles for Egypt.
We traveled to Egypt during a hot summer month so I was grateful that I had my locks. Naturalistas, you may want to consider braids and updo's because although there are occasional breezes from the Nile, the heat is intense and very unforgiving for your hairdos. My suggestion is definitely updos and covering which is conducive for maintenance, culture and style. You may find some useful tips about updos here:
http://naturaliscoolenough.blogspot.com/2010/06/today-it-was-101-degrees-in-miami.html
5. A Night Safari May Not Be the Best Option
Although a spotlight was used to brighten things up a bit, I found the night safari to be scary, particularly since we were approached by a herd of elephants of which one was not too happy to see us as mentioned above. That was a frightening and highly risky situation. I just kept thinking, if we get hurt in the dark by one of the animals, folks at home would have no sympathy as the main question would be "why were they on a safari in South Africa at night?" To this day, I think it was not one of my wisest choices. However, the day safari was wonderful!