In my last installment of my naturalista travel adventures, I mentioned that I would write about Europe and then as my fingers hit the keys, I recognized, hold up, wait a minute, it's Black History Month! I started to change my places to write about my travels to locations where primarily Black people dwell, as I have done previously, namely Fiji and African nations, then I changed my mind. It is befitting to write about a naturalista's experience in Europe because no matter where I go, on this earth, as a Black woman, it becomes a part of black "herstory." Why, because I'm a sister. So here goes my journey, through Europe, from a Black "herstory" perspective, Part I.
We started our journey, which was part of a yacht cruise that I took with my husband. The trip included Monte Carlo, Monaco, Villefranche, France, Portovenere and Portofino Italy, St. Florent, Corsica, St. Tropez, France, Cannes, France and then returning to Monaco, followed by a few days in Nice, France. A colleague of my husband owned the ships, of which there were two, with 100 cabins each. He prided himself on the luxury his ships provided, which promised champagne, caviar, amazing food and comfort. We truly enjoyed those offerings in abundance. I will discuss our experience in Italy, on this voyage and other trips, in Part II of this European journey but this, Part I, will focus on Monaco and France (per the voyage and other visits there).
Monaco
The one word that I will use to describe Monaco is decadent. Of course, part of our experience there was to visit the Monte Carlo Casino. We are not gamblers, by any stretch of the word, but when in Monaco, do like the Monegasque! Outside of the Hotel de Paris in Monaco, there is the supposedly, lucky bronze statue of Louis XIV. You rub his right knee and legend has it that you will have good luck gambling inside so of course we did that! There were Rolls Royces and other vehicles, exemplifying wealth and luxury, in front of the casino.
In addition to the casino, as our time was limited in Monaco, we ran around, trying to see as much as possible before heading back on the ship to get ready for our next destination, Villefranche, France.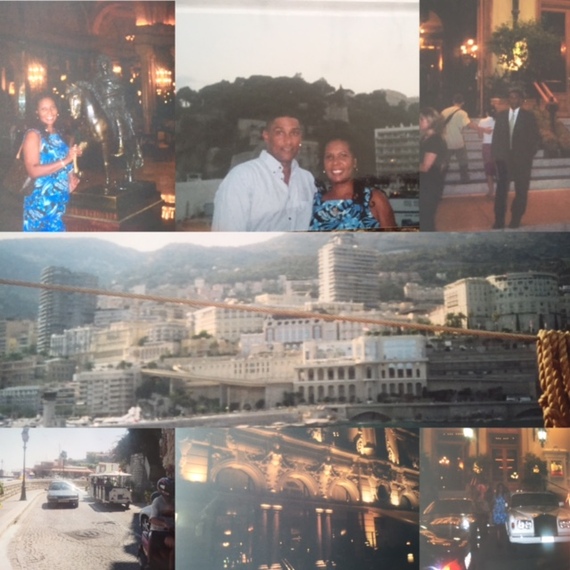 During the cruise mentioned above, Villefranche was our next destination on the Mediterranean coast. We visited the Citadel and other interesting sites. The highlight of this location was the outstanding seafood and beautiful vistas by the bay and the fantastic shopping at the antique market on square Amelie Pollonais. There is a lovely beach and we took excellent walks down narrow streets where we found all types of interesting gifts to buy. One very cool point about Villefranche is that Tina Turner was so impressed with it that she bought a palatial villa there. This was a trip that we took without our children so it felt very much like a second honeymoon. We were the only Black people on the entire ship, while on board. It's always interesting when that happens but our travel is our focus and we are just happy to bring some diversity to the experience.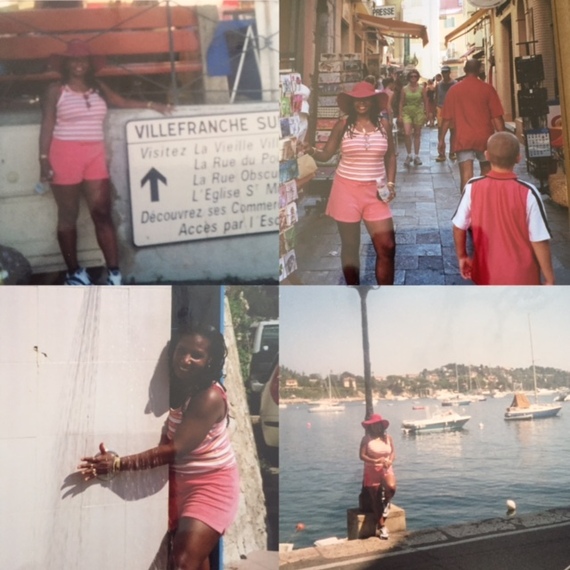 We also visited Corsica, which I loved. First of all, there is a brother (a Moor) on the Corsican flag, which was great to see! The highlight of this location was the food (delicious-- including lamb and goat and cheese from sheep's milk, delectable desserts and fine wine and Corsican Muscat--a must try!) We visited the old port, the Citadel, the cathedral and some excellent shops and of course there was swimming! The ocean was lovely and we enjoyed every moment. Corsica is quite a unique experience and definitely a place to spend some quality time.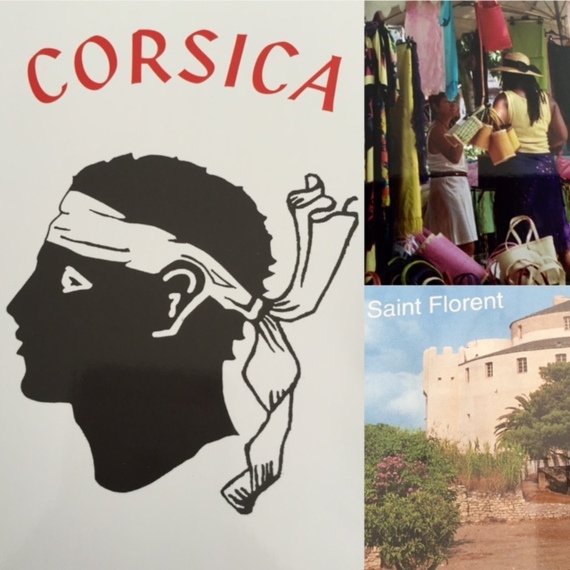 Our next destination was St. Tropez, which is a truly cool spot. We did the usual--walking, shopping, eating and the beach. Wearing a top at the beach didn't seem like the right option there, or perhaps you won't want it to be ladies, so go for it! There are lots of cool yachts in the port, Club 55 on Pampelonne Beach and excellent nightlife. My recommendation is to spend most of your time there on the beach until you must go and then head to the port area for eating, shopping and people watching. Such a must do place! Don't miss it!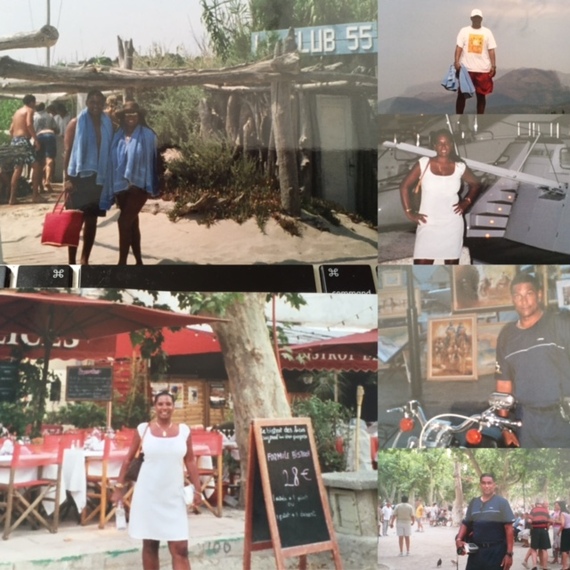 Usually, when thinking of Cannes, the first thing that comes to mind is film screenings. I'm sure that's great so of course we had to visit the Palais de Festivals Et Des Congres. It's a formidable city with beautiful sites, great architecture, excellent shopping, lovely beaches and awesome coffee shops. I have to say that most of our shopping was done there as Cannes is one of the French Riviera's top chic clothing spots. We walked so much and ate many, many pastries while sipping coffee and enjoying Orangina. We soaked in every moment of our time there. We visited Grasse, the town that claims to be the perfume capital of the world so you can imagine what I bought at one of the perfumeries! Cannes is a special location, with it's own uniqueness. I found it lovely, while simultaneously exhausting, in a pleasant way.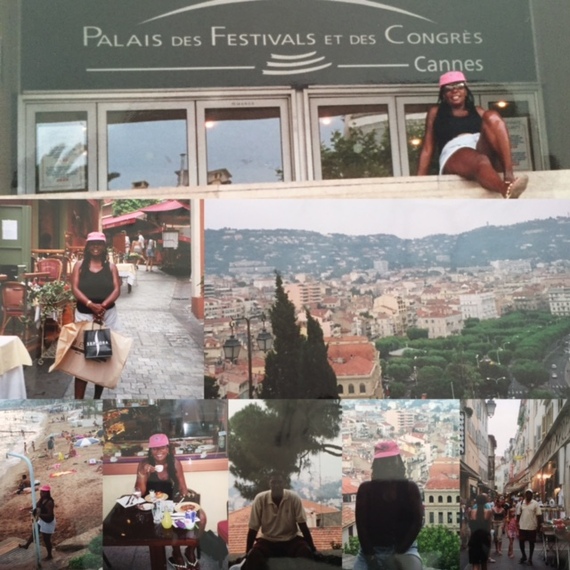 Upon our return to the ship, after a late night and into the morning activities, we were ready for that champagne and caviar that was a highlight of the ship. It was worth the wait. Every moment on the ship was fantastic!!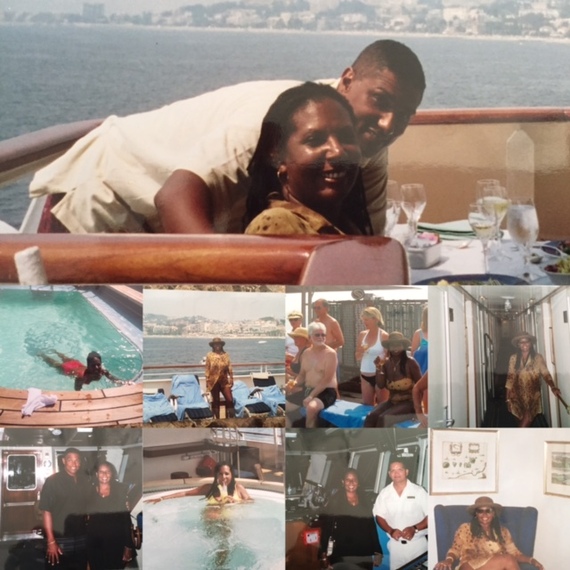 After departing from a wonderful time on our cruise and visiting so many special places, we decided to spend a few days in Nice, which is one of my favorite cities in the world. I love Nice including the architecture, the ocean, the parks, the market, the mussels and beer, and our quaint hotel, The Hotel Vendome, which was charming and elegant.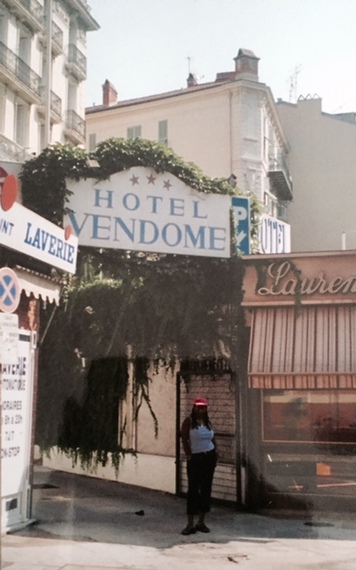 We stayed out each evening until about 3:00 a.m. walking and taking in every moment. There were street performers in the square, night shopping, and a general sense of aliveness and fun at all times. It also has beautiful scenery, wherever you look. It's a city to live, not just to visit, for sure. My favorite meal was mussels and french fries with a big mug of beer.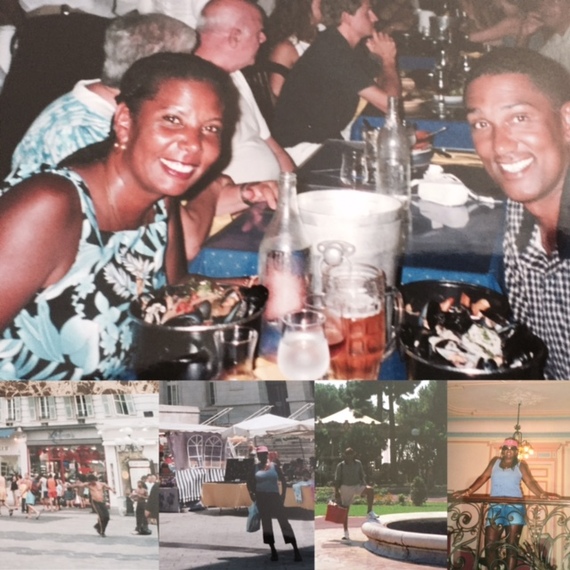 Of course, Paris is my favorite place in France. I have been there several times. First, with my husband and children. They were very young. I remember going up to the top of the Eiffel Tower with our children and an elderly man came over to our son and said, "You are very lucky. I waited my whole life to do this." That was a moment to cherish because we were delighted to have our children there with us. My greatest memory there is of our children running around the gardens of the Palace of Versailles and marveling with us at it and everything inside of the palace, particularly the Hall of Mirrors--truly amazing! I also loved watching them sip hot chocolate at cafes. They were just adorable.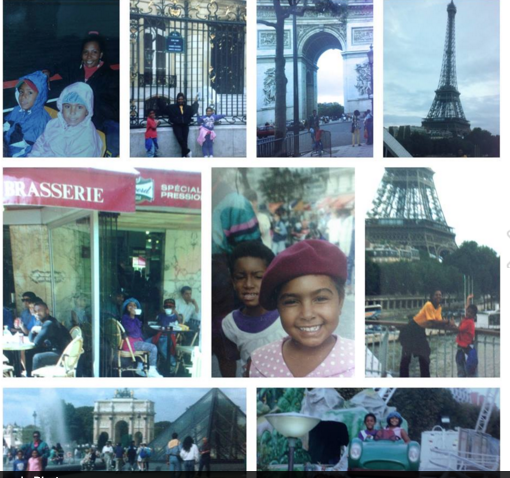 I returned to Paris at a later point to give a presentation at an international health conference and then again in 2015 with my husband for our 30th Wedding Anniversary. Yes! Thirty amazing years so Paris seemed so perfectly appropriate. We got home just days before the tragedy that occurred in November so our beautiful memory of a joyous time, included reflection on the sadness for the people of Paris. We felt deep compassion for the Parisians and their beautiful city.
We enjoyed our anniversary there immensely, especially our journey by a short train ride to the Reims region of Champagne where we visited the Charles Heidseick Estate for a tour and champagne tasting. Another highlight was the Musee D'Orsay, which holds original impressionist Masterpieces by Monet, Degas and other outstanding artists. Just fabulous! We stayed at, the Hotel Astor St. Honore, which was delightfully Parisian and our romantic dinner cruise on the River Siene, topped it all off.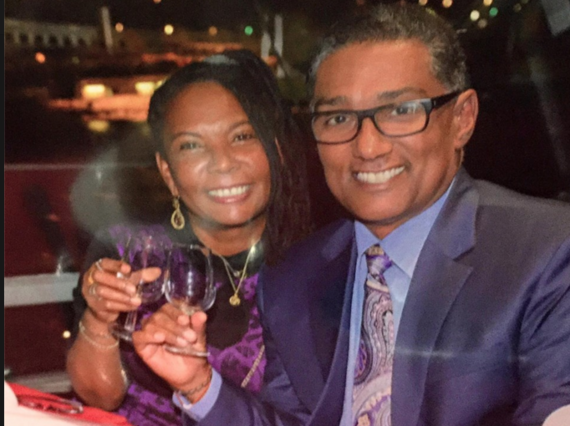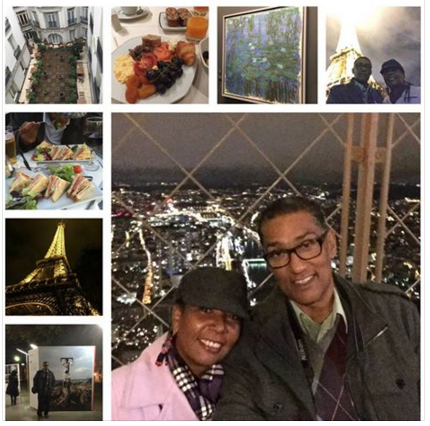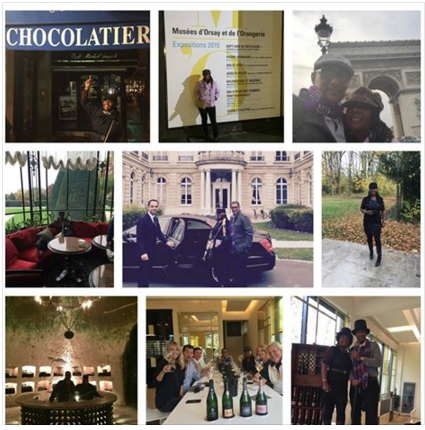 Each time I visit Paris, I understand why Black expatriates such as James Baldwin, Josephine Baker, Maya Angelou and others chose it as their destination for a period in their lives, to escape the ravages of racism that they experienced as artists in the U.S. Eventually they returned to the U.S., but they found respite in Paris.
Below are travels tips that I hope you will find helpful. In my upcoming posts on Europe (Parts II and III), I will cover, Spain, Italy, Belgium, the Netherlands, The United Kingdom, The Vatican and Portugal!
1. Try to Look for the Beauty and The Joy When You Travel, Not the Negatives
Often times, my husband and I will run into a person that is constantly complaining while traveling. If we have the misfortune of conversing with them, we will get away from them quickly, nicknaming him/her "misery." Avoid miseries. Travel is too valuable, in terms of time and money, to be burdened by a killjoy.

2. Enjoy 2nd, 3rd, 4th and etc. Honeymoons
Whenever my husband and I travel, just the two of us, we think of it as another honeymoon. After 30 years of marriage, we still cherish our time together and treat every trip as a romantic getaway, even though we travel with great frequency. It was always wonderful to travel with our children and also when we travel together, just the two of us.
3. When You are The Only Black People On a Cruise or At Your Travel Destination, Don't Give It a Second Thought.
For many travel experiences that we have, we find ourselves the only Black people anywhere--for example, on the yacht cruise, in Asia (upcoming posts) and many places in Europe. My approach is to walk with my head held high, locks flowing with a smile on my face, that says, yes, I belong, even on this beach putting sun tan lotion on and soaking in the sun. Deal with it. Walk it like you own it, is the way this naturalista does it!
4. Try Local Specialty Foods and Avoid Chain Restaurants that You Experience At Home
Every nation in every city usually has unique dishes. Try them! You will be surprised at the wide variation in seasonings, food preparation and delicacies.
5. Use Public Transportation to Really Feel the Environment
Taking a taxi is always the easiest way but the subway systems and sometimes even the buses help you get in touch with the people. Try it at least once and don't be afraid to get lost. Just be safe and alert.