The United Kingdom (UK)
London
On one of my recent birthdays, my husband and I decided to travel to the U.K. , specifically to London. I had been there before, on my way to Kenya for a health conference, but not with him, so we were both very excited. There was so much to see that we weren't sure where to begin, so we started with the main event, from my perspective. The British Museum had a special Egyptian exhibit, of which they were displaying their ongoing collection of Egyptian artifacts, and the Papyrus of Ani (Book of the Dead), the special exhibit. That exceeded my expectations! I had been to Egypt, but the British Museum also has the Rosetta Stone. We stared at it for a considerable period of time, with fascination. This was the stone, which led to the translation of Hieroglyphics, the written language of the ancient Egyptians.
We also visited the Tower of London where we saw the crown jewels and learned some very interesting history. Big Ben and Parliament were a must and a Hop-On, Hop-Off bus tour ensured that we covered all of the other important sites of London. Of course, there was eating of fish and chips and visiting pubs to enjoy pints and other libations. Another highlight was the experience of High Tea at Fortnum and Mason, one of the premier department stores in London. However, we saved our shopping for Harrods and outdoor markets. Harrods was exciting and the outdoor markets were eclectic!
In a nutshell, we enjoyed strolling, visiting parks and gardens and drinking and being merry in London. It's definitely a place that I recommend for an interesting city experience with a good vibe. There is lots to do and see in London and if you go in the Spring, as we did, bring your coat, boots, scarves and gloves as it was cold indeed!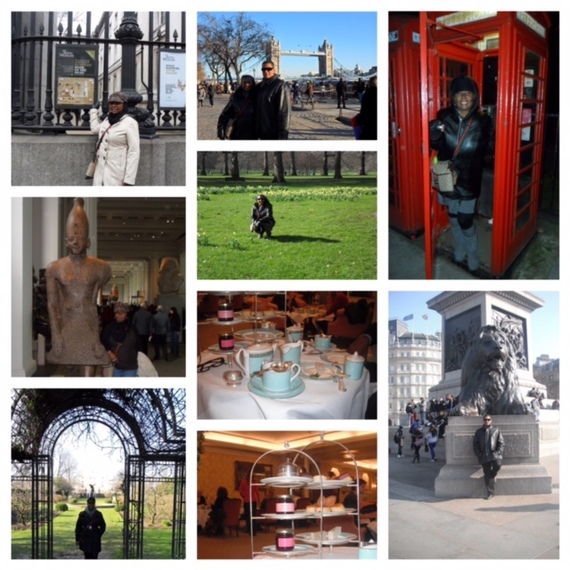 The Netherlands
Amsterdam and The Hague
When I think of our trip to Amsterdam, what comes to mind first is a laid-back atmosphere--essentially a true chill spot. We went there with our children, who were quite young, and ready for an adventure. We enjoyed a canal cruise, walking, eating, cafes and visits to museums including the Anne Frank Museum. Thinking of that museum always reminds me of an interesting story. Our daughter was in elementary school, and one of a few Black children in her class, a few years after our trip there. Her teacher was discussing Ann Frank in class and my daughter raised her hand and explained that she had been in her house and began to share all she knew about her. Her teacher called me the next day, asking for a chat. When I arrived, I encountered a middle-aged white woman, who I had met briefly on the first day of the school year for my daughter. At the meeting she requested, the Teacher advised that she was concerned about my daughter, insinuating that perhaps she was delusional as she had expressed that she had been in Anne Frank's house. I summarily explained that she had as my daughter had traveled with us on a trip to Europe, including Amsterdam, where she visited Anne Frank's house (hiding place), now a museum, which included a narrative about her life. The Teacher offered her apologies, seemingly surprised at this you black child's travels, as she had not been to Europe herself. In any event, visiting Anne Frank's hiding place, now a formidable museum was a cherished memory. I too, as a child, had been fascinated with Anne Frank, after reading her published diary in school.
We also took our children to The Hague where we visited the Scheveningen District. There is where we experienced the amazing place called Madurodam, which is a park with replications of historical buildings and sites in Holland, offering a fun and unique overview. We absolutely loved it and I highly recommend it for adults and children alike. It is right near Scheveningen Beach so enjoy a swim and walk on the beach while there. It's very close to Amsterdam and so worth the experience! Lastly, in Amsterdam, don't forget the marvelous cheese, the Brown Cafés and a sneak peak at the Red Light district, which is definitely a wild scenario to see. You may want to pick up some cute souvenirs such as windmills and little wooden shoes. They will always remind you of your trip there when you return home.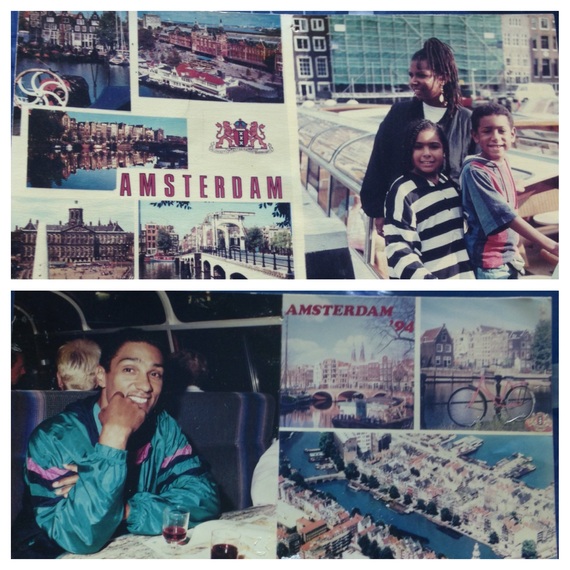 My trips to Spain included Barcelona, which I traveled to first with a colleague for a Health Conference where we gave a presentation. I enjoyed my experience there so much that I returned with my husband for a truly fun time. We visited Barcelona where we enjoyed paella, sangria, the beach, strolling, shopping, cathedrals, museums and adored the work of the great architect Antonio Gaudi including La Sagrada Familia, Casa Batllo and more. Each structure was fantastic and worth seeing! Barcelona is one of those places that you visit and you know you will return again because you must! My husband and I thoroughly enjoyed every moment of our time in Barcelona.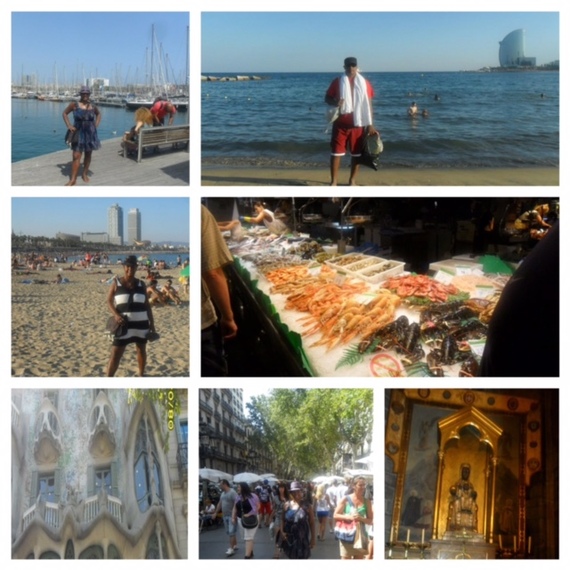 Madrid is distinctly different from Barcelona as you get an urban, historical feel while exploring it. It's a place where I could live, rather than just visit. My husband and I saw it for the first time together and we were fascinated! It is the capital of Spain and carries that title excellently! It is chic and filled with excitement as you walk through its many spaces. Again, we experienced delicious food, including tapas, paella, accompanied by sangria, and there was so much other outstanding food, no matter where we went. In terms of museums, The Reina Sofia National Art Center and the Prado Museum are must do's. I also recommend a visit to the Royal Palace. We truly loved Madrid and I place it in the category of one of my favorite cities in the world. Being able to speak some Spanish, thanks to my awesome Spanish Teacher, was very helpful too and a great place to practice.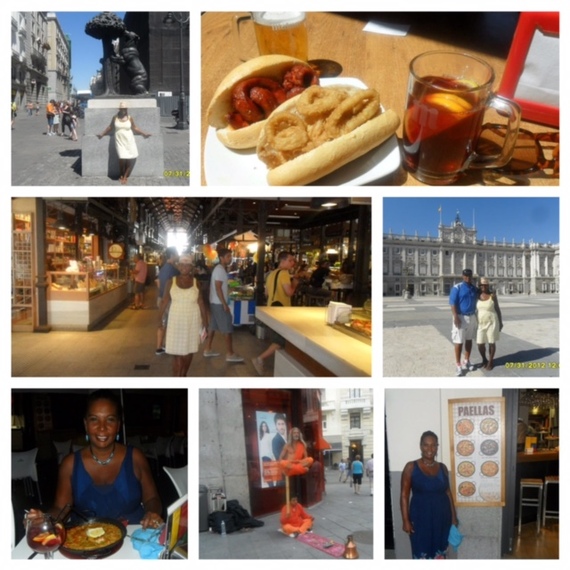 If you are going to visit Madrid, I think your trip will not be complete without an excursion to Toledo. Here you will have an experience of Christian, Jewish and Arabic culture in terms of their illustrious history. It is a Unesco World Heritage site and won't disappoint. The highlight is the Fortress of Toledo, followed by walking through a city that will truly fascinate you--particularly in terms of the architecture of the various religious buildings. The food of course, is also delicious. My suggestion is tapas since you will be doing a lot of walking and may want to enjoy small, delectable bites as you sit down to ponder the sites.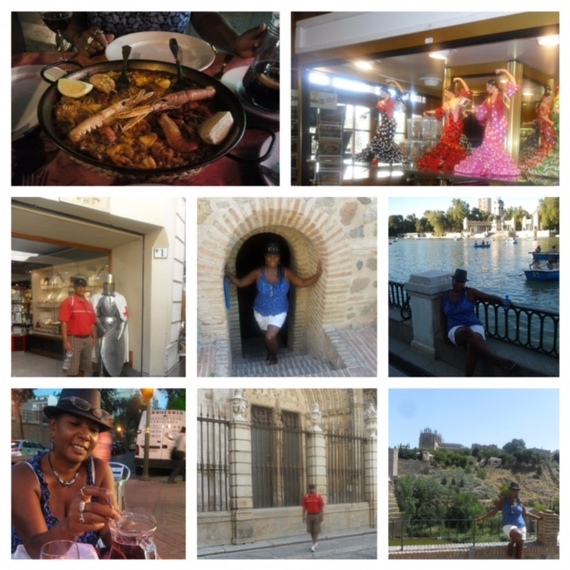 So, that sums up my experiences in Spain, The Netherlands, and the UK. I definitely hope to have more there. Next I will cover, Panama, Belize, Costa Rica, Honduras, and Nicaragua, which you don't want to miss. I will talk about pleasure, culture, and service in these beautiful nations. Until then, below are some useful travel tips.
1. Try Excursions Beyond the Main Cities of Your Visit
We will often venture beyond the main city of our visit to try and see some of the smaller, unique and interesting places, like Toledo mentioned above as an example. Usually, it's worth the extra effort to do so.
2. Be Prepared to Walk
In some cities, like Madrid, Barcelona, and Toledo, as examples, walking is truly an adventure, because around almost every corner and in most spaces, there is something unique and interesting to see. Be sure to bring your comfortable clothing and walking shoes to do so.
3. Try the Language of the Nation
For many years, I have studied Spanish and now Mandarin for a couple of years. It is truly exciting to utter words and sentences beyond my primary language, which is English, and doing so will go a long way while traveling. It was a joy to speak Spanish in Spain. In the near future, I'll share my awesome experience of speaking Mandarin in China!
4. Be Open To History
Although we often travel for vacation or work, it's very cool to learn some history about the nation you will be traveling to before you visit. Then, when you are looking at some of the interesting sites, architecture and beyond, it will have more meaning for you and enhance the experience.
5. Enjoy Food as a Cultural Experience
In Spain, as I ate paella, drank sangria and enjoyed tapas, I did so with the understanding that it was not only delicious but a big part of the culture. This made the food interesting as I realized that many of the same dishes were prepared differently, based on the city we were in. Food is definitely a clear representation of culture.