Brazil is a lovely South American country that I had always wanted to visit. Traveling there with my family was as delightful as I thought it would be, spending our time in Rio, enjoying the beaches of Copacabana, Ipanema and taking in all of the sights. Brazil is a place where you find beauty in the people, the scenery, and the attractions. We loved our hotel, which was oceanfront with a lovely rooftop pool. It was a family experience as our children, who are young adults, traveled with us. I also had the opportunity to invite two of my students at the time, to spend time with us while we were there. One of them is from Brazil and had taken a university course with me in the U.S. as a Fulbright scholar and was in Brazil during our visit. The other was also in Brazil having a semester, study abroad experience and was learning to speak Portuguese. It was wonderful to catch up with these two naturalistas and have my family meet them. They were excellent cultural tour guides during the brief time we spent with them. Below are details of some of our experiences in Brazil as it was definitely one of my favorite places in the world to visit.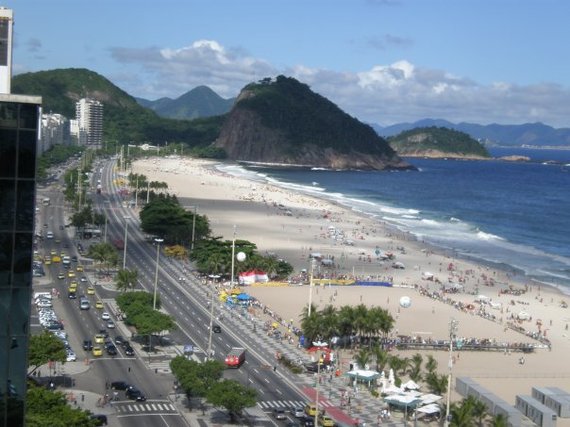 I absolutely love Rio! The experience there is one of vibrancy, rhythm, color, culture and excitement. Besides enjoying the Copacabana and Ipanema Beach areas, we enjoyed many sites including the center of the city. We rode through the Tijuca Forest to the Corcovado Mountain, visited the Christ Redeemer and took a cable ride to Sugar Loaf and enjoyed a fantastic view of the city and all of its outstanding architecture. We were also thoroughly entertained at a Plataforma Samba Show, which included amazing costumes that comprise some of the visual highlights of Brazilian culture along with Samba (a Brazilian dance), frevo (Brazilian folk music) and capoeira (which is a form of martial art performed in Brazil that includes dance, acrobatics and music). Excellent--all of it!! The latter is thought to have emerged in Brazil through West African descendants during slavery. There is a great deal of skill involved in the art of capoeira so it was really a treat to see it so beautifully performed.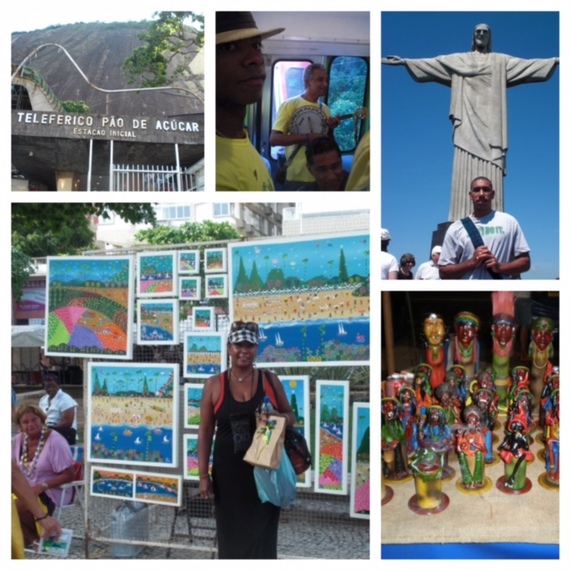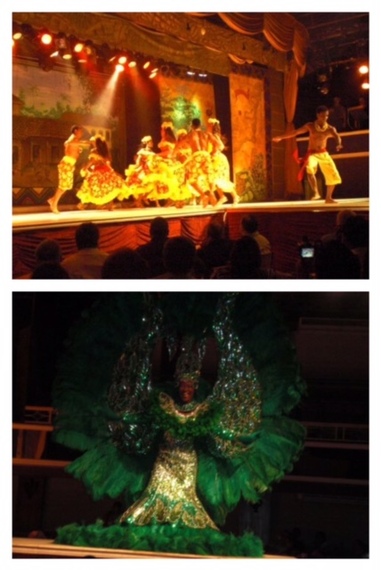 Brazilian food is also fantastic! We tried feijoada (a black bean and meat stew), barbecued meats--Brazilian style) and other great dishes and caipirinhas (a delicious cocktail). To eat meat Brazilian style, Passadors (meat carvers) will come to your table offering many different types of meat on skewers and essentially, they will come to you with meat until you tell them you've had enough. There is also salad, rice, and other sides so if you are not a meat eater, you can still enjoy the experience. We also enjoyed acai, prepared as a healthy sorbet, as acai is known as a super fruit. It is just delicious! Shopping in Rio is also a must. My favorite things to buy there were sandals (very cool be-jeweled flip-flops), beach cover-ups, "Brazil" emblazoned towels, hand crafted purses (I bought one made from can openers!), art pieces and handcrafted jewelry. There are wonderful street/beach markets where you can shop in trendy/cool atmospheres for hours.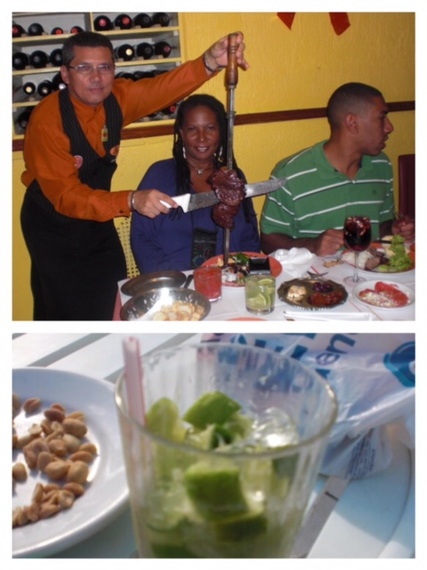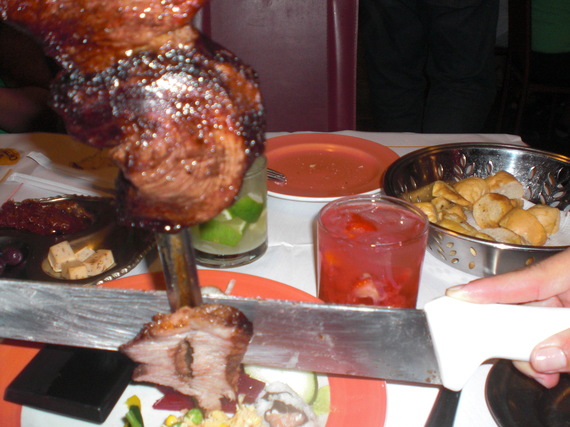 Another highlight was a visit to the artist Selaron to see his work and meet him. He is the famous artist in Rio, who creates amazing work using tiles. He created the Escadaria Selaron which is a landmark based on his decorative use of tile to adorn, 125 meters of stairs. These stairs are known from the rap video entitled Beautiful, by Snoop Dog . It has also been featured in U2's video, Walk On , National Geographic,Time and a Fanta commercial.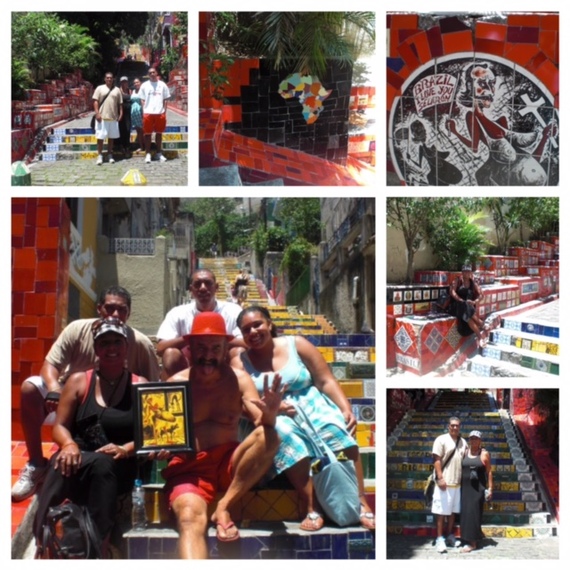 We also took a trip to Angra dos Reis and enjoyed a Schooner cruise and swimming on a private beach. Angra dos Reis is located in the southern part of Rio. It is known for lovely beaches. It is quite hilly and, as a result, landslides are a problem there. Shortly after our visit, there were severe landslides resulting in severe damage/loss of hotels and homes. It's such a cool area where soccer players and other well-to-do folks live, so it's an interesting visit.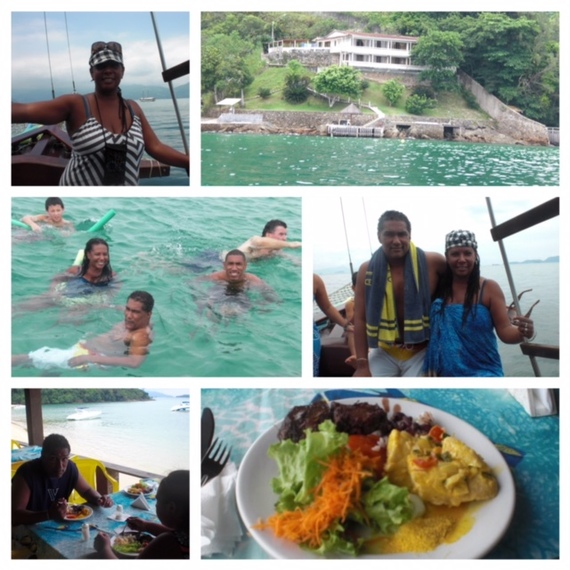 A very sad but important experience was a visit to the Rocinha Favela. It is the largest Favela in Brazil. A favela is essentially an urban, slum area. I was very disheartened by the conditions there but so pleased to talk to the people that live there. There was a very friendly man who runs a bakery in Rocinha who was so delighted to see us. We bought and ate some of his delicious pastries as he shared with us that Michael Jackson did the same when he visited. We went to an art shop where young people in Rocinha create and sell pieces. These pieces are mostly images of Rocinha, most created with beautifully vibrant colors. It's as if these artists see the Favela differently from the poverty stricken environment that it is because it is their home and community, and amongst the people there is so much love. Through their art, they tell a story of the love of their community. I especially enjoyed buying handmade jewelry from a little boy and his family who made necklaces, bracelets, and other items from wire, which they wove and colored. He had the most adorable smile and seemed so proud of their artistic creations.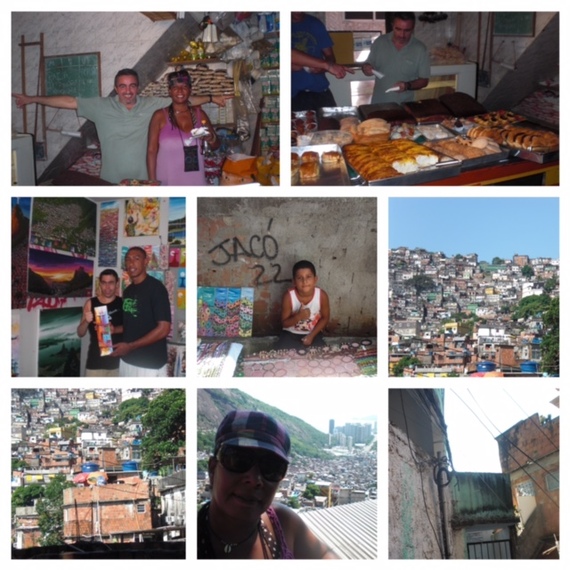 I don't suggest taking a tour of Rocinha because it's odd to be a spectator of poverty. But, I wanted to go there, to take photographs and show my college students, upon my return to the university, the images of the Favela to discuss it in class as a historical overview and discuss some of the public health concerns that I noticed. It is important for students to be aware of this. Change cannot happen without knowledge. The visual images help the students to understand. I also wanted my children, along with my students, to understand and witness the reality and outcomes of the long-term effects of slavery as you can look down from the hilltops of Rocinha and see the beauty of Copacabana--a glimpse of the "haves" while standing in the living spaces of the "have nots." Although I kept a positive countenance while there, Rocinha left a sad impression on me that I will never forget. Everything about Rocinha represented the notion of unfairness in my mind. Consequently, I was glad that I took the time to arrange, with an NGO before our arrival to Brazil, to visit Rocinha and the beautiful people there.
Note that because the journey to get to the top of Rocinha was so steep, the only way up for us was by motorcycle. So when we arrived, each of us (including my husband, our son, and daughter) got on separate motorcycles with total strangers and rode to the top of this steep hill. This was a bit frightening because I was not told about this in advance, but it was either get on the bikes or leave without seeing Rocinha, so we got on the bikes.
Overall, I would say visiting Brazil was worth every moment. Although I am merely providing a glimpse in this piece, I would say definitely take this journey if you ever have the opportunity. It is a beautiful South American location. The people, the food, and the culture are fantastic. Sometimes, I have the opportunity to return to a place that I visit, because I know I did not see enough of it the first time. That is definitely the case for Brazil. I look forward to returning to Brazil someday for a longer visit and to see so much more of it. It is a fantastically wondrous country!
My next piece will take us to Bali and Thailand for some awesome cultural experiences that I am sure you will find delightful! Until then below are some travel tips that I hope will be useful.
1.Be sure to give yourself ample time to get your Visa.
To travel to Brazil, a visa was needed. Be sure you understand all of the necessary steps to acquire it and do so before traveling there and of course you must have your passport.
2.Try to understand the history of slavery in the Americas, as it occurred in Brazil, before traveling there. This understanding will help you process the rampant poverty (e.g. favelas), the vibrant African culture, the presence of Portuguese culture and the blending of both and the racial differences. When you get there and realize the painful reality of it all, in the context of such fantastic beauty of both the people and the land, drink a Caipirinha or two to make coming to terms with it all a bit easier.
3.Visit but don't "tour" the Favelas and buy items from the people.
One way to contribute to the people living in poverty in Brazil is to go to where they live, walk amongst the people, talk to them and buy from them. They have beautiful art, handicrafts, delicious baked food and more. I guarantee you will fall in love with the people.
4. Plan as much of your trip as possible before you arrive.
Although I love spontaneity, some places are so big, interesting, complex and detailed that trying to get organized upon your arrival may be challenging. I recommend, planning and selecting day tours and excursions before your arrival and leave spontaneity for in between activities/moments.

5.Enjoy Looking at Brazilian Emeralds.
If you are in a position to buy some, fantastic, as in my eyes, emeralds (and other fine-colored gems) are particularly special jewels to look at and adore, as Brazil has so many.
Related