I think as a country, Peru literally has it all; beauty, a deep rich history, mystery, adventure, dramatic and diverse landscapes, unimaginable architectural feats, wildlife, bright vibrant people and clothing, and amazing food, quite arguably the best food in the world! Chefs from Paris and across the globe fly to Lima and Cusco, Peru to learn tips from the masters about cooking and growing their own ingredients. The best part about it all is that a lot of their agricultural practices haven't changed in 2000 years, but that is also part of the charm of Peru.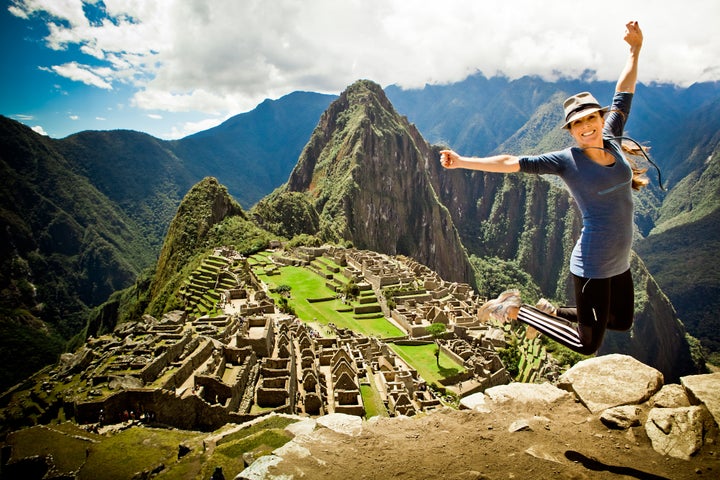 The Peruvians pride themselves in their diversity and they work hard to sustain their cultural practices, some which date back 1000 years before the Incas. What I learned from my many trips to the far corners of Peru is how quickly the people adapt to their surroundings. This country is so diverse and magical with plants and creatures not found anywhere else on Earth, and people living on floating grass islands and in trees houses, shamans and medicine men still using the energy of Mother Earth as their guide, Women living in high altitude farming in amazing traditional costumes and top hats with pet llamas, incomprehensible ancient ruins and desert glyphs in far remote places, the largest sand dunes in the World that used to be the bottom of a vast ocean, beautiful coastal towns with the best seafood you have ever tasted, beautiful European-style cities like Cusco, and the list goes on!
So I thought it would be fun to compile a list of 50 fun facts about my favorite country that you probably don't know and I guarantee after reading it you will want to hop on the next plane down to South America to see Peru for yourself!
Forget the Sahara Desert, Peru actually has the highest sand dune in the World!
Cerro Blanco sand dune, located in the Sechura Desert in the south of Peru, measures 3,860 feet from the base to the summit. It towers over the quaint desert oasis town, Huacachina, and the best part of all is that you can ride dune buggies for hours and up to the top of the dunes and then strap a board to your feet and sand board down it all the way to the town below!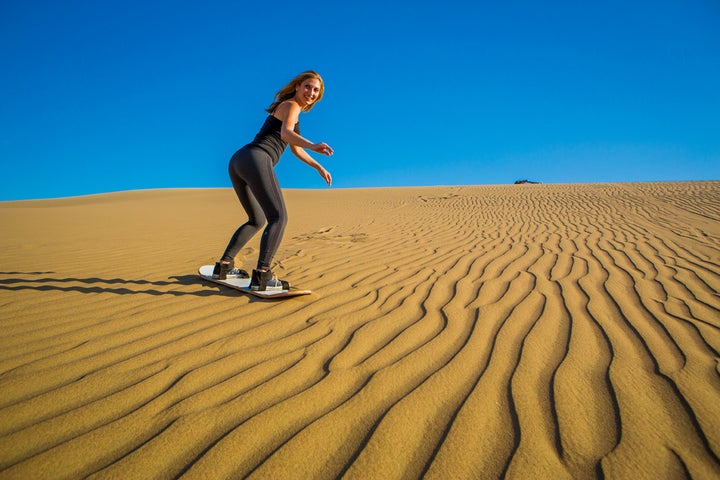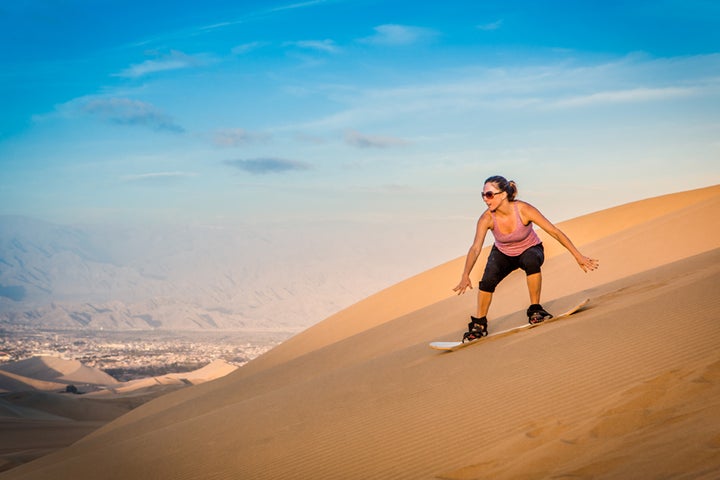 2. There are over 3,000 different varieties of Potato grown in Peru
The potato is originally from Peru, and there are over 3,000 different varieties. Proud Peruvians use the phrase "Soy mas Peruano que la papa" (I am more Peruvian than the potato). Modern scientists are even reverting back to Ancient Peruvian planting methods in order to prevent strains of genetically modified potatoes from losing their resistance to famine.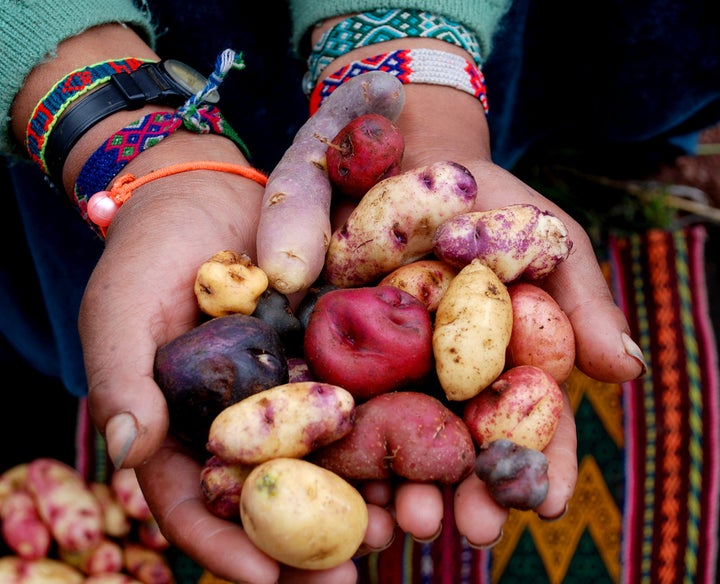 3. Spanish is not the only language spoken in Peru
There are 3 official languages in Peru: Spanish, Quechua and Aymara, but east of the Andes in Amazon jungle regions it is thought that natives speak 13 different indigenous languages.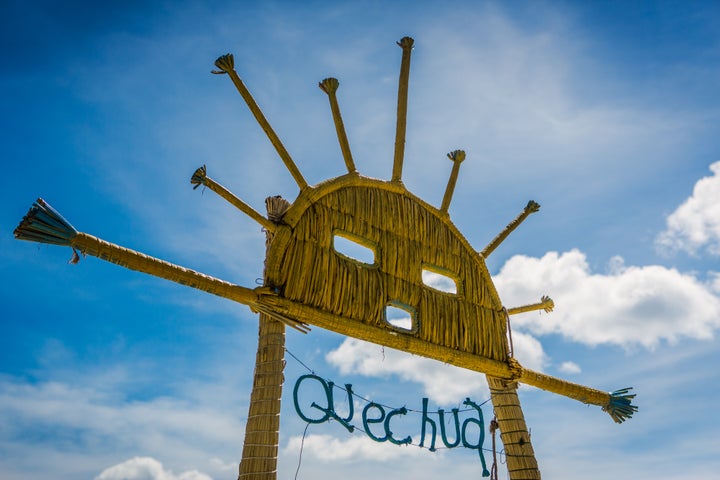 4. Machu Picchu is of the New Seven Wonders of the World
The Lost city of Machu Picchu, one of the most famous landmarks in Peru, was voted in 2007 as one of the New Seven Wonders of the World. Rediscovered in 1911 by explorer, professor, and archaeologist Hiram Bingham, the site of the historic Incan civilization rests on a mountain ridge almost 8,000 feet above sea level in the Sacred Valley. You can only hike in or take a train and then a bus, but there is no easy way to get there which makes it even more impossible to believe that the whole site was built by hand over a mile up in the mountains when most people struggle to merely walk up the stairs carrying only a camera and a water bottle. This may be the most magical place on Earth, forget Disneyland. It takes your breath away to be in the presence of such an unbelievable testament of human capability.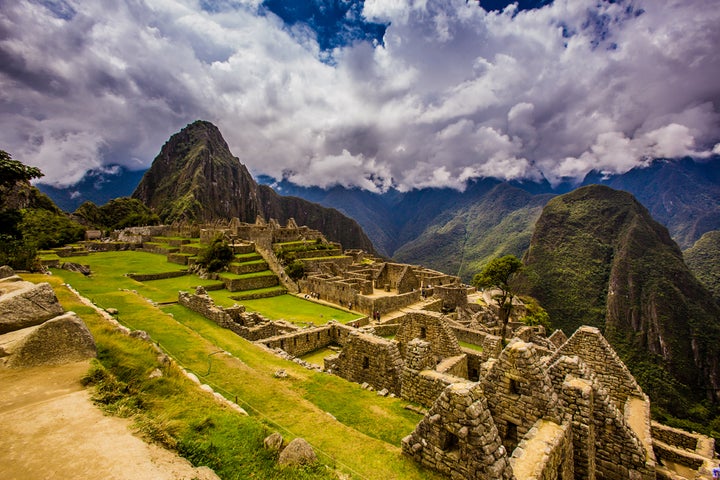 5. The Largest Flying Bird on Earth can be found in Peru, The Giant Andean Condor
If you really want to see landscapes that look like the moon, take a quick jumper flight to Arequipa and then a bus ride over the towering Andes Mountains to Colca Canyon. You will see huge volcanoes, wild llamas grazing, and the largest bird on Earth, the Giant Andean condor. Colca Canyon is home to the largest bird in the world, standing up to 4 feet high with a wingspan of up to 14 feet! Despite weighing up to 27 pounds, the bird can fly for hours without using its wings. Native to the Andes, it was considered a sacred bird by the Incas, but is now listed as "vulnerable" by the World Conservation Union.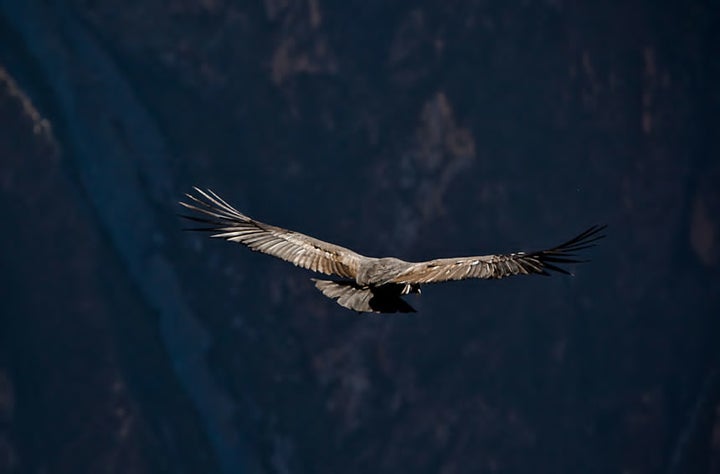 6. Lake Titicaca is the highest navigable lake in the world with an elevation of 11,436 feet.
Straddling the border of Bolivia and Peru, Lake Titicaca is the world's highest lake, but not the largest. Lake Titicaca is significantly smaller than the lakes in Great Lakes in North America, but what makes it so unique is that underneath the surface, Jacques Cousteau discovered ruins of an ancient city, and descendants of the Quechua People still live on islands in the lake today!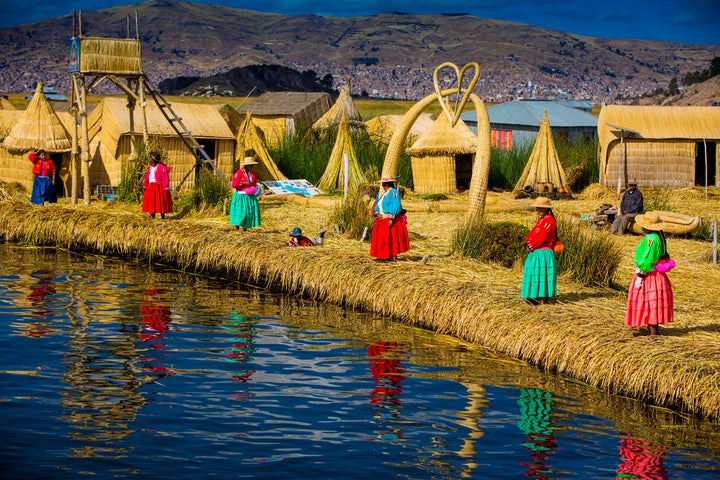 7. The Mysterious Nasca Lines can be seen from the air over Peru
Peru's Nazca Lines, a collection of more than 70 giant human and animal geoglyphs, were first noticed from the air in 1927. Strung along the high desert plateau between Nazca and Palpa, this collection of lines comprising more than 70 human figures and animals and 10,000 lines (with some lines running up to 30 miles long!), remain one of the world's greatest archaeological mysteries. The TV show, Ancient Aliens, seems to think it was an alien landing strip, where German mathematician and astronomer Maria Reiche believed they were sophisticated astral charts and part of a huge astronomical calendar used by the native people as a way to commune with the gods.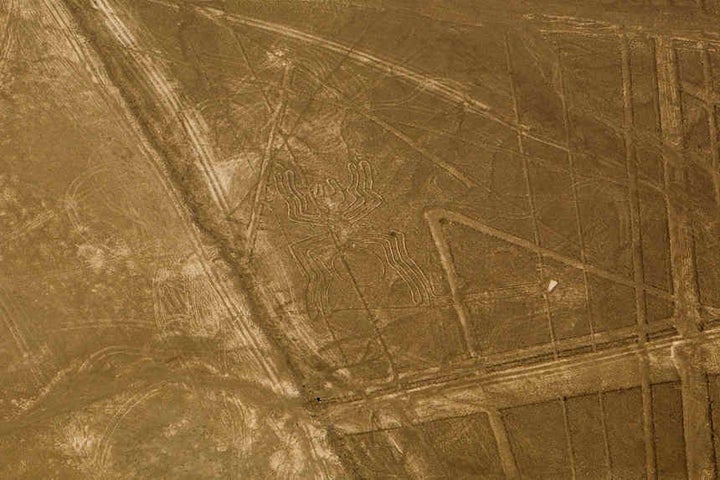 8. Peru holds the world records for the maximum number of birds sighted in one place and the greatest number seen in a single day!
Peru ranks as second in the world for hosting the most bird species (over 1,800) and over 50% of the migrating birds in the Americas fly over Peru at some point each year. This world record was recorded in the Reserva Nacional de Tambopata and Parque Nacional del Manú, in the Amazon.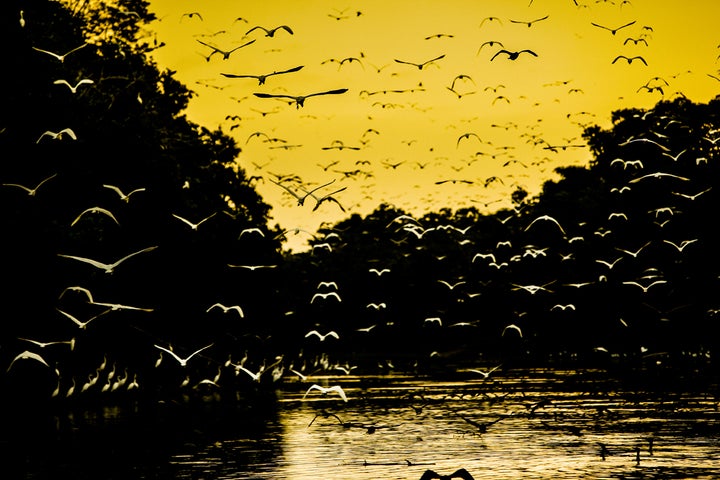 9. Peru has the longest left-handed wave in the world!
The Northern coast of Peru is a surfer's paradise, thanks to the twin towns of Chicama and Mancora near Trujillo city. Chicama boasts the world's longest left-handed wave measuring 4km, while Mancora lays claim to hosting the largest left-handed point break. Peru's tradition of surfing goes back 2,000 years, according to friezes found in sites along the Peruvian coasts that depict humans seeming to surf!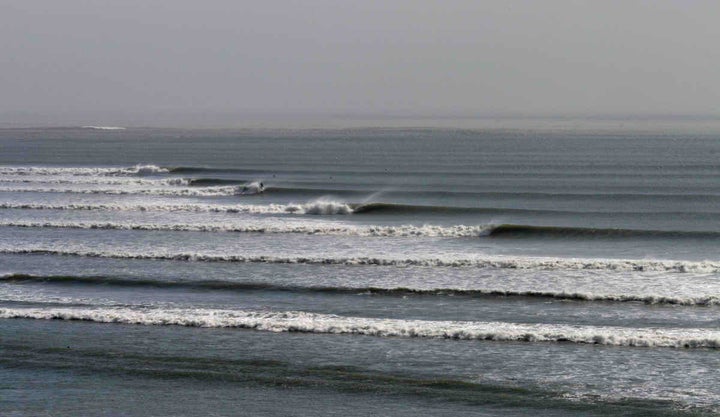 10. The Pisco Sour is Peru's national drink
Pisco is made from Peruvian grape brandy and is mixed with lemons, sugar water, egg whites, ice and finished with bitters to make a Pisco Sour. This cocktail is said to have been invented by an American bartender, Victor Vaughn Morris, in the early 1920s in Lima, and now a "lighter, healthier" version can be ordered without the egg whites and with a little bit of soda water called a Chilcano.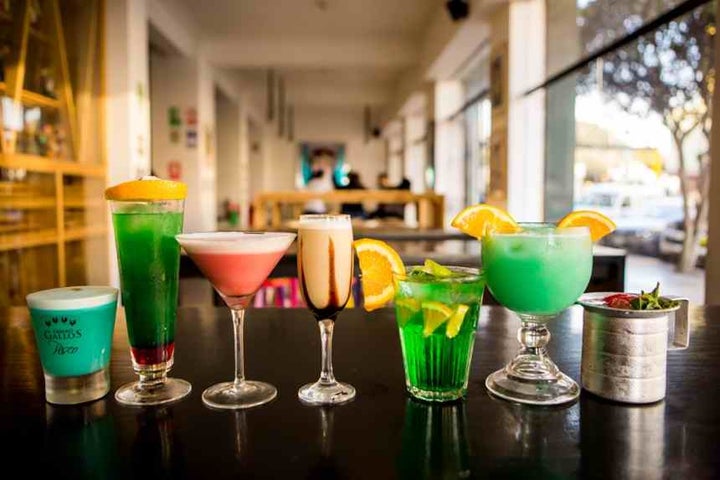 11. People still mine Salt in the Way of the Incas
Since pre-Inca times, salt has been collected in Maras by evaporating salty water from a local subterranean stream. The highly salty water emerges at a spring, a natural outlet of the underground stream. The flow is directed into an intricate system of tiny channels constructed so that the water runs gradually down onto the several hundred ancient terraced ponds. As water evaporates from the sun-warmed ponds, the salt crystallizes around the edges of the ponds. Even today, you will see different families dressed in traditional clothing and some in top hats sifting the water for salt. Each family has their own salt pond that is managed by them and has been passed down to them for generations since the Incan times.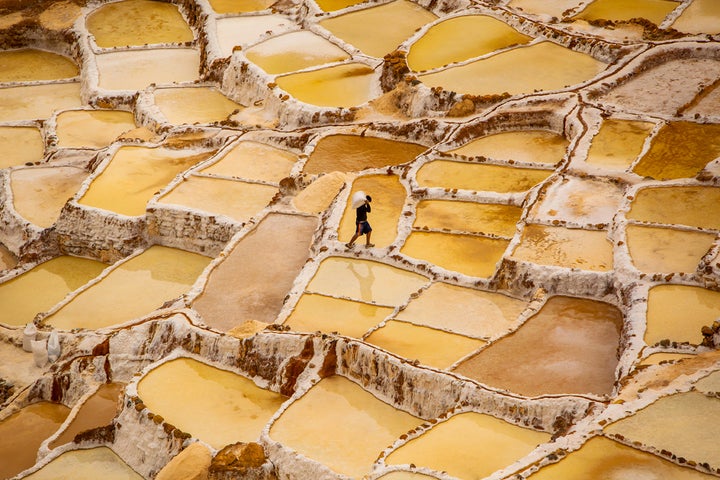 12. The Ancient Incas created the first census
The Incas had no formal system of writing. Instead, they developed a system of record-keeping using a complicated system of knots called quipus. Made out of wool or cotton strings fastened at one end to a cross cord, each quipu was different from the other in size or color. Each simple or compound knot and its size and color represented details of crop measures, thefts, debt, and even events.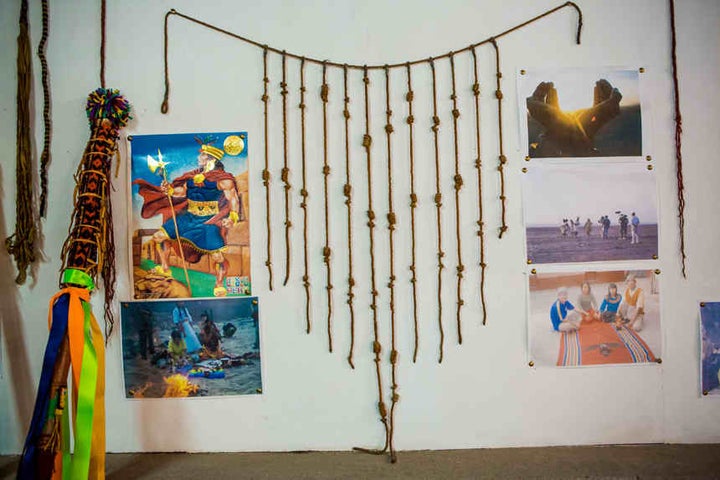 13. There are 90 different micro-climates in Peru
Peru has the most diverse landscapes of any country I have ever been to making it one of the most bio-diverse countries on the planet and my favorite EVER to visit and photograph. Thanks to the abundant rainforests and 90 distinct microclimates, Peru counts among the 10 most biologically diverse countries in the world. It is home to 25,000 plant species (10% of the world's total) and close to 5,000 species of fish and animals. It ranks first in the world in terms of distinct fish species, second for birds, and third place for both amphibians and mammals. In fact, the Manu National Park in south eastern Peru recently set a biodiversity record after more than 1,000 species of birds, 1,200 species of butterflies and 287 species of reptiles were found in the park.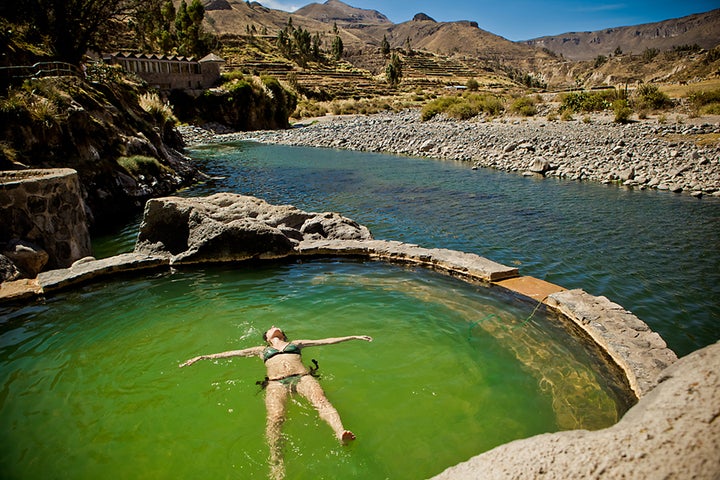 14. Guinea Pigs are a delicacy to Eat in Peru
The Cuy, or Guinea Pig, is a traditional dish eaten in Peru during important festivals, and is served crispy complete with head, legs and eyes. It is healthier and has a lot more protein and less fat than llama meat.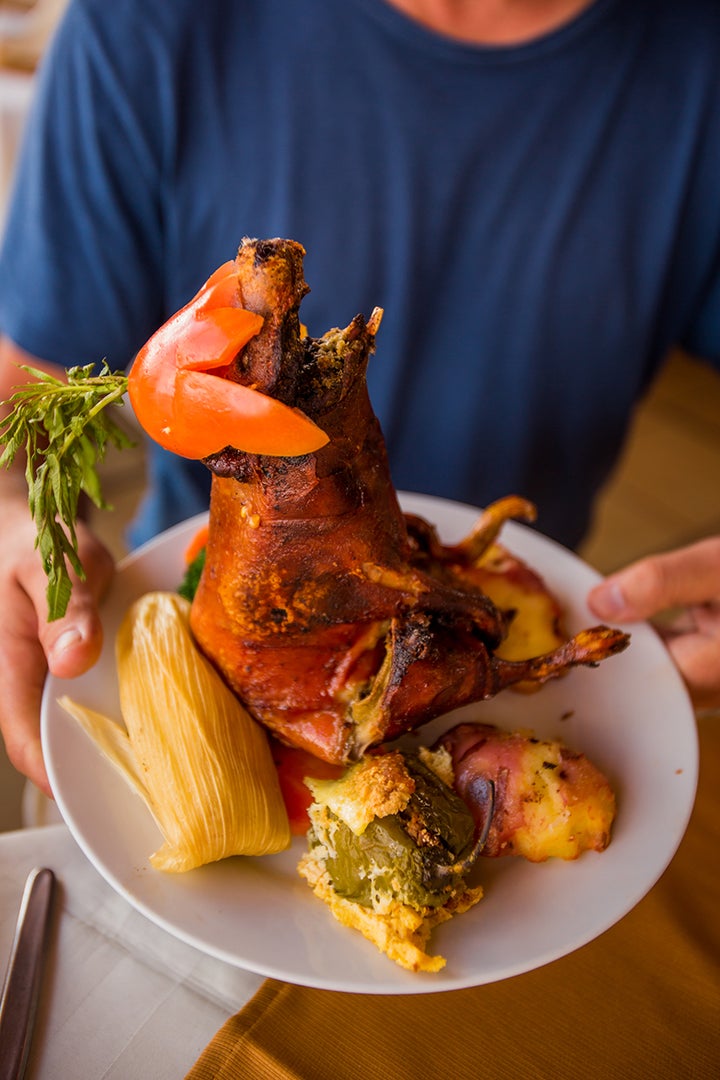 15. You can hike up a Rainbow Mountain in Peru
Vinicunca Mountain (Rainbow Mountain) in Peru is one of these places where travelers have yet to discover. It is a secret that has been kept so well there is no information about it. The journey to get there will take you a minimum of 6 days to complete. It is a high-altitude adventure from snow capped peaks, to neon red desert mountains, to marshy meadows. The real reward however is when you arrive at the painted hills hidden deep in the Andes, resembling a rainbow. The best part is at the end of the hike you are rewarded with a soak in natural hot springs. This is a destination not to be missed for any adventure seeker.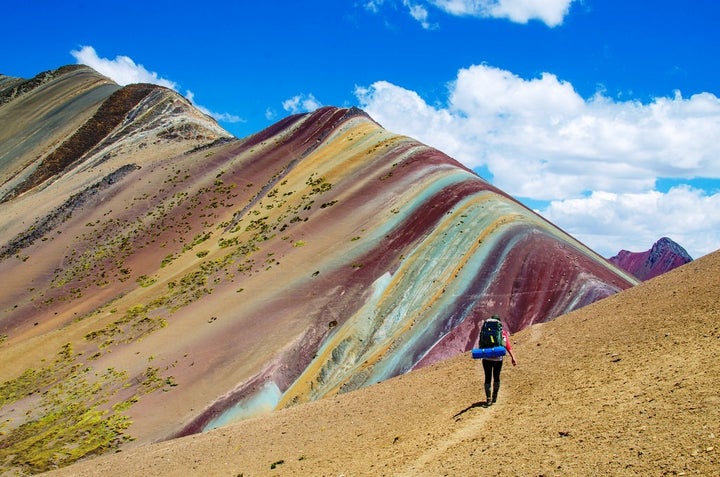 16. The Amazon River is the longest river in the world and it starts in Peru!
The Amazon river starts up high in the Peruvian Andes near Machu Picchu and ends in the Atlantic Ocean over 3,278 miles from its source. At its mouth, it is a massive 186 miles wide. It has two seasons; the wet and the dry, and water levels can fluctuate 30 feet between the two seasons. This mighty river was named by Spanish explorer Francisco de Orellana during his epic voyage in 1542.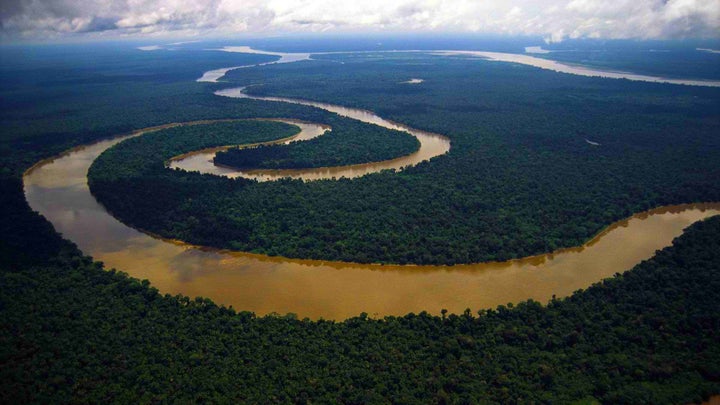 17. You can tell the relationship status of a Native Quechua woman by their hat
Married women wear straw hats, where single women wear knitted caps. Simple right? The Quechua people still practice trial marriage in Peru, where women and men choose partners and can end their relationship whenever they so wish. The woman is free to marry again at any time, and the children resulting from the union are regarded as belonging to the community instead of the couple.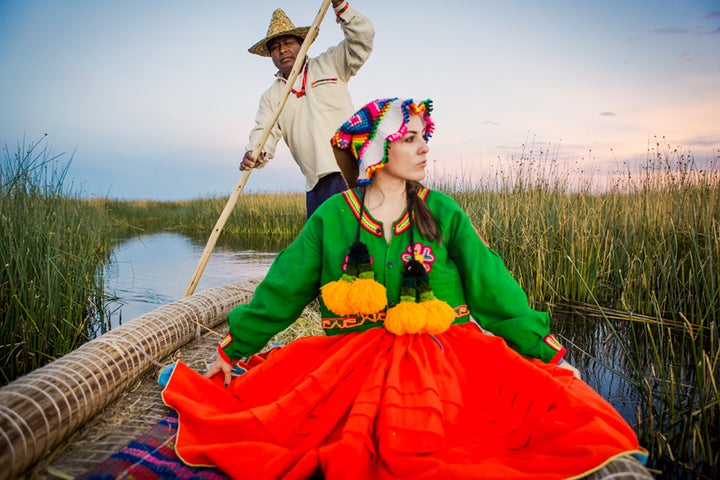 18. Peru used to be the world leader in exporting bird droppings
At one point in the mid-1800s, Peru was the world leader in terms of guano (bird droppings) production and export. Just like France and England, Peru saw the value of the guano as a natural fertilizer.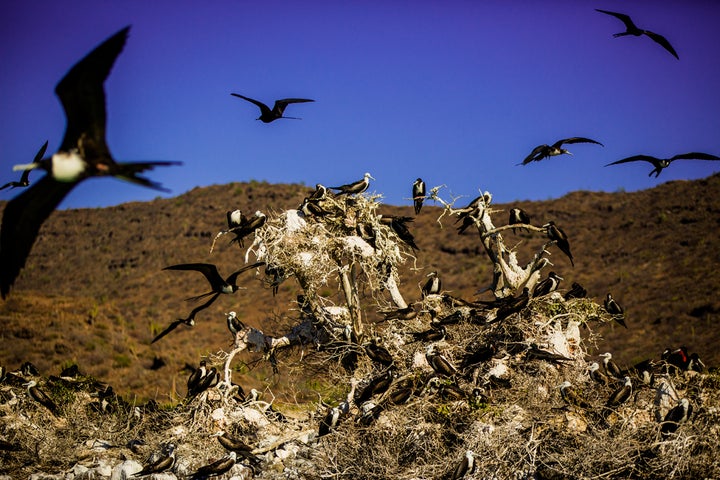 19. Peru grows more than 55 varieties of corn
When you go to a market in Peru, you can just about find corn in any color including yellow, purple, white and black. Famous for their giant kernels, most restaurants and bars served roasted corn to munch on at the table when you first sit down.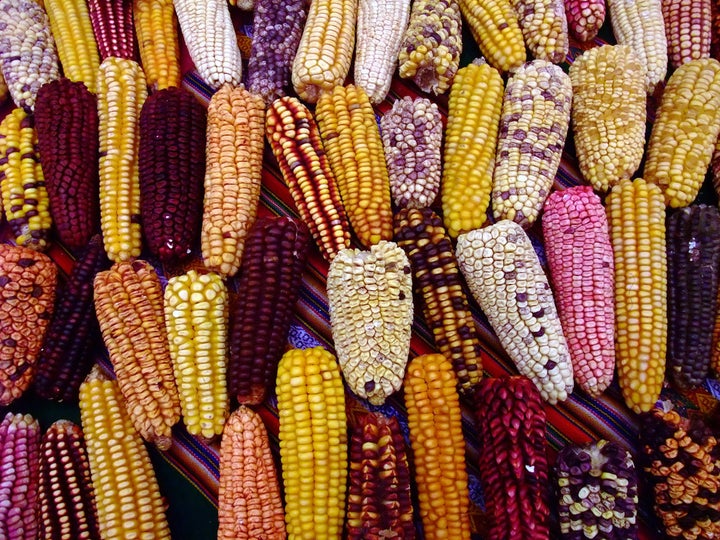 20. Peru is home to the Puya Raimondii, the world's tallest flowering plant
Towering over humans, a bromeliad, (relative of the pineapple) can take up to a century or more to bloom. In full bloom, each plant flaunts up to 8,000 white flowers resembling lilies. It blooms only once in its lifetime and then dies.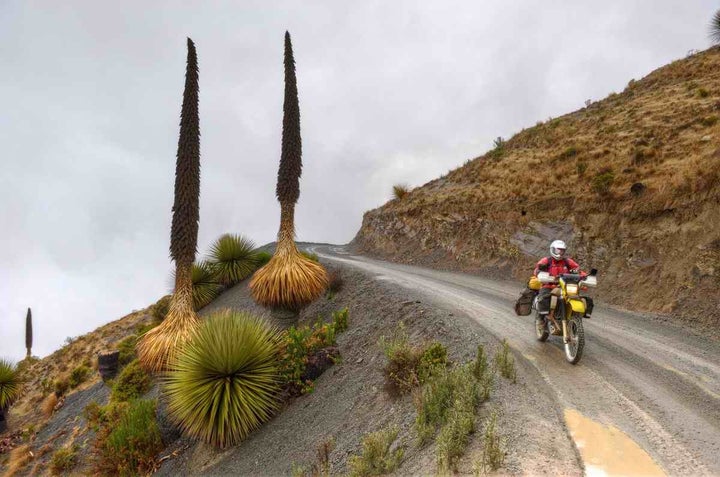 21. You can rock climb up to and sleep in the World's First Hanging Lodge
Thrill-seeking travelers can now stay in Skylodge Adventure Suites, a trio of transparent pods that have been housing intrepid travelers since 2013.
Only accessible by climbing, hiking, or ziplining, the trip to get up to your cliffside hotel room take 3 to 4 hours each way! Each hanging bedroom is suspended on a rock face 1,312 feet above the Sacred Valley in Cusco, Peru.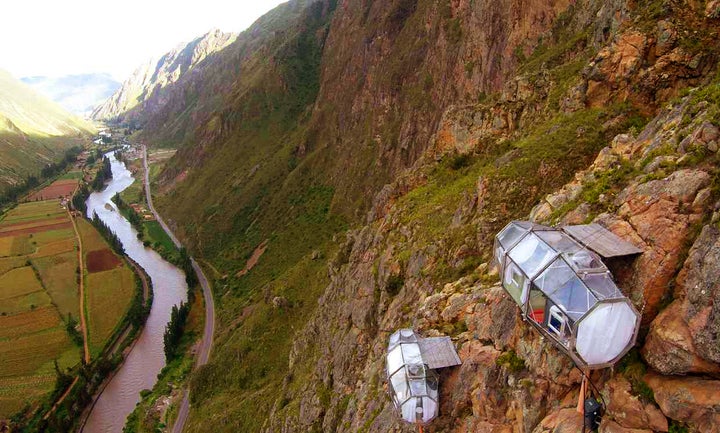 22. Peru has the second largest amount of Shamans in the world, second only to India.
Shamanism has been popular in Peru for over 3,000 years. Since most of the Peruvian population cannot afford or don't have access to doctors or Western medical care, many people, especially natives, turn to a shaman's healing art, or curandero, a rural spiritual healer. Most shamans use hallucinogenic drugs, such as ayahuasca in their healing.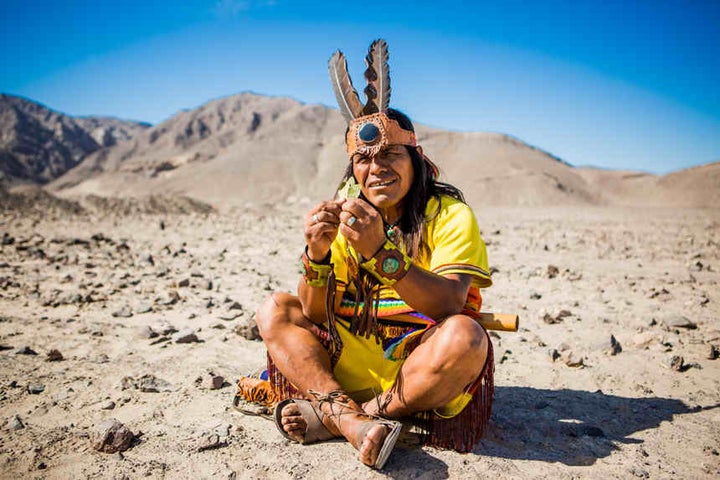 23. Cotahuasi Canyon in Peru is actually the deepest canyon in the world.
Near the city of Arequipa, Cotahuasi Canyon has a depth of nearly 10,605 feet, which is twice the depth of the Grand Canyon!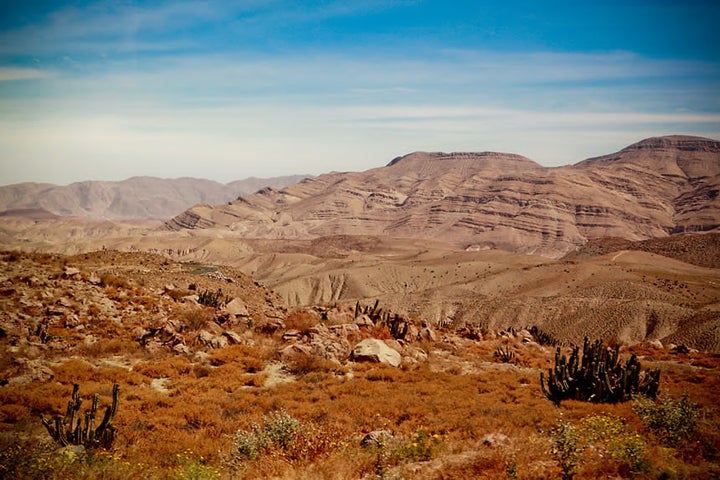 24. Quechua people live on floating grass islands in the middle of Lake Titicaca
On Lake Titicaca high in the Andes mountains, there are 50 floating man-made grass islands that make up Uros where the Quechua people have lived in peace and solitude for centuries. The people we call Incas called themselves Quechua, which is also the name given to the language they spoke. The Quechua people originally created these islands by bringing local mud that floats and stacking layers of reeds on top of the mud. They spend their days cutting grass to layer on the islands so they won't sink, making things out of grass, weaving vibrant colorful skirts and clothing, and fishing to feed their families. Their only contact with the outside world is a small floating "convenience store" stocked with snacks and sodas and the tourists that stop by to visit. It is fascinating to see how these people live and you can even do a homestay with a family and immerse yourself completely in their floating way of life.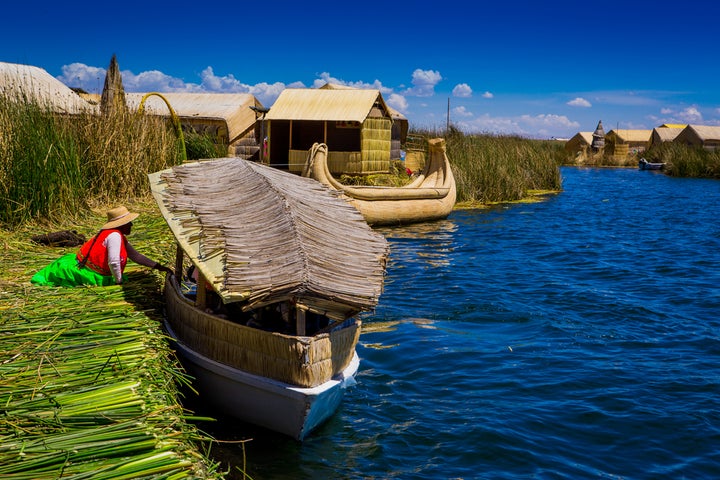 25. Peru is the 6th largest producer of gold
Peru produces over 162 tons of gold a year, worth over 7 trillion dollars!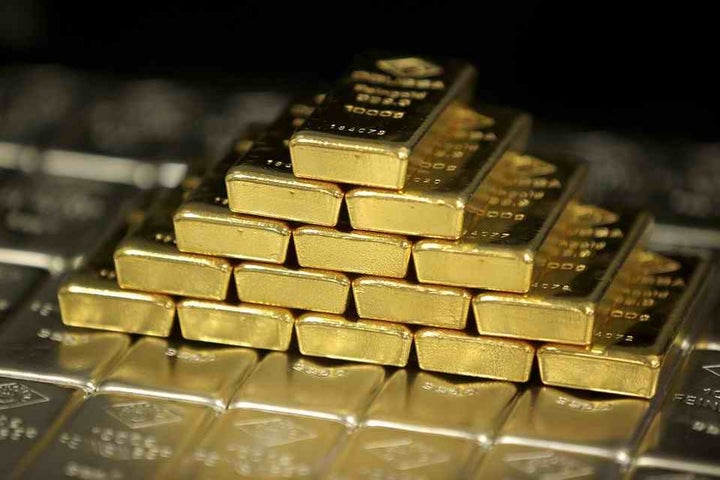 26. Two-thirds of Peru is covered in prime Amazon Rain Forest.
The Amazon Rainforest to me has always been sort of a mythical, exotic place I had heard about first as a young child. I had always been told stories about the rare species of plants and animals that can only be found there and have magical healing properties. With all of its beauty, power, and wonder, the Amazon also has its dark side. No one has escaped the tales of what lives within it's dark waters like piranhas, electric eels, anacondas, giant river otters and so many more creatures you would never think to swim with. Since there are no roads to get to most of their villages, the only way to get around is by boat or on foot. When the rivers rise, people have adapted to migrating to the second story of their stilted wooden homes just like how the animals retreat higher into the canopy of the trees.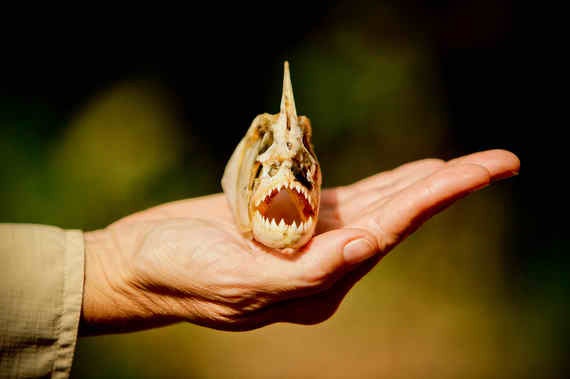 27. There are Penguins in Peru!
Yep, Peru and South Africa are two places I never thought I would see Penguins chillin' on the beach, but here they are! If you take a boat out to the marine reserve in Paracas, Peru, you will see tons of adorable penguins who must have gotten lost years ago from Antarctica and decided that Peru was definitely the best place to be!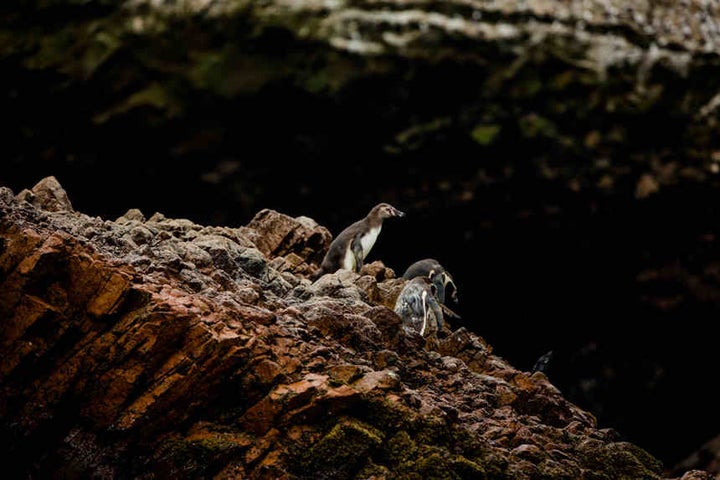 28. Peruvian Coati Dung Coffee is the most expensive in the world
Peru is now making one of the most expensive coffees in the world by picking arabica beans out of the dung of a long-nosed jungle critter called the coati, a tropical cousin of the raccoon. Chanchamayo Highland Coffee, is the second Peruvian venture to copy a rare technique that harnesses a mammal's digestive tract to strip bitter-tasting proteins from coffee beans. After the creatures eat ripe coffee cherries, the growers wash, roast and export the beans that emerge partially fermented, but whole, in the animals' scat.

In doing so, the Peruvians are catering to the whims of global coffee consumers willing to pay anywhere from $20 to $65 for a cup of the odd treat!
29. Some places in the Atacama coastal desert of Peru are so dry, they have received just 1 inch of rain in the past 30 years. The oldest mummy of a human was found here in this desert.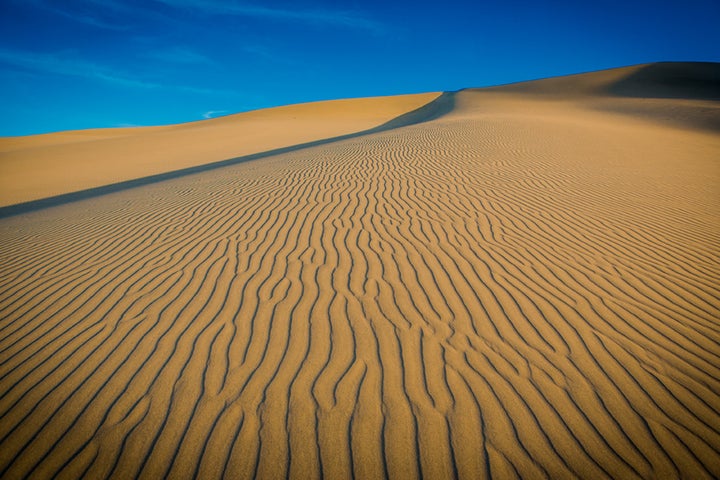 30. There are 10 million alpacas in the world, and three-quarters of them live in Peru.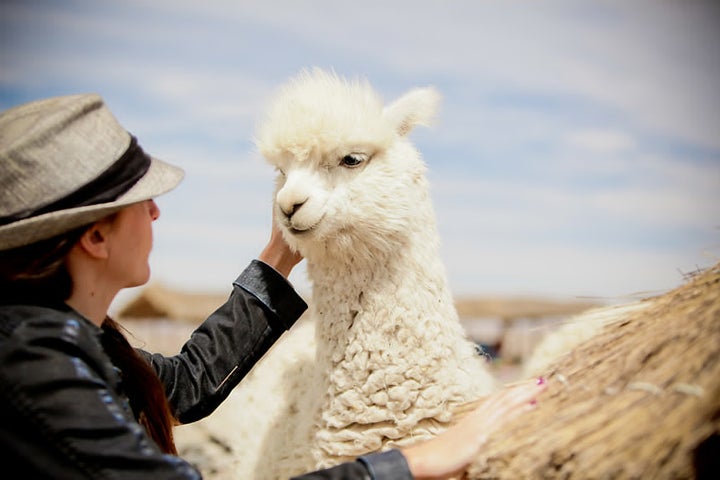 31. Peru has the ugliest dog in the World
The Peruvian Inca Orchid is one of those dogs that is so ugly, it's cute. It's got a hairless, often spotted body then a tuft of white or grey hair on top of its head, making it look like a funny old man. This breed is often 20 inches in height, weighs about 20 pounds and lives upwards of 10 years. They are quite affordable at a cost of $500 for a puppy and are known to be affectionate and gentle. This is a breed that is more intelligent than most and is often used as an obedience, hunting or sighting dog.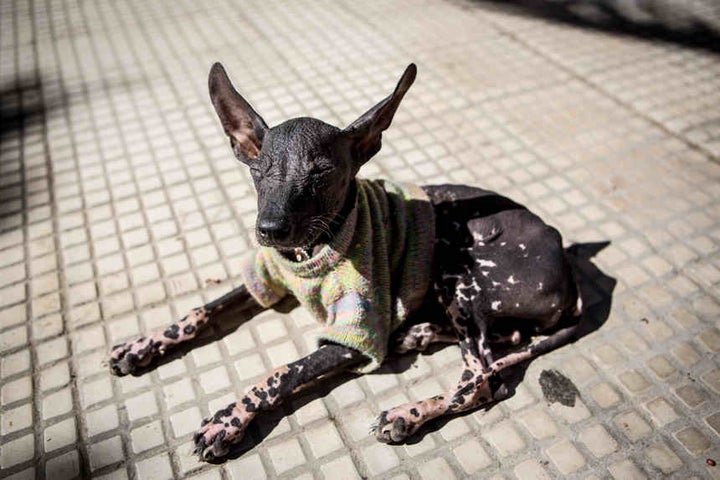 32. The coca plant has many healthy uses in Peru
,The coca plant has been getting a bad rap since the 1980's when people figured out you could make cocaine with it. In Peru, the coca plant has been used for thousands of years in the Andean world, mainly for its medicinal properties and religious significance. Coca leaves have been used as a stimulant to overcome fatigue, hunger, and thirst and they are particularly effective against altitude sickness. The effects of the coca leaf were discovered in Europe during the 19th century, when a promising German grad student, Albert Niemann, was able to isolate the active ingredient of coca, which he named cocaine.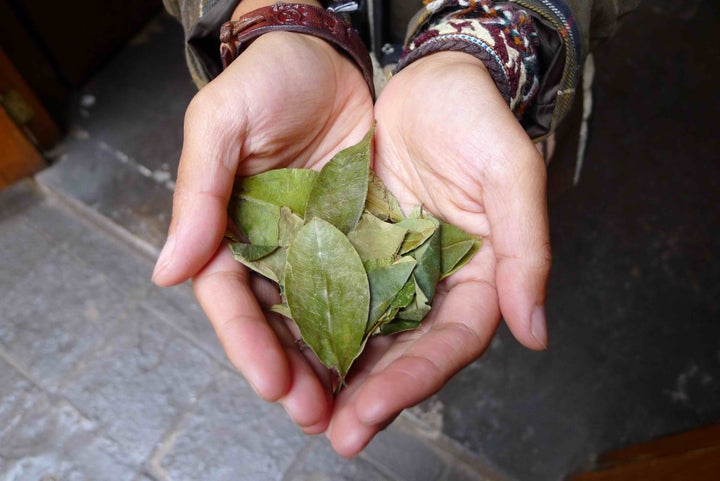 33. The Incan Kings may have started the first relay race
At its peak, the Incan Empire was larger than imperial Rome and boasted 24,855 miles of roads. A network of chasquis , or runners, kept the kingdom connected, relaying fresh-caught fish and food from the coast, hundreds of miles inland and high up into the mountains in Cuzco within 24 hours so the Incan Kings could have fresh seafood on their dinner plates.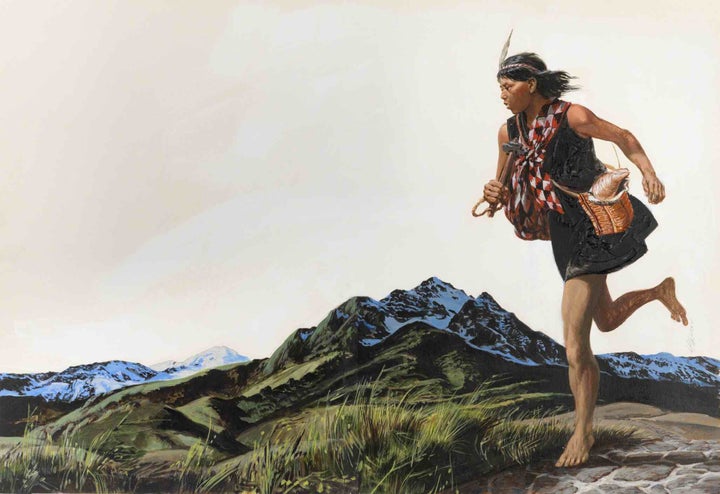 34. The Incas took astronomy seriously
The Incas were the only ancient culture in the world to define constellations of darkness as well as light. Some of Cuzco's main streets are even designed to align with the stars at certain times of the year. Somehow, the ancient Incas understood our heavens so intricately that in Machu Picchu each sun temple and ritual stone line up perfectly with the sun for their corresponding solstices even from opposing mountaintops.

35. Cusco in Peru was the most important city in the whole of the Inca Empire, and used to govern as far north as Quito in Ecuador and as far south as Santiago in Chile.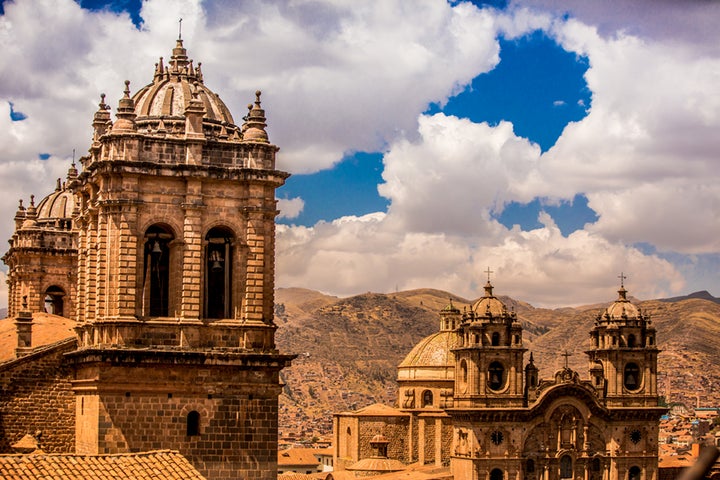 36. The warm-water equatorial current, El Niño, is named after El Niño Jesus, or Baby Jesus, because it arrives on the coast of Peru every year around Christmas
One of the worst years for El Niño was in 1983 when torrential rains began in Peru's north on January 4th and didn't stop until the middle of July.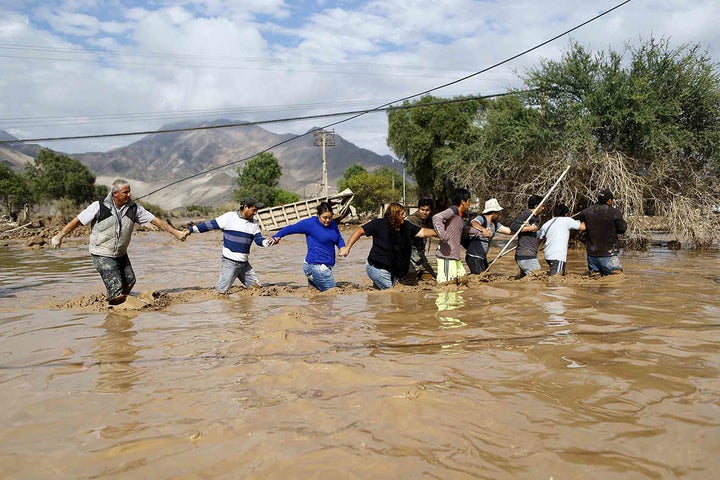 37. The Andes Mountains are the second-highest mountain range in the world, after the Himalayas.
Mt. Huarascán is the highest point in Peru at 22,204 feet high and is part of the western Andes. It is also the fourth-highest peak in South America. Peru's Huascarán National Park has more has 27 snow-capped peaks 19,685 feet above sea level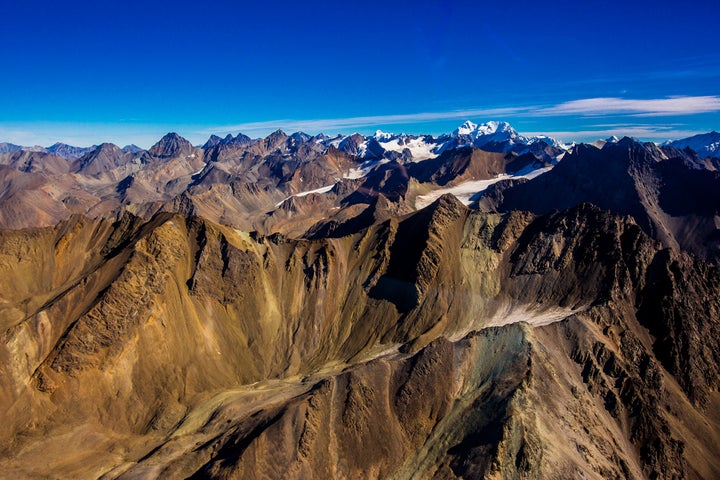 38. Before a Peruvian couple can marry, they must enter a period of Servancy
The period of sirvinacuy, meaning to serve one another, sounds nice until you realize that it means the woman works with her mother-in-law and the man with his father-in-law. This is seen as a test of their readiness for marriage. During this time, they may sleep together under the same roof, usually with the man's family, and the couple usually doesn't marry until they conceive a child, showing their union is fruitful.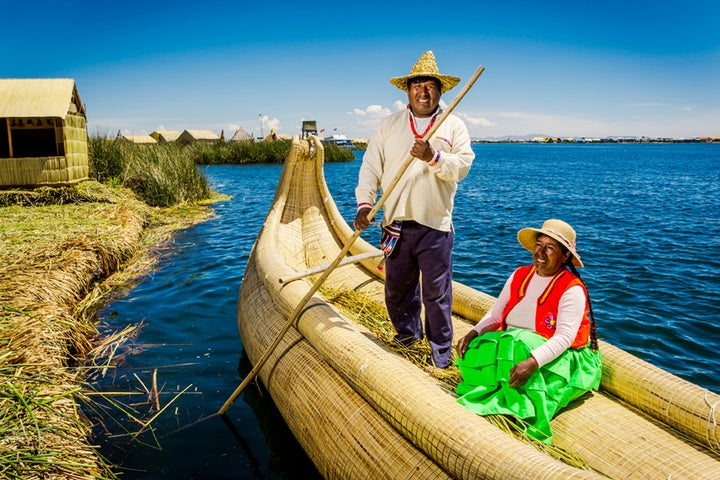 39. The sacred city of Caral-supe, is thought to be the oldest site occupied by humans discovered in the Americas.
Just a few hours north of Lima, is the sacred city of Caral-supe. Its 1,546-acre site dates back 5,000 years, 3,000 years before Christ!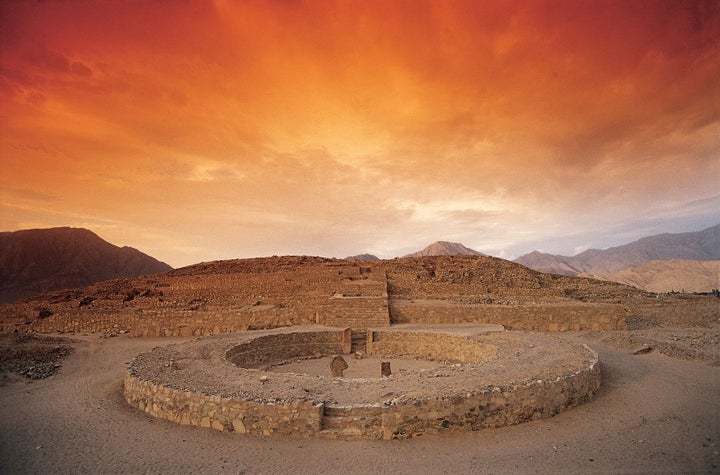 40. You can stay in a Treehouse Hotel in the Peruvian Amazon
This was one of the most unique hotel experiences I have ever had. 90% of all life in the rain forest is found in the treetops, so literally you are living in the richest plant and animal habitat on Earth when you stay in a private bungalow in the Tree house Lodge. Every morning you wake up to the symphony of exotic birds and monkeys while in the comfort of your canopy bed in your gravity-defying tree house home. Each of their bungalows are connected by suspension bridges sometimes as high as 70 feet up in the trees and are each equipped with bathrooms, showers, comfortable beds, and electricity. I finally got to live out my Swiss Family Robinson fantasy of living and climbing around in a tree house!
http://www.rainforestcruises.com/treehouse-lodge-peru/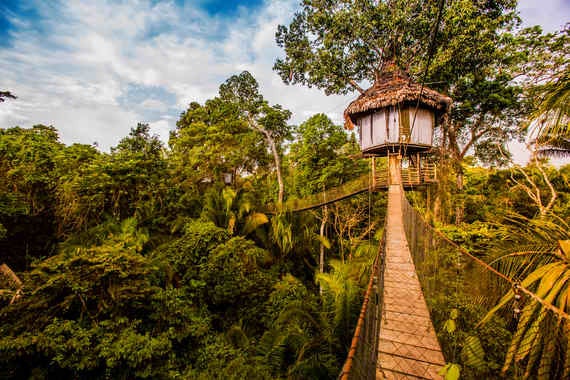 41. Camu-Camu fruit is one of the world's best superfoods
The Camu-Camu fruit (Myrciaria dubia) grows in the Amazon rainforest in Peru and has the highest
vitamin C concentration of any food, about 60 times that of an orange.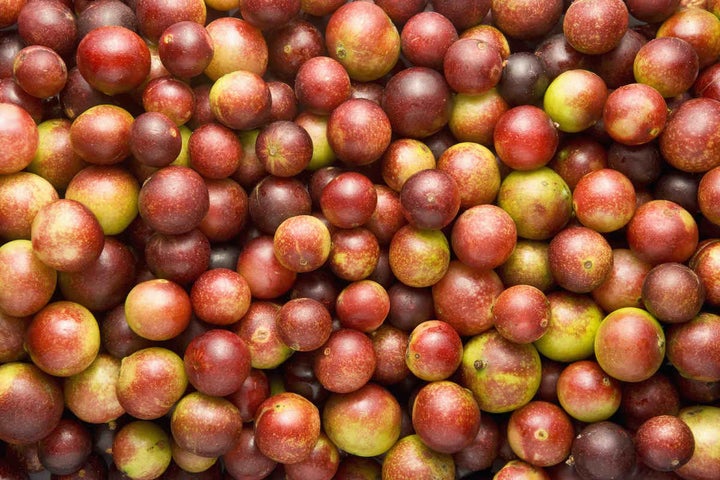 42. The National University of San Marcos is the oldest in the Americas and was founded on the 12th of May of 1551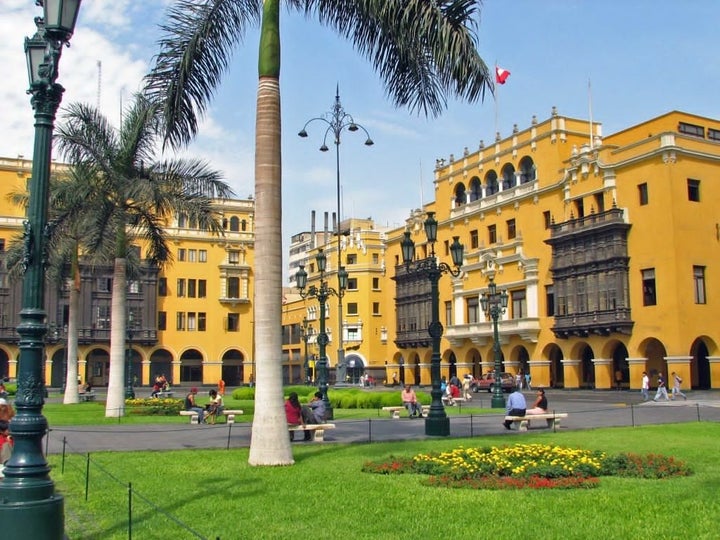 43. The national tree of Peru is the Cinchona
At least six species of the Cinchona grow in Peru. The tree gets its name from the Countess of Cinchon, wife of the Viceroy of Peru. In 1683, she came down with malaria, but she recovered after being treated with a tea made from the bark of the Cinchona tree, which contains quinine. Quinine is an important medicine in treating Malaria.
44. Ancient Peruvians would often bury food with their dead
Ancient Peruvians believed that it would help their dead loved ones sustain them on their journey to the next life. The Aymara, who live around Lake Titicaca, still stuff coca leaves in potatoes and bury them as a sacrifice to Pachamama, or Mother Earth.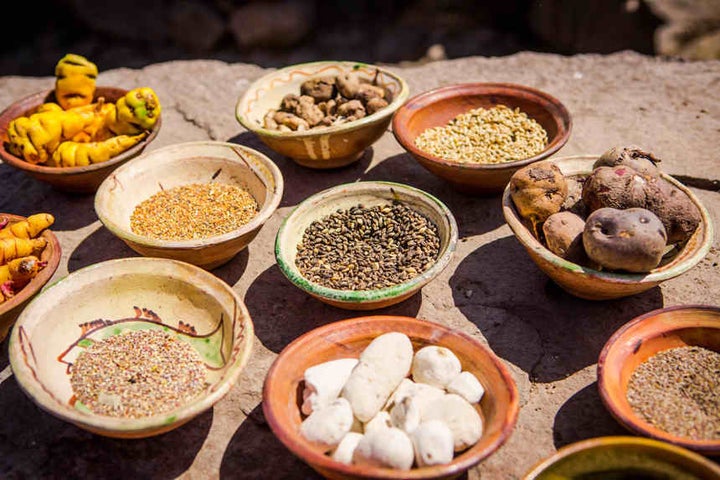 45. By about 3,000 B.C., almost every weaving technique known today had been invented by the Peruvians.
It is estimated that the time it takes to spin, dye, and weave a traditional Peruvian poncho is around 500 to 600 hours over a period of as much as six months. Peruvians are generally given one poncho upon entering adulthood, and it is expected to last a lifetime.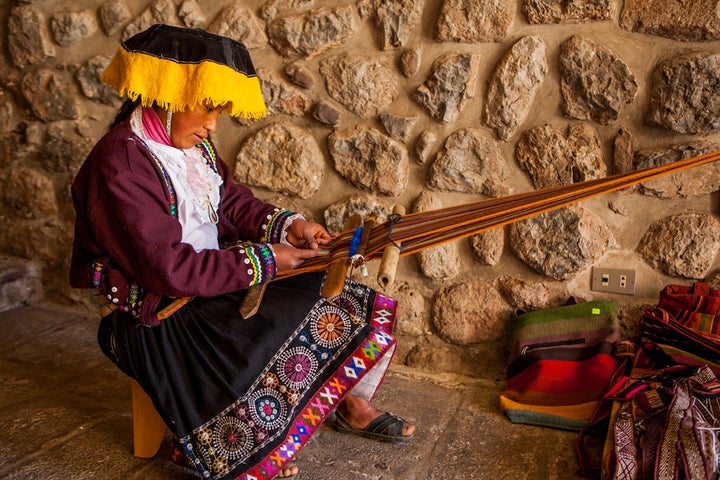 46. Peruvian's still perform an ancient form of masked "Capac Qolla" dance that is a "right of passage" for young boys
I happened to come across this dance on the side of the road outside of Cusco and had to stop and take photos. There was a troop of men and young boys all dressed in masks with woven llamas slung over their shoulders whipping themselves, literally, into a frenzy. There was music, dancing, drinking, and whipping going on while a clown-like character, called an ukuku, passed out fermented strawberry juice and made sure the crowd was laughing, drunk and happy. This dance dates back to ancient times, when the rich merchants would come down from the highlands to sell their goods. The dancers are emulating them almost as though they want to graduate from a poor farm boy, into a rich, successful merchant. The young boys have to whip each other over and over on their legs until the ukuku decides to finally break it up! It get's intense, and some of the older men showed me their scars on their legs from this dance!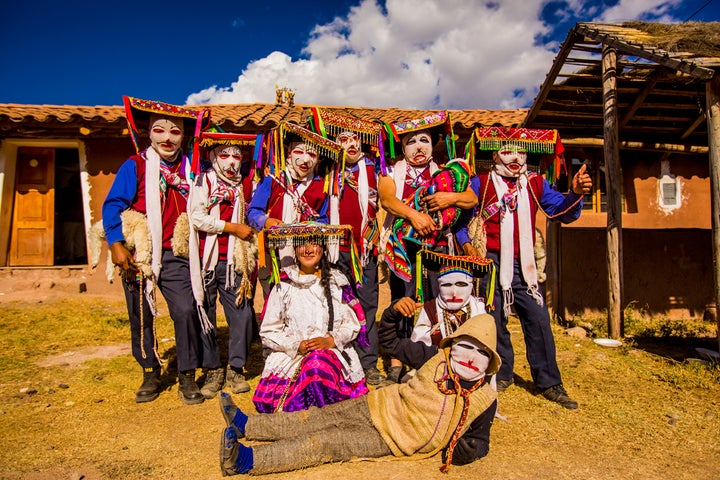 47. You can see the history of Peru in their Architecture
During the Spanish conquest of Peru in 1536, the Spaniards literally took over most of the Inca people's homes and cities (like Cusco) and built their churches directly on top of their temples, their homes directly on top of their Incan stone dwellings, and pillaged and plundered their way across the Sacred Valley stealing treasures and using their thousand year old stone temples as rock quarries to build their new Spanish empire. So in modern-day Cusco, part of the beauty is this contrast of the Incan architecture with the Spanish Colonial-style architecture. Usually the first floor is always stone and the second floor is Spanish colonial with stucco and archways. You can almost imagine what the Incan city used to look like.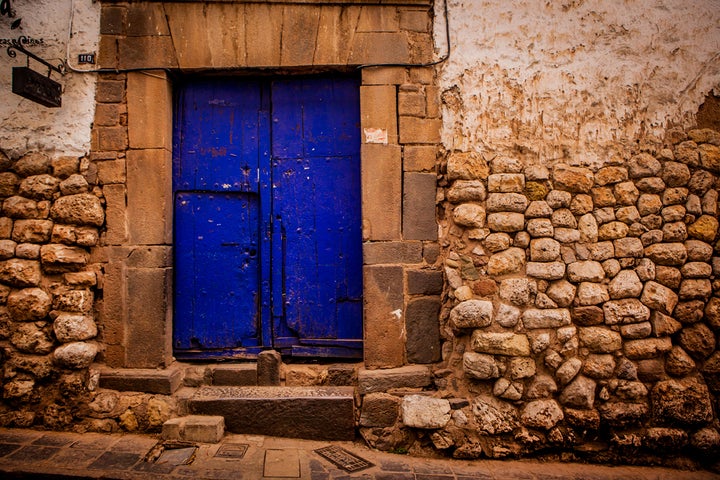 48. Alien Mummy Skulls have been discovered off the coast of Paracas, Peru
The reason why the TV Show Ancient Aliens thinks these mummy skulls are alien, is because they are abnormally long and deformed compared to human skulls. An entire mass grave of over 400 skulls was found buried near an ancient symbol of a candelabra craved into the Cliffside in Paracas and no one knows who they were, why they are there, and what the candelabra symbol means. Some historians say that it was the practice of some Inca people to press their newborn's heads in between wooden boards to create this long skull shape. They believe they did it for aesthetic reasons and that it symbolized that they were nobility.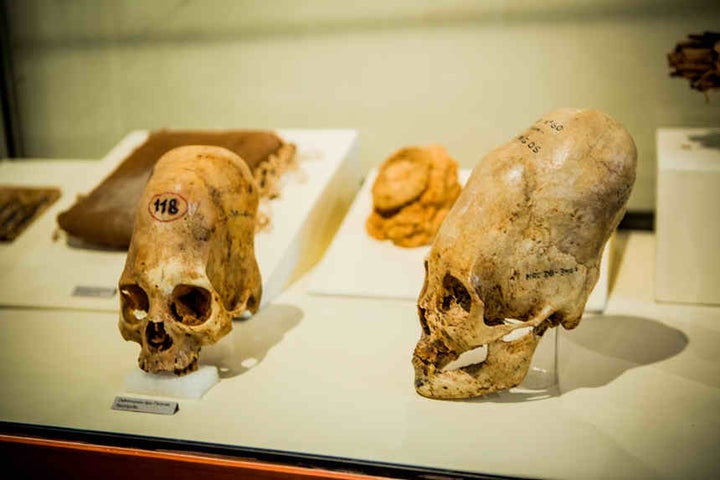 49. You can swim with Pink Dolphins in Peru
Yes, I know that means swimming in the water with many other Amazonian creatures that are not as friendly, but believe it or not, the only animals that seemed curious enough to get close to us were the elusive, yet beautiful Pink Dolphins. At first it seemed like an episode of Fear Factor to get in the murky, brown waters of the Amazon river, but once we did it was magical to see these dolphins up close that don't exist anywhere else on Earth.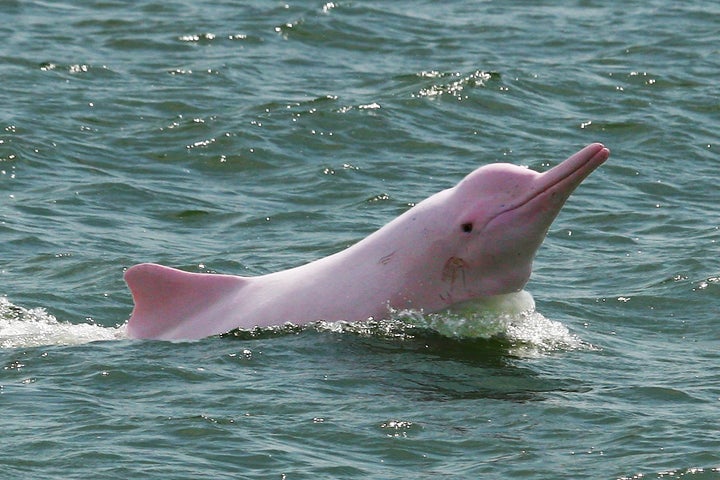 50. There is a Floating Restaurant and swimming pool in the middle of the Peruvian Amazon River
Al Frio y al Fuego is one of the most unique restaurants I have ever been to. You have to take a small boat to get there and it is like a mini party oasis floating in the middle of the Amazon River. Once there, you can sip cocktails, eat amazing, fresh, locally sourced cuisine, relax and sunbathe in their poolside cabanas, swim, or dance to the tunes the DJ is spinning. It was fun just eating lunch and watching all of the activity of the boats and the way locals live passing you by on the river.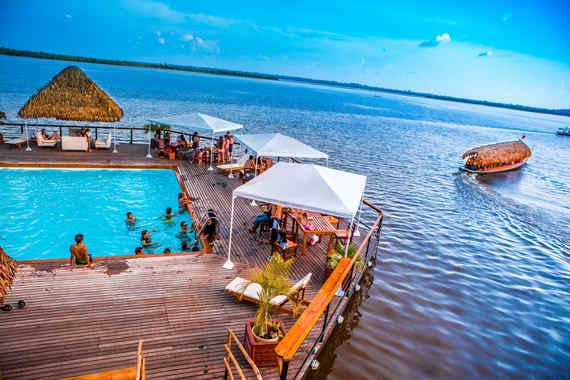 Follow me along with me on my travel adventures on
Related
Popular in the Community