A group of 50 men on HIV-preventative drug PrEP came together recently to make a powerful statement about the FDA's current policy regarding blood donations from men who have sex with men (MSM).
The 50 HIV-negative men each donated a tube of their blood to the ongoing sculpture "Blood Mirror" by queer artist Jordan Eagles. With the collected 50 tubes of blood equaling a pint, the blood donation is a form of protest against the FDA's policy that requires men MSM to engage in a year of celibacy before being able to donate blood.
"It doesn't matter if you are gay, straight, male, female, young, old, or where in the, world you were born," Eagles said in a statement, "This is both an equality and science issue, that affects us all on so many levels. We have the ability to save lives and do what's right."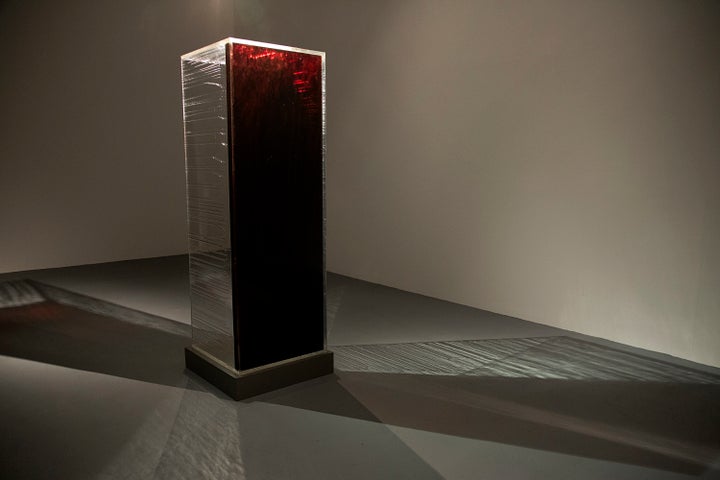 Eagle's "Blood Mirror" is a massive seven-foot-tall monolith, ongoing in its construction, that allows viewers to see themselves reflected in the preserved blood of the MSM who have contributed to its formation. In the above film by activist Leo Herrera, some of the 50 men contributing to this layer of the sculpture reflect on what the FDA policy surrounding queer blood means to them.
"[The policy is] bad science and it is prejudice," Herrera said in a statement. "The belief that gay men are inherently prone to disease is the equivalent to racial phrenology, striking at the fragile ability to view ourselves as healthy and 'clean.'"
On World Blood Donor Day, June 14, 2016, the blood of these 50 men will be projected on the historic NYC High Line's 14th street passage as part of a #BloodEquality event occurring in the evening. Visitors will have the opportunity to have their photo taken against this projection and show their support for #BloodEquality when it comes to the donations of MSM. Head here for more information.
Calling all HuffPost superfans!
Sign up for membership to become a founding member and help shape HuffPost's next chapter