With summer behind us and another school year underway, now's a great time to look ahead and see what new picture books are about to hit our shelves. While there were some notable releases early in the year, 2014's picture book scene got off to a relatively quiet start. All that changes this Fall. The volume of stellar picture books has picked up significantly and the year promises to end on a strong note.
With that in mind, here are fifty new titles (in alphabetical order) to keep an eye out for this fall:
Blizzard by John Rocco (Disney Hyperion, Oct.)
A nice companion to Rocco's award-winning Blackout, this autobiographical tale shows how a crippling blizzard can make a trip to the grocery store feel like an epic journey.
The Boy on the Page by Peter Carnavas (Kane Miller, Sept.)
Carnavas uses an interesting metafictional premise (a boy falling onto a blank page) to tackle the age-old question: "Why are we here?"
Creature Features: Twenty-Five Animals Explain Why They Look the Way They Do by Steve Jenkins and Robin Page (Houghton Mifflin Harcourt, Oct.)
An irreverent approach to presenting interesting animal facts, Jenkins and Page aren't afraid to look a blobfish straight in the eye and ask the question that's on all our minds: "What on earth happened to you?"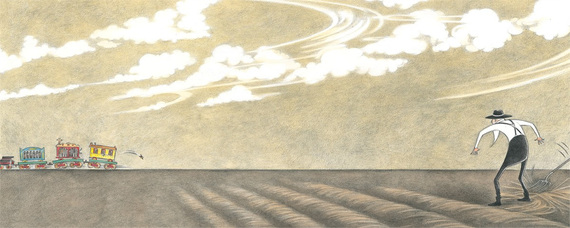 The Farmer and the Clown by Marla Frazee (Simon & Schuster, Sept.)
A young clown falls off a train passing through the middle of nowhere and is taken in by a curmudgeonly farmer. Frazee's art shines in this wordless masterpiece about how even the unlikeliest of friendships can blossom once you let your guard down.
Firebird by Misty Copeland, illustrated by Christopher Myers (Penguin, Sept.)
In this debut picture book, world-renowned ballerina Copeland shows that the power and grace she displays on the stage translates to the page as well. Paired with Myers' strong illustrations, Copeland urges an aspiring dancer to keep working and not feel overwhelmed by the seemingly insurmountable gulf separating her from realizing her dreams.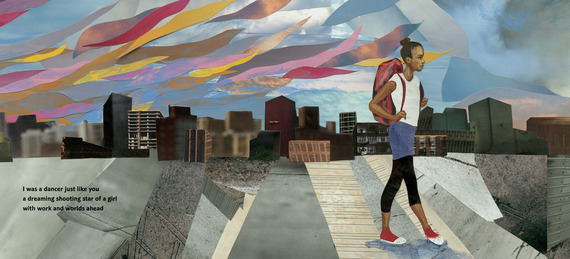 Flashlight by Lizi Boyd (Chronicle, Aug.)
A boy explores the woods with a flashlight, but readers get the added benefit of exploring the surrounding darkness, which is filled by all kinds of interesting creatures hanging out just beyond the boy's field of vision.
Forget Me Not by Nancy Van Laan, illustrated by Stephanie Graegin (Random House, Aug.)
Simultaneously heartwarming and heartbreaking, this loving portrait of a family navigating a grandmother's Alzheimer's treats a delicate subject with a tender touch.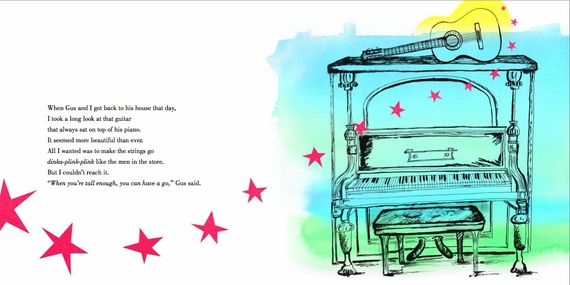 Gus & Me: The Story of My Granddad and My First Guitar by Keith Richards, illustrated by Theodora Richards (Little Brown, Sept.)
Richards traces his love of music back to his grandfather while skillfully managing to recede into the background for most of the story. Perhaps a lifetime of touring with Mick Jagger prepared him to stay just out of the spotlight. Illustrated by his talented daughter Theodora, the book is a gem that spans four generations.
(Note: As an added bonus, Gus & Me comes with an audio recording--and if the whole rock legend thing doesn't work out, Keith has a bright future in audiobooks.)
Hug Machine by Scott Campbell (Simon & Schuster, Aug.)
Lighthearted, exuberant fun... as long as you remember to have the right equipment before embarking on a hugging spree. You never know when you'll run into a porcupine in need of some love.
I am Jazz by Jessica Herthel and Jazz Jennings, illustrated by Shelagh McNicholas (Penguin, Sept.)
One of the rare picture books that truly feels like it is breaking new ground, Jazz's story recounting her life as a transgender child gives new meaning to the saying "To thine ownself be true."
If You Were a Dog by Jamie Swenson, illustrated by Chris Raschka (Macmillan, Sept.)
Swenson's playful and vibrant text matched with Raschka's kinetic style makes this one of the best read-aloud books of the year.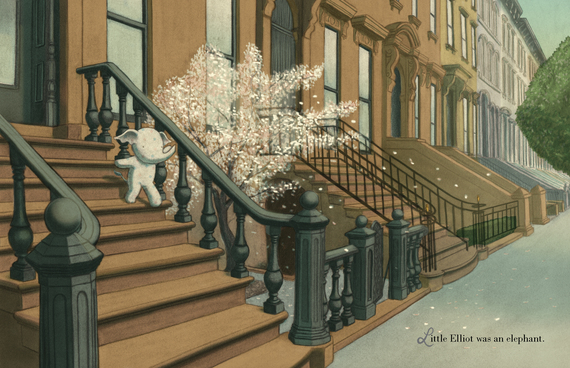 Little Elliot, Big City by Mike Curato (Macmillan, Aug.)
One of the more endearing children's book characters to come along in a while, Elliot is a shy elephant who lives alone in what looks like a gorgeous (and presumably rent-controlled) Brooklyn brownstone. Imagine Corduroy wandering into an Edward Hopper painting and you'll get a sense of the magic that is Little Elliot.
Little Melba and Her Big Trombone by Katheryn Russell-Brown, illustrated by Frank Morrison (Lee & Low, Sept.)
Before she was a legendary jazz musician touring with the likes of Billy Holiday and Dizzy Gillespie, Melba Liston's journey began as a young girl who chose an instrument that was much too long for her little arms... an early sign that nothing was beyond her prodigious grasp.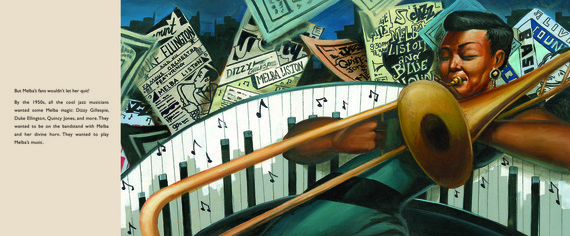 Madame Martine by Sarah S. Brannen (Albert Whitman, Sept.)
A woman lives near the Eiffel Tower but never makes the climb, dismissing it as "a tourist thing." When she takes in a stray dog, she's forced to see her world from a different perspective and learns that tourist attractions usually draw a crowd for a reason.
Nana in the City by Lauren Castillo (Houghton Mifflin Harcourt, Sept.)
Not only is this a sweet story, but after reading it I immediately wanted to take this stylish Nana out for coffee. She obviously has stories to tell and knows the best places to go out in the city.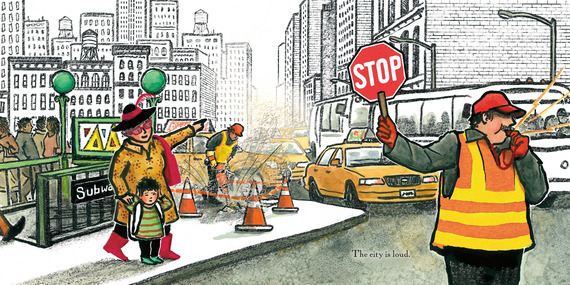 Once Upon an Alphabet: Short Stories for All the Letters by Oliver Jeffers (Penguin, Oct.)
A fun take on the traditional alphabet book, these quirky vignettes feature Jeffers' signature style and run into each other in clever ways. A side note: I really hope Owl and Octopus ("who go looking for problems--and solve them.") get a book of their own someday.
Quest by Aaron Becker (Candlewick, Aug.)
Last year, Aaron Becker burst onto the scene with Journey, opening the door onto a fantastically-imagined (and meticulously-rendered) world. Now he's back with Quest, (the second installment in a planned trilogy), giving readers exactly what they wanted: the chance to dive back in and continue the journey.
The Right Word: Roget and His Thesaurus by Jen Bryant, illustrated by Melissa Sweet (Eerdmans, Sept.)
This ingenious biography will give you a new appreciation for the Thesaurus (which, thanks to Google, is probably gathering dust on your shelf). But take a minute to crack it open again and you'll find that it's not just a reference book, but an ambitious attempt to organize and make sense of the world.
Bryant points out that "Thesaurus" is Greek for 'Treasure House" and by time you're done reading (thanks in large part to Sweet's richly dense illustrations) you'll have no doubt that Roget chose the right word to name his book.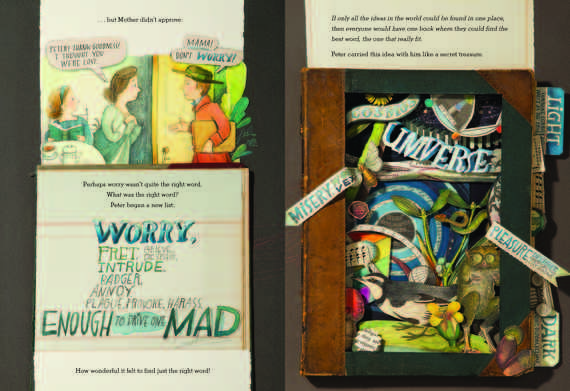 Sam and Dave Dig a Hole by Mac Barnett, illustrated by Jon Klassen (Candlewick, Oct.)
Part wry comedy of errors, part Twilight Zone, this book feels timeless in that it could have been from 50 years ago, or from 50 years in the future (and possibly from another dimension).
Sebastian and the Balloon by Philip C. Stead (Macmillan, Oct.)
When people think of adventure, they usually imagine setting off on a mission with some grand goal or wild destination in mind. But Sebastian knows that to be truly adventurous, sometimes you have to leave your agenda behind and just see where the wind takes you.
Shh! We Have a Plan by Chris Haughton (Candlewick, Sept.)
This slapstick adventure (rendered in brilliantly saturated colors) demonstrates that if the best laid plans often go awry, then poorly laid plans don't stand a chance.
The Storm Whale by Benji Davies (Macmillan, Sept.)
A fairly straightforward story about a lonely child who finds a beached baby whale, there's a calming and weathered quality to The Storm Whale that makes it particularly captivating... almost as if the book itself were washed up on shore, just waiting to be taken home.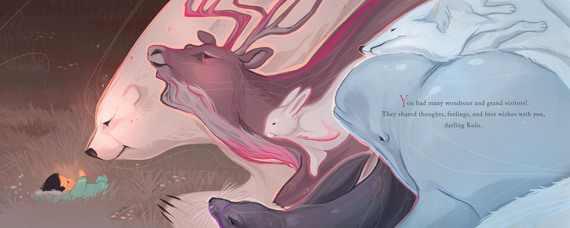 Sweetest Kulu by Celina Kalluk, illustrated by Alexandria Neonakis (Inhabit Media, Nov.)
Through stunning illustrations and musical prose (Kalluk is also a famous Inuit throat singer), Sweetest Kulu captures that euphoric feeling of welcoming a newborn into your life and wanting to introduce her to the many wonders of the world.
Telephone by Mac Barnett, illustrated by Jen Corace (Chronicle, Sept.)
At the heart of this amusing game of telephone is a simple but important truth: what we hear and how we interact with the world is always filtered through our own preconceptions.
Viva Frida by Yuyi Morales, photos by Tim O'Meara (Macmillan, Sept.)
Few illustrators bring a page to life like Morales and in this rich multimedia tribute to the life of Frida Kahlo, she's created a work of art that can be described in one word: transcendent.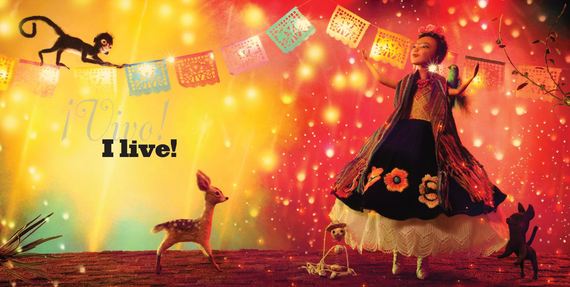 100 Things That Make Me Happy by Amy Schwartz (Abrams, Oct.)
Alphabetabum: An Album of Rare Photographs and Medium Verses by Vladimir Radunsky and Chris Raschka (New York Review of Books, Oct.)
A Book is a Book by Jenny Bornholdt, illustrated by Sarah Wilkins (Gecko Press, Sept.)
Awake Beautiful Child by Amy Krouse Rosenthal, illustrated by Gracia Lam (McMullens, Nov.)
Besos for Baby: A Little Book of Kisses by Jen Arena, illustrated by Blanca Gómez (Little Brown, Sept.)
Call Me Tree by Maya Christina Gonzalez (Lee & Low, Oct.)
Countablock by Christopher Franceschelli and Peskimo (Abrams, Aug.)
Go to Sleep Little Farm by Mary Lyn Ray, illustrated by Christopher Silas Neal (Houghton Mifflin Harcourt, Sept.)
Hands Say Love by George Shannon, illustrated by Taeeun Yoo (Little Brown, Dec.)
Here is the Baby by Polly Kanevsky, illustrated by Taeeun Yoo (Random House, Sept.)
I Know a Bear by Mariana Ruiz Johnson (Random House, Sept.)
The Iridescence of Birds: A Book about Henri Matisse by Patricia MacLachlan, illustrated by Hadley Hooper (Macmillan, Oct.)
Ivan: the Remarkable True Story of the Shopping Mall Gorilla by Katherine Applegate, illustrated by G. Brian Karas (Houghton Mifflin Harcourt, Oct.)
The Jacket by Kirsten Hall, illustrated by Dasha Tolstikova (Enchanted Lion, Oct)
Julia's House of Lost Creatures by Ben Hatke (Random House, Sept.)
A Letter for Leo by Sergio Ruzzier (Macmillan, Nov.)
LION Lion by Miriam Busch, illustrated by Larry Day (HarperCollins, Sept.)
Little Owl's Day by Divya Srinivasan (Penguin, Sept.)
Me & Dog by Gene Weingarten, illustrated by Eric Shansby (Simon & Schuster, Sept.)
Mix It Up! by Herve Tullet (Chronicle, Sept.)
The Mouse Who Ate the Moon by Peter Horacek (Candlewick, Sept.)
My Grandfather's Coat by Jim Aylesworth, illustrated by Barbara McClintock (Scholastic, Oct.)
Once a Shepherd by Glenda Millard, illustrated by Phil Lesnie (Candlewick, Oct.)
The Orchestra Pit by Johanna Wright (Macmillan, Aug.)
A Perfectly Messed-Up Story by Patrick McDonnell (Little Brown, Oct.)
Related
Popular in the Community