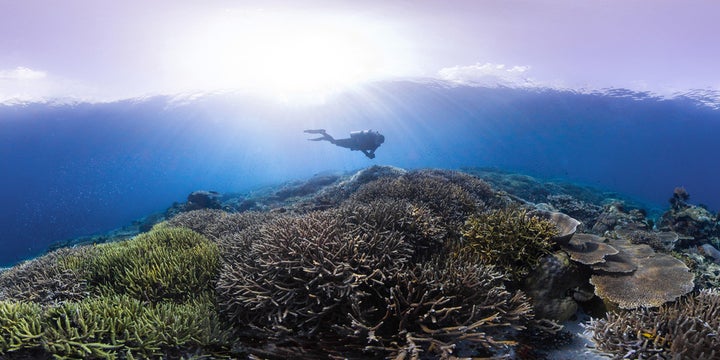 Co-authored by Michael Webster
Coral reefs are in crisis. While we might wish this were fake news, the facts are clear: without a different approach to conservation, coral reefs will continue to decline toward extinction. However, an announcement last week in Bali, Indonesia gave us some new reasons to be hopeful.
Bloomberg Philanthropies, The Tiffany & Co. Foundation and The Paul G. Allen Foundation launched a new, global initiative called 50 Reefs. The initiative states it will "identify and prioritize protection efforts on the coral reefs that are least vulnerable to climate change, and also have the greatest capacity to repopulate other reefs over time." This is a bold plan to save these extraordinary ecosystems.
Has anyone ever done this before? No. Is this an idea people and organizations should support and stand behind? Absolutely.
Here are five reasons 50 Reefs makes us especially optimistic:
Strong Leadership — Bloomberg Philanthropies, The Tiffany & Co. Foundation and The Paul G. Allen Foundation are influential leaders in the conservation community. By putting their reputations and resources behind this initiative, they can build a network of scientists, communities and organizations that together, can save coral reefs.
Coral Adaptation — The plan focuses on the protection and repopulation of reefs as the impacts of climate change increases. The corals that build reefs—creating homes for 25 percent of all ocean life—are particularly vulnerable to rising temperatures. To ensure a bright future in a new climate, corals will have to adapt.
Global Focus — This initiative is working at the right scale, global. We can't save reefs through small steps in isolation. Instead, we need solutions that account for all threats facing reefs—from overfishing and pollution which play out locally, to rising temperatures and ocean acidification, which impact ecosystems everywhere. By seeking global solutions, 50 Reefs is in the position to make a real difference for coral reefs.
Science + Communication + Conservation = Winning Trifecta — By starting with the best available science, 50 Reefs has a better chance of identifying the biggest problems and most effective solutions. Being science-based alone is not especially novel. However, when combined with a focus on communications and conservation action, 50 Reefs is positioning itself to be particularly advantageous.
Tradeoff Decisions are Part of the Plan — With the rapid shifts in our climate, saving every single reef will be hard. 50 Reefs is specifically designed to help make tradeoff decisions about how to allocate conservation efforts and resources. This ensures that we are investing in ways that are most likely to save coral reefs.
Over the years, we have personally and professionally watched the dramatic decline of these spectacular underwater worlds. If we don't step up efforts to save coral reefs, we risk losing them altogether. The 50 Reefs initiative gives us new reasons to hope that people will help coral reefs adapt to our changing world.
Calling all HuffPost superfans!
Sign up for membership to become a founding member and help shape HuffPost's next chapter
BEFORE YOU GO