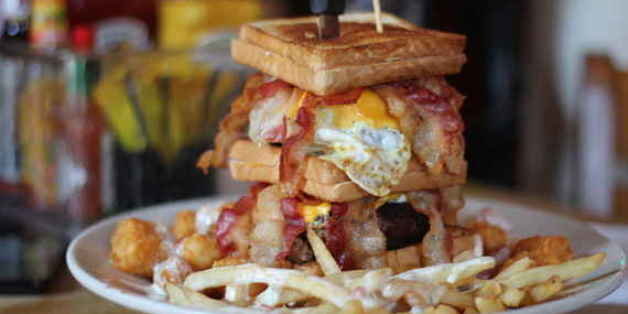 No matter what that bloke Earl tells you, sandwiches are the quintessential American food: meat, cheese, bread, and moxie are what this country was founded on. That's why it's your duty -- nay, your destiny -- to eat as many different varieties of your birthright food as humanly possible.
With sandwich-fest destiny in mind, we've developed this bucket list of 50 sandwiches across America that you should eat before you die (probably from eating so many sandwiches). No burgers, sausages, or gyros here. Just sandwiches that will enrich your soul while also showing you all the corners of the country and yourself. Bring napkins.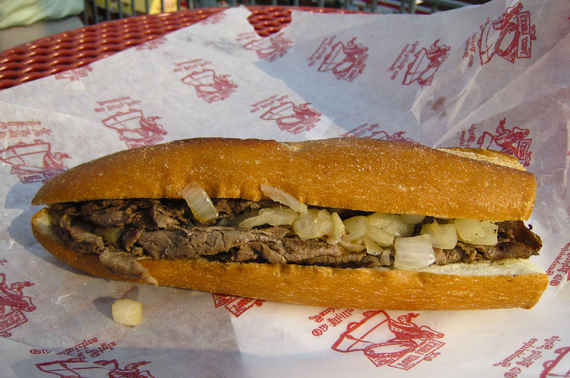 Credit: Flickr/Bryce Edwards
Philly cheesesteak
Tony Luke's
Philadelphia, PA
Tony's is a legend, and everybody should eat a Philly made in actual Philly at least once. But if not Tony's, just go to a Philly sandwich shop named after a dude -- John, Geno, George -- who sounds like he works in the mill.

Roast pork
John's Roast Pork
Philadelphia, PA
And while you're already in Philly, the roast pork sandwich -- an explosion of juice-soaked pig and sharp provolone -- is their other, less-nationally-touted -- and arguably better -- signature sandwich, and John's just might be the original. If it's not, it's still the best. Oh, and they also make a hell of a cheesesteak. So maybe get both. It's not like it's gonna kill you. (Editor's Note: it might kill you.)

Lobster roll
The Clam Shack
Kennebunkport, ME
It's not served in a hot dog bun, but a round roll. But other than that small twist, the lobster roll served at The Clam Shack is a simple, delicious Maine dream: mayo, a little melted butter, and fresh lobster meat. Bonus points if you're wearing an L.L.Bean backpack as you take it down.
Italian beef
Johnnie's Beef
Elmwood Park, IL
The Chicago institution is our favorite source of gravy-soaked beef perfection. But you can get a great one anywhere in the city and still be pretty happy. Just be sure to eat it before the roll disintegrates, and chase it with an Old Style.
Shrimp jibarito
Joey's Shrimp House
Chicago, IL
Much like the Italian beef, the jibarito is a Chicago-created sandwich that was inspired by a foreign land -- in this case, Puerto Rico -- whose residents might be heard to say "huh?!" if you ordered it. Basically, it's a sandwich made with fried plantains, which can be filled with everything from lechon to gyro meat. Well, Joey's does it with shrimp, and it might just be the best of all of them, especially now that the original Borinquen is no longer with us.

The Tipsy Texan
Franklin BBQ
Austin, TX
Yeah, you'll wait in line. A long line. Yeah, it'll be worth it. And while some people will argue that the meats at Franklin needn't be bogged down with sandwich fixins, this sucker comes with chopped brisket, smoked sausage, and slaw. It's big enough to feed two. But you waited in line for a long time, so you're advised to get this as a side order with a mound of brisket.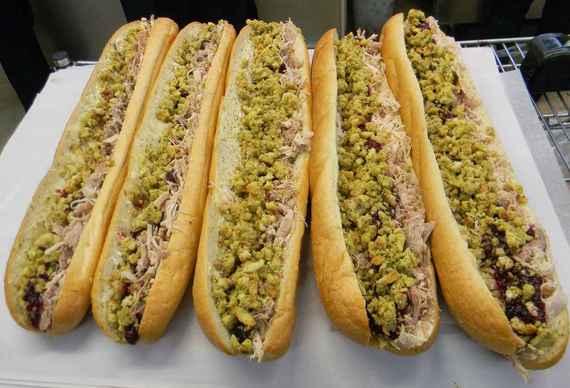 Credit: Flickr/Brian Child
The Bobbie
Capriotti's
Wilmington, Delaware
Essentially a Thanksgiving leftover sandwich, but everything tastes better at this Delaware joint that has been expanded to 17 states. Probably because Capriotti's cooks are better than your mom, and don't end up drying out the turkey because they drank four mimosas for breakfast.

BLT
Tony's I-75
Birch Run, MI
Because sometimes, when you're in the middle of Michigan, it makes perfect sense to consume 1 lb. of crispy bacon in sandwich form before you get back on the freeway.

The Spuckie
Cutty's
Brookline, MA
Say it with us now: fennel salami, hot capicola, mortadella, mozzarella, olive-carrot salad on fresh ciabatta. Even if you grew up in the North End and have an Italian flag tattoo covering your entire torso, this is still going to be the best Italian sandwich you've ever had in your life.
The Reuben, in its city of origin
Crescent Moon
Omaha, NE
That's right, we said Omaha. And Crescent Moon has the best, based on the original Blackstone Hotel recipe. Suck it, New York.

The Crab Happy Chesapeake Chicken Sammy
Miss Shirley's
Baltimore, MD
Giant lump crab cakes are a Baltimore specialty that come on everything from Benedicts to, well, just plates. Miss Shirley's ups the ante with chicken sausage, cheese, a fried egg, and veggies, then smashes it all between an English muffin.

A fried brain sandwich. Seriously.
Schottzie's
St. Louis, MO
Avoid any temptation to make a Walking Dead joke and just go for it. Brain sandwiches are a tradition in St. Louis so endangered, they're like the white rhino of lunch. Schottzie's has the best. Unlike rhinos, you don't have to feel bad for eating them. And fried brains (pig, usually, since mad cow disease ruined everything) taste better.
Anything that could score you a T-shirt, or a picture on the wall
Maybe it's a Big Fat Ugly from Madison's Fat Sandwich Co. filled with all the meats and sides, or a race to finish the 27 in. Big Fat Fatty at Fat Sal's in San Diego. When there's a T-shirt or a Polaroid on the line, no risk of diabetic shock is too high.

Loose meat sandwich
Chuck and Edna's Maid-Rite
Cascade, IA
It's like a Sloppy Joe. Except it's not sloppy, because it's basically the state food of Iowa, and in Iowa, you do a lot of driving. We like the one at Chuck and Edna's spot in Cascade, but you can get them all over the place. Getting loose meat all over your lap sucks enough when it's not covered in sauce.

Rocky Mountain oyster sandwich
Montana
Best experienced amid the crowds of Clinton's annual Testicle Festival, but perfectly fine at most saloons where you can find 'em. Yeah, they might be bull 'nads. But they taste like -- well, do you have the balls to find out? (Fun fact: they're delicious.)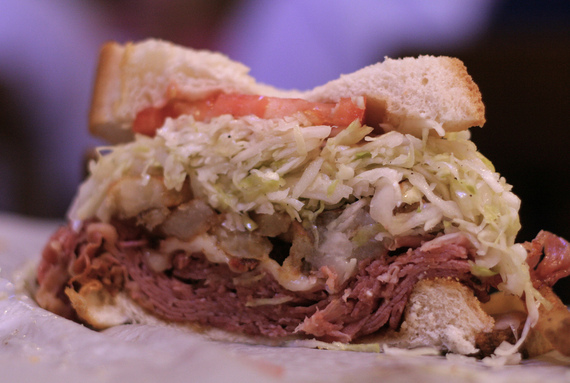 Credit: Flickr/Sandor Weisz
A sandwich with fries and slaw in it
Primanti Bros.
Pittsburgh, PA
Preferably in Pittsburgh proper, but if you're lucky enough to have a Primanti's near you in Florida or West Virginia, that'll do. We're partial to beef, but even if you get it was bologna, it's a hell of a French fry- and slaw-topped thing to behold.

Chopped pork
Payne's Bar-B-Q
Memphis, TN
Yellow, crunchy, mustardy slaw. Hot peppery sauce. Some burnt bits and some juicy bits. Lots of napkins. Eat and repeat.

A PB & J made by a mother
Any mom will do. Just make sure she cuts it diagonally.
Pastrami
Katz's Delicatessen
New York, NY
Then, after you've gotten that out of your system -- literally and figuratively -- the same thing at one of New York's myriad less-iconic, less-expensive, and possibly better Jewish delis.

The Fat Mystery
PJ's Sandwiches
Columbus, OH
Sometimes, you just have to play Russian roulette with your arteries. At this drunchies oasis, the Fat Mystery puts your life in the cook's hands. You'll get a mystery meat -- steak, perhaps, or maybe chicken tenders. And you'll get four sides, which might include mozz sticks, poppers, or pierogies. They'll all be tossed in a bun. Zoinks, Scoob.

Carnitas torta
La Torta Gorda
San Francisco, CA
Several blocks over from some of the best burritos in the world sit perhaps the best tortas. Come hungry, they don't call it "the Fat Sandwich" for nothing.