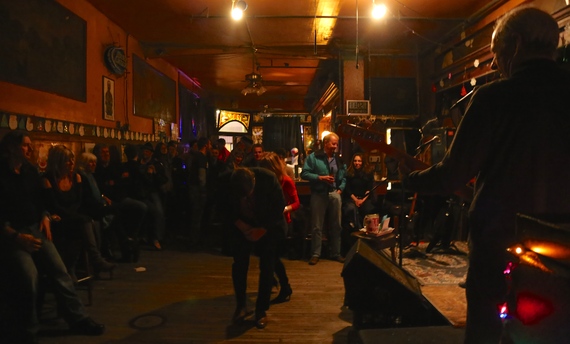 I got together with a few friends recently, getting caught up on our professional endeavors and excitedly sharing the new places we hoped to visit later this year. Eventually, all three separate conversations coincidentally led to each of them sharing their feelings on the changing culture they observed in San Francisco.
For all of the ways it is evolving, San Francisco has an incredible core identity that has pulsed unwaveringly throughout its history, and continues to make it stand out as one of the most special places in the world, both to visit and live.
For a refreshing dose of this diverse, friendly, creative and vibrant community that is the essence of the San Francisco Bay, I invite you to step and sway inside its blues music scene. It is unique much in the same way as the beautiful city is itself. Amongst the changing demographics, cost of living and how that impacts so many facets of our lives, internally and externally, an unconditional love for this city remains. Sure, we undergo occasional challenges like most healthy relationships, but ahhh, San Francisco... how we cherish her.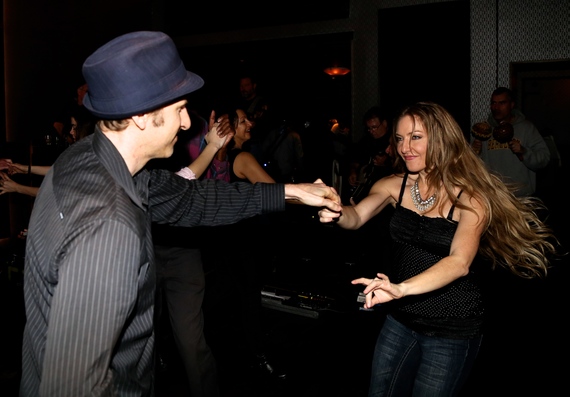 At her best and truest self, she is approachable and unpretentious; bright and interesting. Just being around her makes us smile. Gazes are upon her at all angles, but she stays humble, talking, indiscriminately, to the grey haired woman by her side, the young buck in a button down and all of the other intriguing people around her - and indeed, they are all intriguing in their own ways. The spirit of this special lady resonates especially strong at a couple particularly amazing blues venues in San Francisco.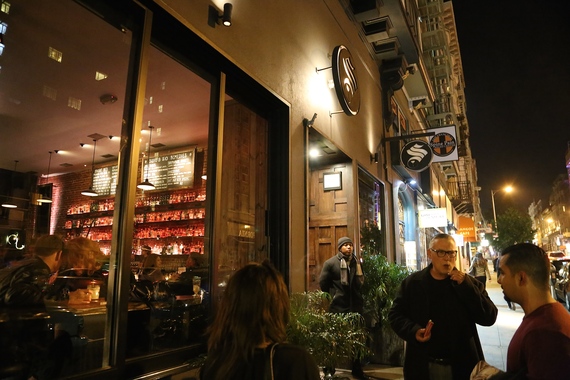 On Sunday nights, Swig is the perfect package, with a live blues jam, no cover charge, and a multifaceted atmosphere. The ambiance, lighting and volume are a good fit for a date night, seating allows for relaxed music appreciation amongst friends - either the ones you brought, or those who you will surely meet. And if you share with me an inability to sit still for very long, there are plenty of your fellow neighbors sure to be dancing the lindy hop, west coast swing and blues, with no need to come with either a partner or any clue what these dances are (however, should you be interested in a formal lesson, check out the beginner friendly lessons Monday nights at the Polish Club in the Mission).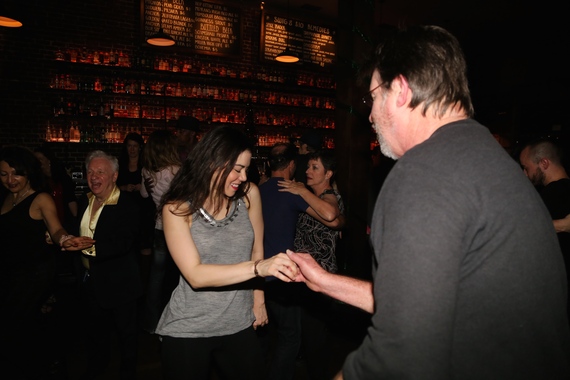 My evening at Swig started with a curious conversation with the doorman about what was in store behind those big, wooden doors, and his lovely introduction to what some would say is Swig's most "interesting" of nights. As I stepped inside, I received a warm welcome from Ed Ivey (the host of these weekly blues jams) and then had a quick chat with the bartender before his ritual and celebrated visit to the stage to sing.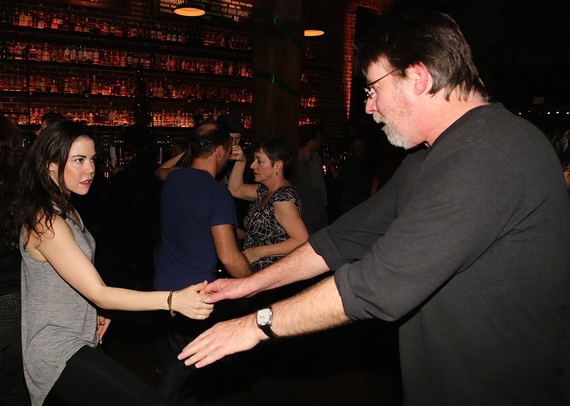 A patient regular wearing a well-suited hat showed me a basic blues step as I worked out any nervousness about being a novice, and then I proceeded to be swept off my feet by many amazing dancers, including a 20-something year old African guy with a thousand watt smile, a British painter with a relaxed, upbeat spirit and an illustrator with a love of blues music and a prowess on the dance floor.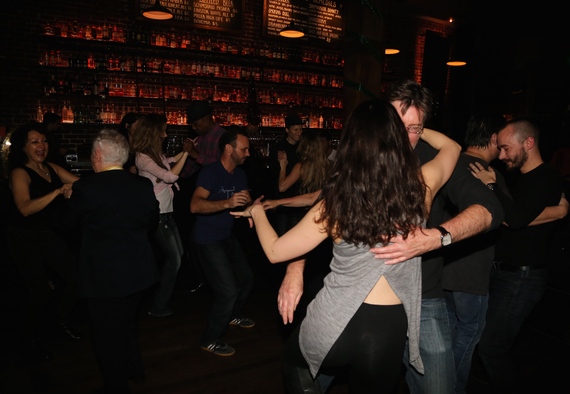 I finished off with a handsomely dressed man pushing eighty. My legs were probably a foot longer than his, yet I could barely keep up with the speed of this sprite and talented dancer.
An incredibly fun and inexpensive night, with strong elements of San Francisco's warmth and diversity. An artistically active event that left me endorphinated, hair disheveled. Not a bad way to end a night.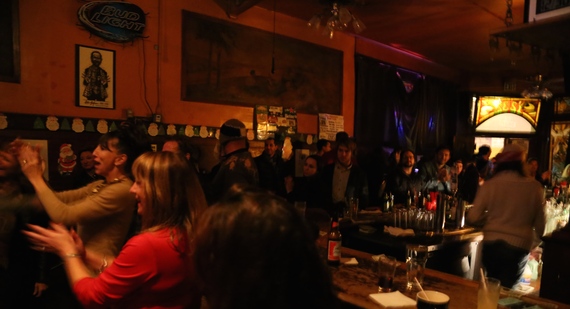 Originating in 1861, the Saloon is one of the most authentic blues bars you will ever find with great music every night of the week, no pretense and a bit of grit. A small and welcoming dive in North Beach, a tried and true piece of San Francisco's history that has not become too touristy, nor inflated their prices or their egos. With much appreciation, some of the best characteristics of San Francisco - its warmth, diversity, culture and soul - have strong reverberations at the Saloon's nightly blues lineup and feel good atmosphere.

Listening to the blues here can mean chatting with a sweet lady at the bar who has been a loyal patron for decades, and then brushing past a 20-something year old guy in a collared shirt on your way to get close to the tiny stage - a stage supporting women and men, of different shades, with long hair and no hair, musicians born and raised in S.F., and others hailing from Europe, Asia and elsewhere. Full time musicians alongside those who, for example, play sax by night and put their PhD's to work by day (i.e. Julien Astruc - newest addition to the Jimmy Smith Band).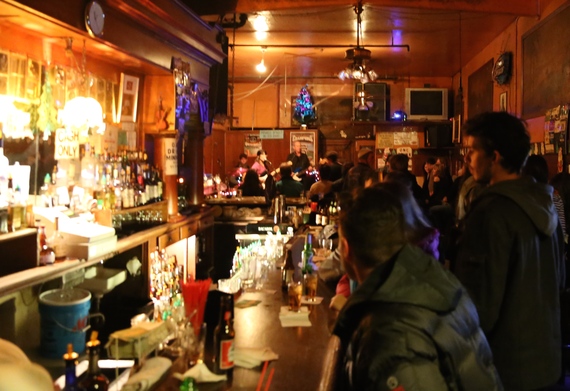 Whether you compare blues in other cities, or take a look at different genres of music around the Bay and the types of audiences they draw - the San Francisco blues community is especially rich with the variety of people it attracts and the way it brings people together in the process.
So I invite you to sit by the fireplace at Swig, where you might meet a young lady who isn't afraid to break a sweat and show teeth when she laughs. Or follow the green, white and red painted poles to the sure thing that is the Saloon. It is not the new, swanky place. It is not exactly classy. But it has soul - like its music. Like our city. And it is the only place I know of in San Francisco where you can get a cocktail for four bucks.
Photography by Lisa Konczal/www.VéritéCreative.com, featuring The Powell Street Blues Band and dancers Ray Plosscowe, Teresa Goines and Tom Murray.
Swig is centrally located at 561 Geary at Taylor, not far from Union Square, in a venue with a long history of blues music.
The Saloon is in North Beach at 1232 Grant between Vallejo Street and Columbus Avenue - the oldest bar in San Francisco in an energetic neighborhood with a history of music and artistry. Cash only.
Shades of Blues takes place at the Polish Club in the Mission on Monday evenings (3040 22nd St.). Lesson at 8pm. Social dancing starts at 9pm. Friendly people, casual dress, comfortable learning environment. DJ playing blues and mainstream music. Sliding scale cover charge.
Related
Popular in the Community