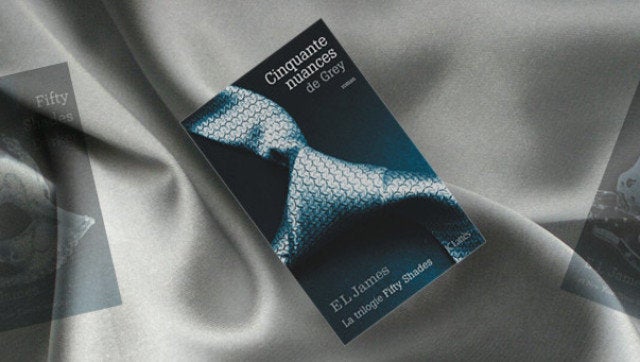 For better or worse, I have to admit that I devoured the entire Fifty Shades of Grey trilogy in less than two weeks. I didn't care that the books aren't particularly well-written and that author E L James tends to favor a dozen or so words which she uses over and over and over again. They were a total escape, and I enjoyed every minute of reading them.
Even more than the book themselves, though, I am fascinated by the whole Fifty Shades phenomenon. So when I learned that there was a magazine devoted to the subject, I knew I owed it to our readers to go exploring. Oh, the sacrifices I make for my job.
Unfortunately, you would think we live in the boonies here because I can't tell you how many newsstands I had to hit until I finally found Fifty Shades of American Women Who Love the Book and Live the Life on display at a Barnes and Noble. I forked over my $6.99 and, in the name of research, spent the rest of the afternoon rapt in stories like "Release Your Inner Goddess!" "Real-Life Anastasias Tell All" and, my personal favorite, "I Fix Men Like Christian Grey ... I'm a Sex Whisperer." (I just saw the Oscar buzz-worthy The Sessions, starring Helen Hunt as a real-life sex surrogate, so this was actually very interesting to me.)
In case you would rather save your $6.99 to apply toward a three-pack of Masque (which you'll have to look up on page 72), I will give you the Cliff Notes version of the magazine which I studied in great detail -- as part of my research, of course.
Here, in no particular order, are 25 Random Things I Learned from Fifty Shades of American Women ...
1. Sales of rope are up 10% at Lexington Hardware on New York's Upper East Side, where I used to live. I am now avoiding this aisle at my local Ace Hardware because (gagging a little) I really don't want to imagine my neighbors tying each other up.
2. 93% of women surveyed want a spanking NOW. Really? Do that many of you feel that way? I'd like to make it clear NOW -- especially to my husband -- that I am in the 7%.
4. Speaking of Twitter, author Bret Easton Ellis, a.k.a. @BretEastonEllis, is vying for the screenwriting job and has tweeted about the books more than 50 times. Talk about American Psycho ...
5. Kettlebells can help you achieve Buns of (Anastasia) Steele.
6. A first edition of Tess of the D'Urbervilles, which Christian gifted Ana, will set you back $14,000.
7. I scored smack in the middle of the "Which Shade of Grey Are You?" quiz, which means "You'll occasionally flirt with the dark side in bed, but would only tell your closest friends."
8. A Mormon women's book club read Fifty Shades of Grey, and ended up discussing whether having an orgasm just from nipple stimulation was really possible.
9. In case you're looking for your own Christian Grey, sex therapist Dr. Stephen Snyder warns that "it would be a serious mistake to get involved with such an emotionally dominating man." Ladies, Christian Grey is not real.
10. Seventeenth century herbalist Nicholas Culpepper found that asparagus promotes "lust in man and woman." Finally -- a way to convince us to eat our vegetables!
11. Fans think Ian Somerhalder and Alexis Bledel would be the perfect Christian and Ana in the movie. Ryan Gosling and Kristen Stewart would not.
12. Virgin Atlantic is now streaming the audio book on cross-country flights. Are they also discreetly providing blankets for twitchy palms?
13. According to one woman who experimented with bondage, "canes are sneaky suckers."
14. The Damson Dene Hotel in Britain's Lake District replaced the Bibles in all 40 guest rooms with Fifty Shades of Grey. Surprise! A religious experience indeed!
15. A young female doctor who enjoys being a submissive would be happy "being used as a human coffee table."
16. When it comes down to it, most women would still rather make out.
17. Heed the advice of the woman who learned, "if you're using a tie, you should have safety scissors on hand."
18. Almost half of the men who have read the book would most want to date Kate! Less than 10% said they'd choose Ana. Maybe they were worried about trying to compete with Christian?
19. Dr. Meredith Chivers, in a groundbreaking study, found that women's desire is basically "sexual narcissism."
20. A Kentucky fireman thinks the most unrealistic thing about Christian Grey is "that he can [have sex], then turn around and have sex five minutes later."
21. Sales of Smart Balls are up a whopping 350%. No wonder those women standing at the back of the PTA fundraiser look so happy.
22. Author E L James finds the term "mommy porn," which has been used to describe her books, "disparaging."
23. There is expected to be a Fifty Shades "baby boom" this winter. Will Christian and Ana become the new top baby names?
24. The sex toy industry may be the best investment in this economy.
25. Book four is coming...
Calling all HuffPost superfans!
Sign up for membership to become a founding member and help shape HuffPost's next chapter