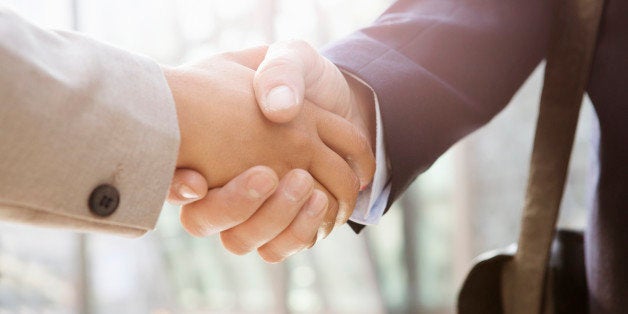 If your office or home is on fire, get people to safety, grab all cash and take your database (if it's on the Cloud...good). Your personal and professional databases are your most prized possessions. Within these databases are your relationships.
Create, build and protect
your databases at all costs.
Over the course of a lifetime, you will have many relationships that you nurture within your databases. Hopefully, most will be rewarding and beneficial. Siblings, parents, co-workers, vendors, teammates, friends, teachers, significant others, children and people you conduct regular business, such as a florist, plumber, accountant, doctor, shop owner, etc. will ALL play a role in YOU living a happy, healthy life.
When life is over, the positive relationships you have developed will be your greatest accomplishment.
Great relationships equal a great life.
We develop positive relationships over time. Trust will be a strong component in this development. Like anything else, there are ebbs and flows and this is true with relationships. With different agendas, this happens. However, great relationships last a lifetime and they require consistency in effort, trust, compassion and understanding.
It's time to build better relationships in your life. Take none for granted. As a Relationship MVP, you'll enjoy a myriad of rewards. At the top of the list is seeing people you care about thrive.
Your relationships win. You win.
Here are 50 tips (in no special order) to get your family, co-workers, team members, etc. in a receptive Zone mindset of positivity. Add or subtract from this list freely. You'll swiftly find the ones you can improve. Focus on a few and incorporate them into the natural flow of your life.
1. Acknowledge positive organization, time management and discipline.
2. Be patient.
3. Compliment. Compliment. Compliment.
4. Avoid second-guessing strategy and tactics after the fact.
5. Always seek common ground. If needed, revert to what you agree.
6. Greet all with extreme, upbeat positivity. Look them in the eye.
7. Say Goodbye like you mean it. Make the departure heartfelt.
8. See the future as a purposeful partnership.
9. Assist in another person's focus by not interrupting them.
10. Commend other's attention to detail and quality of work.
11. Be silent (but focused) in a crisis situation, circumstance or condition.
12. Sprinkle silence within normal conversations so you can focus on body language, voice inflection and tonality, in order to positively respond to any verbal, nonverbal, and visual negative cues.
13. Get single-minded in your focus. Have the mindset of "No place I'd rather be than here now." People will feel this engaging attitude.
14. Keep the matter at hand extremely simple. Less is more.
15. Avoid talking over people.
16. Exchange smiles frequently.
17. Praise and commend judiciously and as often as warranted.
18. Acknowledge positive actions.
19. Avoid bringing up the negative past.
20. Look people in the eye. Fully engage.
21. Avoid looking at your phone, computer, TV or clock while in discussion. Showcase and respect that their time matters.
22. Avoid the need to always give your viewpoint and or opinion at the end.
23. Negative feelings left unexpressed will turn into negative actions. Speak your mind in a judicious manner. However, be blunt and upfront.
24. Speak and act calm and cool and it will be easily mirrored.
25. Give instructions in a relaxed demeanor and negative stress will be diffused.
26. Have a soft and warm demeanor throughout any crisis.
27. Take a "cool down" period of no more than 90-seconds before responding to something you disagree or do not like. Be the palm tree in a verbal hurricane.
28. Do not take yourself so seriously.
29. Use positive humor where appropriate.
30. Avoid sarcasm in a joking manner. It is easily misconstrued.
31. Laugh more frequently.
32. Avoid overselling you, your career, family and life.
33. Ask great questions and you'll receive great answers.
34. Mirror other people's enjoyment.
35. Talk about what provides joy to others.
36. If the other person initiates the subject matter, let them change it.
37. Be aware if the tone suddenly changes from positive to negative.
38. Observe other's self-deprecating putdowns and disagree with them.
39. When you strike a passionate cord, leverage the situation and expound on it.
40. Know and care about other's dreams, aspirations, and goals.
41. Introduce positive relationships to others. Be the influencer and connector.
42. Be consistent in your mood and actions.
43. Avoid spreading or accepting rumors, gossip or hearsay.
44. Never act like a victim or judge.
45. Eliminate profanity.
46. Be judicious and guarded in expressing your views on sex, religion and politics.
47. Apply the Golden Rule in all relationships.
48. Remember to act on the important dates in another's life (birthday, anniversary, special accolades, promotions, graduation, etc.)
49. Always speak the truth. Be genuine and sincere. Period.
50. Build people up, NOT down.
Peruse the various arenas in your life and inspect the key people within. Which relationships need mending? Which one needs a boost? Which one needs a reset?
Which one is toxic and needs immediate attention? Which one (if any) needs to be deleted?
It's time to get ALL of your relationships in the Zone.