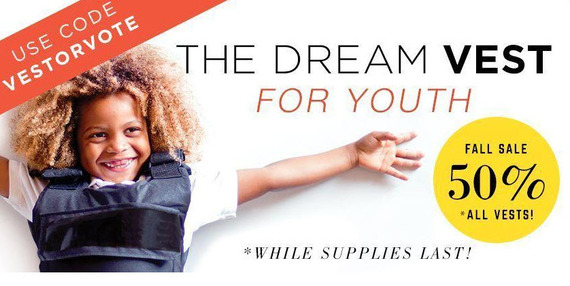 The Dream Vest provides safety for all children with high productions of melanin to protect them from unwarranted state violence on civilians!
When I first saw the ad appear on my Twitter feed, I did not initially realize the satire. It was at that moment that I became even more deeply disheartened because this is reality: such large numbers of black bodies are the victims of state violence that it is almost logical to pass out bulletproof vests for protection.
This past weekend, hundreds took to the streets of Ferguson, Missouri in continued protests, forums, and demonstrations seeking justice for Mike Brown and other victims as part of the highly organized Ferguson October weekend of civil disobedience. Just over 60 days ago, Brown, a Black teen, was killed by a white police officer and his death has since been a catalyst for change sparking rallies across the country in the face of racial injustice. Ferguson itself has remained in a consistent state of unrest as community members pledge to a commitment to "no peace" until justice is served and their demands are met.
Civil Rights activist, philosopher and academic Cornel West was also present in Ferguson delivering a powerful message at the interfaith service held Sunday, October 12. West was among the 50 people arrested in Ferguson over the weekend for participating in protests and acts of civil disobedience. He kept a promise he made while speaking at the service, "I didn't come here to give this speech," he said, "I came here to go to jail."
This Instagram video was taken just moments before Dr. Cornel West was arrested.
The presence of "new school" and "old school" activists in Ferguson such as Jesse Williams and Cornel West highlights an interesting juxtaposition that is illuminated in the Dream Defenders campaign, Vest or Vote. The campaign seemingly draws its inspiration from Malcolm X's 1964 speech "The Ballot or the Bullet," in which Malcolm delivers very potent and vivid rhetoric calling for blacks to utilize their democratic power and cast votes for individuals that are committed to social change in their communities. I once penned an essay on Malcolm's speech for my Rhetorical Criticism class at Tulane University so when I saw the Vest or Vote campaign, it immediately struck a chord with me.
Malcolm delivered these words fifty years ago and yet they so vigorously ring true today:
This is why I say it's the ballot or the bullet. It's liberty or it's death. It's freedom for everybody or freedom for nobody. America today finds herself in a unique situation. Historically, revolutions are bloody. Oh, yes, they are. They haven't never had a blood-less revolution, or a non-violent revolution. That doesn't happen even in Hollywood. You don't have a revolution in which you love your enemy, and you don't have a revolution in which you are begging the system of exploitation to integrate you into it. Revolutions overturn systems. Revolutions destroy systems. A revolution is bloo- dy, but America is in a unique position. She's the only country in history in a position actual- ly to become involved in a blood-less revolution.
Malcolm X is so often viciously mischaracterized as violent and hateful, but he instead stood for Black Nationalism. He rightfully believed black communities should have control over their own political fate. He was uncompromising in the face of injustice and quite literally laid his livelihood on the line in the name of change. Today's youth-led social change organizations such as Dream Defenders, Black Youth Project 100, and Million Hoodies are standing on the shoulders of such inspirational civil rights leaders of the past to blaze a new trail in the battle for civil liberties. This new generation of social activists employs social media, hashtags, and viral online campaigns to instantaneously and overwhelmingly draw attention to injustices and demonstrations.
It does not appear to have gotten much television media coverage during the actual game, but Ferguson youth staged a peaceful protest at the St. Louis Rams game on Monday evening showing their commitment to justice under the #NoJusticeNoFootball campaign.
Although de jure discrimination was mitigated with the passage of the Civil Rights Act of 1964, we now experience de facto discrimination in the form of things such as stop and frisk polices, civil asset forfeiture, racial profiling, mass incarceration, and voter disenfranchisement. Today's youth calls for a revolution as unjustifiable fear is ascribed to black and brown bodies to justify the lethal denial of our humanity.
In 1964, Malcolm X announced it was the year of The Ballot or the Bullet. Fifty years later, today's youth resurrect his movement and claim 2014 the year of #VestOrVote.
Calling all HuffPost superfans!
Sign up for membership to become a founding member and help shape HuffPost's next chapter