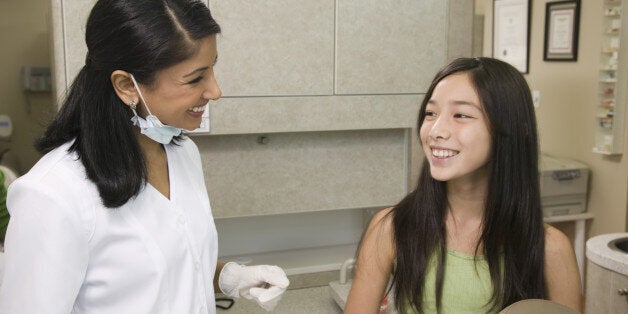 "The health of our people is, inescapably, the foundation for fulfillment of all our aspirations." These are the words of President Lyndon B. Johnson.
On this day in 1965, President Johnson addressed a joint session of Congress with a plea to do better by the American people. He asked that we honor a basic commitment to our seniors; the later years of their lives should not be ones of despondency and drift, or fear of financial hardship in the event of illness -- but rather golden years of security and dignity. And he asked that we protect our most priceless resource of all -- our young.
His words, which were followed that year by the signing of Medicare and Medicaid into law, resonate as well today as they did then:
Today, at this point in our history, we are privileged to contemplate new horizons of national advance and achievement in many sectors. But it is imperative that we give first attention to our opportunities--and our obligations--for advancing the nation's health. For the health of our people is, inescapably, the foundation for fulfillment of all our aspirations.
Fifty years later, we're a stronger country because 52 million people are covered by Medicare and more than 60 million are covered by Medicaid. Together, Medicare and Medicaid provide a foundation of health and financial safety for millions of men, women and children.
We've come a long way in advancing the nation's health since the passage of Medicare and Medicaid, but work remains to be done. And like President Johnson and the 89th Congress we are looking forward.
The Affordable Care Act is the biggest coverage expansion in 50 years and is contributing to bringing health cost growth under control.
About 10 million people are insured today because of the law. Our latest figures from the Centers for Disease Control and Prevention confirm that the first quarter of 2014 saw the lowest annual uninsurance rate recorded since the agency began using its current design in 1997.
Moreover, the last three years -- 2011, 2012 and 2013 -- saw the slowest real per capita national health expenditures since record-keeping began in 1960.
But with 13 percent of the population uninsured, we still have work to do. Our goal is to cover more of the uninsured and, again, President Johnson's words are as true today as ever: "The States and localities bear the major responsibility for providing modern medical care to our children and youth. But the Federal Government can help."
Already 27 states and Washington, DC have expanded Medicaid through the Affordable Care Act. And some who have not yet expanded, have expressed an interest in moving forward -- states like Wyoming, Tennessee and Utah. I'd like to see all 50 states expand, and to work with the Governors from both parties to make it happen.
Since last year's Open Enrollment period an additional 9.7 million Americans now have coverage through Medicaid and CHIP -- many for the very first time. And more than 8 million of these people live in states that have expanded Medicaid.
I'll close with a final passage from President Johnson's speech, which is underlain with the sentiment that to achieve the goal of a healthier America, we must work together with Congress. I hope that those who look back in 50 years will be proud of what we were able to accomplish together.
We have come to a rare moment of opportunity and challenge in the evolution of our society…Whatever we aspire to do together, our success in those enterprises--and our enjoyment of the fruits that result -- will rest finally upon the health of our people.
Calling all HuffPost superfans!
Sign up for membership to become a founding member and help shape HuffPost's next chapter