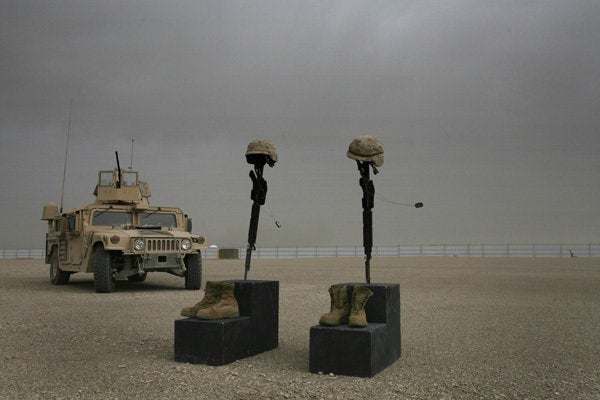 Not long after Staff Sgt. Matthew D. Blaskowski was killed by a sniper's bullet last Sept. 23 in eastern Afghanistan, his mother received an e-mail message with a link to a video on the Internet. A television reporter happened to have been filming a story at Sergeant Blaskowski's small mountain outpost when it came under fire and the sergeant was shot.
Since then, Sergeant Blaskowski's parents, Cheryl and Terry Blaskowski of Cheboygan, Mich., have watched their 27-year-old son die over and over. Ms. Blaskowski has taken breaks from work to watch it on her computer, sometimes several times a day, studying her son's last movements.
"Anything to be closer," she said. "To see what could have been different, how it -- " the bullet -- "happened to find him."
For months, the Blaskowskis felt alone in watching their son die in an isolated and nearly forgotten war. And then, in June, the war in Afghanistan roared back into public view when American deaths from hostilities exceeded those in Iraq. In the face of an expanding threat from the Taliban, the conflict is becoming deadlier and much more violent for American troops, who three weeks ago reached their highest deployment levels ever, at 36,000.
June was the second deadliest month for the military in Afghanistan since the war began, with 23 American deaths from hostilities, compared with 22 in Iraq. July was less deadly, with 20 deaths, compared with six in Iraq. On July 22, nearly seven years after the conflict began on Oct. 7, 2001, the United States lost its 500th soldier in the Afghanistan war.
(The Pentagon says that 563 American service members have died in Operation Enduring Freedom, the umbrella term for the global American-led antiterror campaign that has the Afghanistan war at its center and includes deployments in the Philippines and Africa. Of those deaths, according to an analysis by The New York Times, 510 have occurred in Afghanistan or are directly linked to the war there.)
Popular in the Community