Rescue workers are scrambling to find homes for more than 400 pot-bellied pigs who were rescued from a Kentucky farm in late August, plus numerous piglets born since then. 
About 458 pigs were found malnourished on the farm in Falmouth, Kentucky, and potentially face euthanasia, according to the Pig Advocates League, a nonprofit dedicated to creating cruel-free lives for pigs. The animals were seized in a "hoarding" case after complaints of free-roaming pigs were reported to the Kentucky Department of Fish and Wildlife. 
A woman in Falmouth began with a few pigs years ago and ended up with hundreds of pigs after out-of-control breeding, PAL said in a Facebook post on Aug. 24. Kentucky Fish and Wildlife told HuffPost in a statement that pigs can reproduce at astonishing rates and if they're not in a controlled environment can revert to a feral state within generations.
A spokeswoman for PAL told HuffPost this is "the largest miniature pig seizure we have seen in this country." The nonprofit is working with volunteers, animal sanctuaries and veterinarians to spay, neuter and microchip the animals, as they need a clean bill of health before they can be re-homed. 
"The most [urgent] needs now are transports and donations," the nonprofit told HuffPost in an email. "Many piglets have been born since the initial seizure and the total number of pigs is now north of 500. The cost to spay, neuter, vet, and transport to a new home will well exceed $100,000." 
Although pot-bellied pigs are often referred to as "miniature pigs," one of the rescuers, Josh Carpenter Costner, told the Louisville Courier Journal they range from 80 to 150 pounds as adults.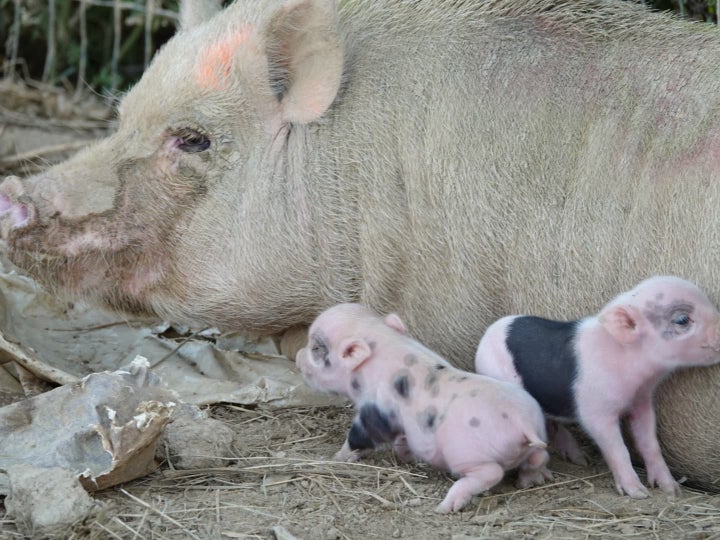 The Kentucky Department of Fish and Wildlife originally gave the volunteers a Sept. 14 deadline before it would begin to euthanize the animals, PAL had originally said. But since then, it told HuffPost, the department has agreed to extend its deadline so long as volunteers show "continual progress" on moving the pigs. 
"Since Monday, we have received over 1200 adoption applications," the nonprofit said in an email. "Each application is being thoroughly screened to ensure these animals will not be going from a bad spot to worse." 
Each application to adopt the pet pigs will be vetted to ensure the animals do not get into the hands of breeders or owners who raise pigs for slaughter. One of the animal sanctuaries working to care for the pigs, the Cotton Branch Farm Animal Sanctuary, said the adoption applications were carefully crafted to ensure the animal's safety. 
"We really are confident now and feeling a lot better about the progress we're making and about the possibility of really saving of all of these guys," the sanctuary said in a video update on Facebook.
Calling all HuffPost superfans!
Sign up for membership to become a founding member and help shape HuffPost's next chapter