In the small city of Canoas, Brazil, where gender stereotypes are deeply ingrained and 15 women a day are killed because of their gender, you'll find more than 5,000 underprivileged women working in perhaps the world's most male dominated sector: civil construction.
While most women here work in the home, and Brazil's economy experiences a downturn, these women are often earning more than local men. They work on huge projects - from the construction of 2014 FIFA World Cup stadium in Rio, to the building of homes for the local middle classes. This is happening in a country where women are used to earning 19.3% less than men.
Countries which have ongoing rapid development, such as Brazil, are in dire need of capable builders. So, it makes obvious sense for them to look to the 50% of the population that they've previously ignored, and to cultivate and promote professional construction skills. In turn, countries doing this can make a big positive intervention in women's equality.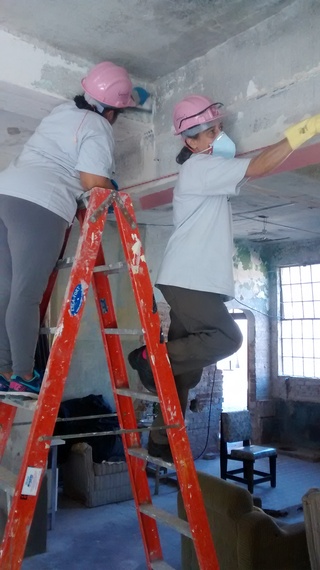 This amounts to a huge waste of potentially productive skilled labour resources. But using this model in other countries could change all that. The positive effects are too apparent to ignore. On the course, women learn about their rights and how to protect themselves against exploitation and abuse. They break out of their isolation and dependency, become more self-assured and confident, and enhance decision-making and leadership skills.
MEC has found too that men are generally courteous with women who work alongside them on sites, which would indicate that women's professional ascension in the sector generates respect among men. In its entirety, this initiative disrupts deep rooted stereotypes of gender roles and women's socio-economic participation, proving their potential to contribute to a country's productivity and prosperity at all levels and in all sectors.
This is why, In 2013, MEC's founder Maria Beatriz Kern became one of our WomenChangeMakers fellows. The goal now is to build MEC's organisational capacity and help expand their outreach to other Brazilian locations. We know this model could have a big effect on the landscape of women's equality around the world, if it is picked up.
Cinara Ribeiro Frutos, 37, who was unemployed and highly unmotivated before she joined the scheme, has profited immensely, she says. "You know that feeling of waking up and knowing that this day will be the same as the last? That's how I felt. Before being unemployed, I worked as a telemarketing operator and earned a maximum of BRL 600 monthly (USD 180/month). Today, as a tiling professional, I earn more than my husband who works in the foreign trade industry."
The new skills also mean the graduates can renovate their own houses, giving them independence from expensive local tradesmen.
Lucia Vianna Xavier, a director of the programme, is continually aware of the profound effects: "There's a saying that when you construct something physically, you construct your own self at the same time. This is what our women are doing, building and strengthening themselves, becoming more resilient. The effect across their communities cannot be underestimated. This could have such a profound impact if it was replicated in countries with poor women's equality."
MEC's crowd fund ends this week.
Written in partnership with freelance writer, Claudia Cahalane (@ethicaljourno)
Calling all HuffPost superfans!
Sign up for membership to become a founding member and help shape HuffPost's next chapter