By Hong Soon-do, Beijing correspondent, AsiaToday - North Korea has strengthened monitoring and control activities on the North Korean workers and illegal refugees in China. In an effort to step up supervision, the North has reportedly dispatched 300 young security agents in their 30s and 40s to Beijing, Dandong, and Yanbian Korean Autonomous Prefecture. As a result, North Koreans working in China would face difficulty in defecting to South Korea.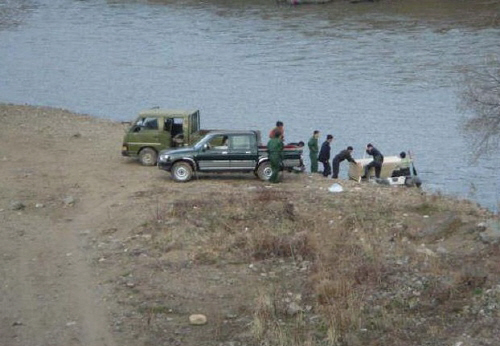 [The border between North Korea and China. It's one of the escape routes widely used by the defectors. But even if they successfully escape North Korea, what they face in China is miserable life./ Source: search engine Baidu]
According to sources in China well informed of North Korea, the move came as a significant number of North Koreans are residing in China. Unofficially, there are at least 50,000 up to 200,000 North Koreans residing in China. Most of them are illegal immigrants, namely refugees, except 5,000-10,000 estimated female restaurant staffers and workers sent abroad by the regime. Needless to say, they life is miserable. Their everyday life is like a nightmare. Those workers are called modern-day slaves.
Most of North Korean defectors live in hiding in Yanbian Korean Autonomous Prefecture, where the Korean language is widely used. Some live in Beijing and Dandong, and very few live in other regions. Obviously, they cannot fight back against human rights abuses. Some of them get lucky and successfully head to South Korea, however this isn't easy due to the strengthened monitoring and control on them. Out of sheer desperation, they accept their fate as slaves of sex and brutal work. Most of them don't get health care benefits.
Of course, there are some rare successful cases of assimilation. However, such cases are only applied to those who defected at young age. It has been known that some thousands of North Korean defectors, who refused to work as slaves, are feeding themselves deep in the mountains near Yanbian prefecture. It's time to pay attention to North Korean refugees in China as well as North Korean defectors in Korea.
Related
Popular in the Community