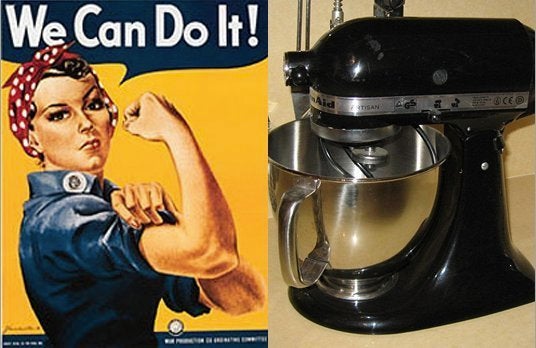 When did it happen? When did this modern, post-feminist, post-Wendy Wasserstein-Heidi Chronicled group of Uncommon Women become 50's housewives? When? I now am obsessed with making gourmet food, organically grown, artisanally produced as I play Words With Friends compulsively with with my girlfriends, this generation's Coffee Klatch, while we drink our free range coffee from our various presses and plunger delivery systems. When did it happen? What happened to the free spirit, ban your bra, ERA, fighting back against the idea of women at home with their appliances and appliance repair men and milk men and boredom and alcoholism and that secret pain pill problem?
I seem to remember a time when the world was my oyster because of the generations of women before me who opened the oyster. I remember a time that being tied down to a cookbook or sewing pattern or homemade Halloween costumes was tantamount to being locked in my mother's generation (albeit that my mother was walking around in a black brassiere being murdered in the shower, but I digress). If I were younger I think that I too might join the take over of Wall Street and perhaps run the blanket and sleeping bag dispensary, but I am not there in New York nor am I willing to do without my creature comforts. I do my part. I am devoted to causes -- Children's Hospital of Los Angeles, The Children Affected by Aids Foundation, and Starlight Starbright -- and my husband and I have a foundation that we happily and freely give our money to, but something has shifted.
The women's movement was supposed to free us from the bonds of the Westinghouse appliance generation and get us into the flow of the workplace and yet, having been there, done that, here I am making homemade and architecturally designed costumes, obsessed by my KitchenAid mixer, my Livia espresso machine and contemplating getting a machine to souvee my chicken. I have become a maniac about The Canal House cook books and am running on a treadmill with an iPhone app called C25K which teaches me how to run while I watch all things Bravo and that fabulous Patti Stanger; or I am busy devouring this week's edition of The Week, either on iPad or that, gasp, paper version I still get sent. What happened? Who am I?
Betty Crocker has been replaced by the The Cake Mix Doctor and The Joy of Cooking has been replaced by Canal House and The Silver Pallette (CHICKEN MARBELLA RULES). I thought we are supposed to change the world, not change our linens. I thought we were supposed to focus on philanthropy rather than focus on organic fillets; and yet the pleasure I get from connecting with my girlfriends each day playing Words With Friends, even when they cheat (you KNOW who you ARE) leaves me waiting by my iPad like a young lover waiting for words from her beau.

Life's simple pleasures. My generation has all worked hard, some in myriad careers with first, second and third acts. Many have been entrepreneurs, award winners; but many, after they have raised their children (or during the raising) have now fallen back into a very human (feminine) need to grow things and build things and feed things, design things and create environments to grow old in. I go out to my garden daily where I have lettuces and vegetables and herbs and tomatoes (thank you Michelle Obama). I would not have thought that these gentle pleasures of being a wife and the mother -- playing a word game and creating a beautiful home -- would be today's pastime for many, many women. I realize that many women today have lost their home but this is not the blog about that. This is the one for those who are still in their homes or apartments and are confronting this pull-back to home economics.

As the economy crumbles and we are all circling our financial wagons, many of us are putting in our wagons our creatively costumed kids, deliciously fed men, stores of jams and sauces that we have put into jars ourselves, sweaters we have knit, photographs we have taken and that many of us have actually built the damn wagon with either our hands or our earnings.

"I can bring home the bacon, fry it up in a pan and never let you forget you're a man... cause I'm a woman... " In my case a woman heading off to play WORDS with FRIENDS... I wonder if it will accept "Enjoli"?
Calling all HuffPost superfans!
Sign up for membership to become a founding member and help shape HuffPost's next chapter