It's easy to forget that we're getting older. Even though I'm over 50, I feel good and I'm still able to do most of the same activities I did when I was in my 30s. They say 50 is the new 30, but every year, I do somehow manage to get older. And as we age, our immune system naturally weakens, making us more susceptible to illness and disease.
Our country has engaged in a dialogue around childhood vaccinations a number of years, but adult vaccinations are as important to talk about. However, many adults don't have vaccination top-of-mind. Some may think they're too young or healthy to get something like pneumococcal pneumonia. A new survey we conducted among 1,000 U.S. adults aged 50 to 75 in partnership with Pfizer showed that while 85 percent think people 50 and older are at risk for pneumococcal pneumonia, only 1 in 2 of those surveyed think they are personally at risk.
WHO PNEU?, a new American Lung Association public awareness campaign in partnership with Pfizer, is providing a wake-up call for adults 50 and older to recognize their personal risk for pneumococcal pneumonia and encourage them to talk to their doctor to see if they are up to date on their vaccinations.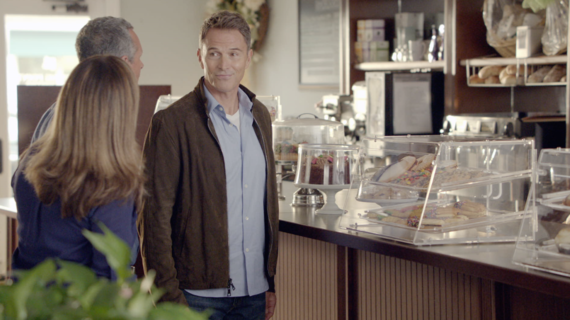 Through his own personal connection to pneumococcal pneumonia, actor Tim Daly will be helping to share the realities of this serious lung disease and encourage his peer group to think more about their personal risk.
While most of us may know Tim from roles in popular television shows like Madam Secretary, Private Practice, The Sopranos and Wings, a real-life situation led Tim to be part of the Who Pneu? campaign. Tim shares the eye-opening moment when his mother called him one day and sounded terrible. When he showed up at her door he knew something was seriously wrong -- she was weak, pale and struggling to breathe. Tim rushed her to the emergency room, and what she thought was just a bad cold turned out to be pneumococcal pneumonia. And while it does not happen this way for everyone, she was admitted to the hospital and stayed for more than a week.
Thankfully Tim's mother recovered, but she isn't the only one. An estimated quarter of a million Americans over 50 are hospitalized each year with pneumococcal pneumonia, with an average hospital stay of five days. Pneumonia can strike people at any age, anywhere and anytime. Pneumococcal pneumonia is the most common type of bacterial pneumonia and can be spread by coughing or sneezing, and close contact with an infected person. Common symptoms include high fever, excessive sweating and chills, coughing, difficulty breathing, shortness of breath and chest pain. Certain symptoms, like cough and fatigue, may last for weeks or longer. Other risk factors include diabetes, asthma, chronic obstructive pulmonary disease (COPD), and a suppressed immune system.
Through preventive measures we can help reduce our risk of contracting serious diseases. Learn more about pneumococcal pneumonia and see Tim's personal story at Lung.org/who-pneu. You will also have the opportunity to take an online risk assessment to see your personal risk for pneumococcal pneumonia, and learn more about how you can better protect yourself from this serious disease.