Every time I start coaching someone, I interview 8-12 of their colleagues to gain good perspective on their real-world strengths and development areas. Over the last 10 years, I've collected thousands, and recently analyzed them to look for common themes. Here's what you need to know:
They fell into four themes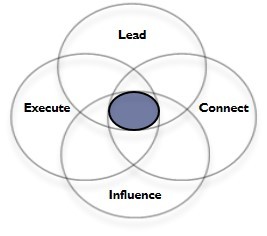 52 of them appeared over and over, in one form or another
Think of it as kind of a tried-and-tested "menu" -- behaviors and skills you should consider working on and developing, to learn, work, and lead others in better and stronger ways. Here they are in detail:
Theme 1: Execute and Deliver
Choose--Pick and communicate a handful of things needed to achieve results, and actively manage out distractions. Apply 80/20 rule
Structure--Build and evolve the organization, its structures, systems, administrative, and other frameworks for agility and leanness
Deploy--Recruit, assign, and retain capable people who care deeply
Empower--Delegate excellently, offering full context and giving the leeway/authority for the "how"
Ask/listen--Manage transmit/receive ratio. Seek out and listen to people at all levels, fostering candor needed for speed of execution and delivery. Learn all areas to right level of detail
Assess--Analyze, think critically, use data, on-the-ground truth, opinions, intuition, experience, technical and functional knowledge to understand the situation fully and clearly
Fix--Ongoing change without delay consistently low-performing and off-track strategies, tactics, plans, work streams, people, organizations, customers, suppliers, etc.
Be time-smart--Use time wisely - takes things at the right pace for the right reasons. Use yet do not overuse urgency
Decide--Make and communicate decisions without delay
Protect--Manage risk in balance with innovation
Respond--(rather than react) to the unexpected/what's upsetting
Distribute solving--Guide all to solve problems on their own
Involve--"Manage in the middle:" Get involved in the right details at the right levels for the right reasons. Be consistent about this
Deliver on the promise--Consistently does what says. Is reliable, delivers results on-time, on-budget, as promised. Is results-oriented.
Drive--Works hard, work ethic, high self-motivation without serious imbalance (for self, or caused to others)
Capable--Applies ones' talent, smarts, knowledge and experience (and common sense) well. Knows own limits and adjusts accordingly
Operate prudently--Track and spend resources wisely, neither to excess nor with over-reluctance. Balance earning with spending wisely
Spread the individual ownership mindset--Model and guide all to think and act as owners 24/7. Frame: "What would I/you do if I/you owned the place?"
Map vision--Choose, evolve, and communicate a simple and inspiring vision, strategy and roadmap
Inspire--Engage people by sharing the personal "why" behind your vision. Avoid doing things that disengage/demotivate others
Follow through--Keep commitments consistently
Challenge--Be sharp-edged or tough when needed, in the right forum, sparingly, without delay. Don't avoid critical conversations
Foster accountability--Preview and apply consequences fairly, both positive and otherwise, without undue delay. Recognize wins
Be true--Act with integrity, ethics, and courageous authenticity. Know and work in sync with values, core purpose
Disrupt--Be a change agent when/as needed / challenge the process or status quo. Balance when to ask for permission versus seek forgiveness after taking a risk. Be bold
Evolve--Seek & respond to feedback on self, people, and org. Self-observe, try new ways, learn. Grow fulfillment and balance. Develop / broaden capabilities as a leader and executive
Build capabilities--Invest in, be candid with, coach, sponsor, mentor, and develop team, teamwork, and hire/identify successor(s)
Play--Create a place for fun, humor, work-as-constructive-play
Impact--Care for own, org's impact on lives, society and the planet
Balance--Find and mind a healthy balance between work and life outside of work, and model/support that among for others
Theme 3: Connect with others
Emphasize relationships--Make knowing the people on ones' team, colleagues, customers, competitors, future talent/candidates, and community a priority on par with delivering results
Relate--Assess and build interpersonal EQ. Seek and know others' goals, hopes, and challenges, and share same with them. Show care, concern, and empathy for others
Trust and build trust--Be honest and straightforward with others. Develop and grant trust and respect. Fix trust issues timely - "make it right."
Own--Avoid blaming others. Take responsibility (fosters trust)
Resolve--Fix / resolve conflicts with colleagues, and among them, proactively and promptly, and/or find then maintain a level of appropriately productive tension
Network--Identify, invest in, and evolve networks with others both internally and externally
Receive--Ask and listen versus direct or tell
Collaborate--Work effectively with others toward own (and shared) goals. Make reasonable offers to and requests from others. Request and offer help in balance. Seek consensus where appropriate. Show others reciprocity
Communicate--Speak and write well. Be kind, candid, reachable and responsive in timely ways. Match well audience with communication method and message. Know when to stay silent
Be at ease--Be approachable, comfortable to talk to, and mindful of your impact on others. Attract, rather than repel, ideas. Avoid angry outbursts, loss of composure
Fit in or change culture--Operate within org norms, or influence to change them
Build a brand and narrative--Develop a known "brand" / signature that's distinctive and authentic
Read the room--Assess unspoken and obvious needs of others in real time, and tailor communication accordingly
Be confident--Be calm and inspire calm in others. Know ones' value is 100% no matter who else is in the room. Avoid self-doubt or self-criticism. Avoid scripting / over-reliance on visual aids
Show savvy--Know when to inquire, assert, and stay silent. Keep track of ones' impact on others, adjust accordingly
Be bold--Show one can participate in big picture(s) outside of immediate wheel house with compelling ideas and insights
Be polished--Have a polished presence: Dress a level up, within org norms. Grooming and appearance consistent with culture
Develop gravitas--Be a strong voice that's right-sized in terms of ego (dash of swagger) and NOT arrogant. Welcome opportunities to discuss opinions / ideas. Listen to others
Simplify--Be a clarifying/simplifying force among others
WIIFY--Find "what's in it for you" avoid "I win / You lose"
Count the chips--Manage the give and take of influence
Champion--Make the case compellingly at the right time to the right audience
Calling all HuffPost superfans!
Sign up for membership to become a founding member and help shape HuffPost's next chapter