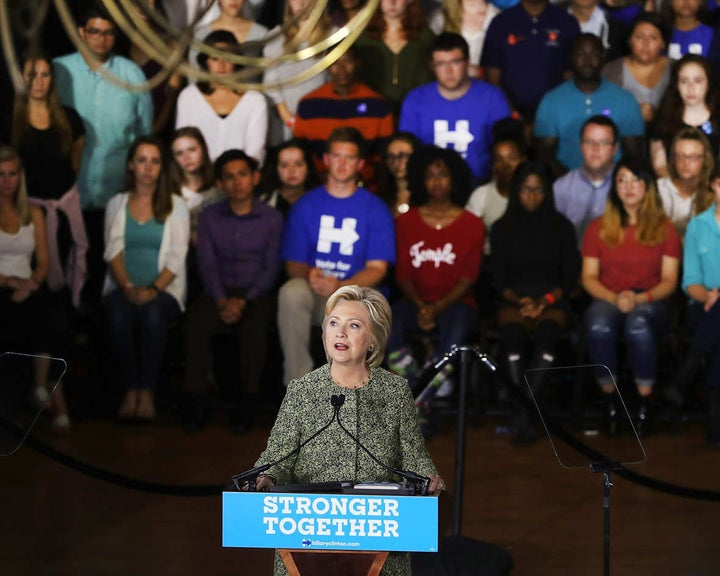 "As I speak with young people across the country in Iowa, New Hampshire, and elsewhere, I do sense this real feeling of being somehow disadvantaged, put on the wrong side of American opportunity. And I understand that... I'm going to do everything I can to reach out and to explain why good ideas on paper are important. But you've got to be able to translate them into action to get results for people. I have a lot experience doing that. I think I can deliver positive change for young people in our country." – Hillary Clinton
Hillary knows that Millennials are vital to America's future and wants to ensure that every Millennial can get ahead and stay ahead. That's why she is committed to addressing the issues that young people face today and ensuring their voices are heard. What many Millennials don't know is that Hillary not only has a record of fighting for the interests of young people, but she has plans to address key issues, like college affordability and student loans, that will help ensure that every young American has the opportunity to live up to their potential.
In addition to ensuring that costs are not a barrier to young people accessing higher education, Hillary is also deeply committed to many of the social issues that young people care about. For example, Hillary has been a champion of women's reproductive health for decades. As Cecile Richards, President of Planned Parenthood, noted in her endorsement of Hillary in the primary: "No other candidate in our nation's history has demonstrated such a strong commitment to women or such a clear record on behalf of women's health and rights." As President, Hillary will continue to stand up for Planned Parenthood and a woman's right to make her own reproductive health choices. She will also make contraception more affordable and available to women and will prevent insurance companies from discriminating against covering women because of their reproductive health needs.
Hillary also supports the LGBT community and has outlined a plan that would ensure LGBT rights and protections are extended across society. In July 2015, she announced her support for the Equality Act of 2015, which expands the 1964 Civil Rights Act to include comprehensive protection for LGBT individuals in the areas of credit, education, employment, housing, federal financial assistance, jury service and public accommodations. Many consider the Equality Act the next big fight for LGBT rights, and Hillary is prepared to take this fight on and win so that all Americans can live their lives free from discrimination. Her position is radically different than the stance of the Republicans who want to roll back the great progress our country has made on this front.
In addition to addressing the issues Millennials face today, Hillary will also look forward, to the issues Millennials will confront tomorrow. One of those issues is the caregiving crisis, which Millennials will begin to face in coming years, as their parents grow older. Hillary has proposed providing a tax credit of up to $6,000 per family to help offset the costs of caring for elderly relatives. And over the next 10 years, Hillary will invest $100 million in new initiatives to help address the soaring costs of caregiving and help alleviate the financial pressure that many Millennials will face.
This campaign has critical importance for the direction of our country, and the election of Hillary Clinton will ensure our country moves forward, and that no American is left behind. Hillary will fight for Millennials and the issues they care about, because she knows how important this generation is to America's future.
This blog is part of a series based on the book, 52 Reasons To Vote For Hillary. In an effort to provide the facts about Hillary Clinton, her record, and her plans for America, the authors of the book have decided to publish one reason through Election Day. To find out more about the book, visit the website or buy your copy here.
Calling all HuffPost superfans!
Sign up for membership to become a founding member and help shape HuffPost's next chapter