 Whether you're PRObama, NObama, or still undecided, 52 Reasons to Vote for Obama gives you all the information you need to share with friends, debate with relatives and decide for yourself as we head toward one of the most important elections of our lifetime. I'll post a new reason in random order every Monday through Friday from now 'til the election.
When President Obama took office, the economy was losing more than 700,000 jobs a month. President Obama acted quickly to pass the American Recovery and Reinvestment Act, which cut taxes for small businesses and 95 percent of working families. The law also included emergency funding to support about 300,000 educator jobs, more than 4,600 law enforcement positions and investments in the clean energy sector that supported 224,500 jobs through 2010.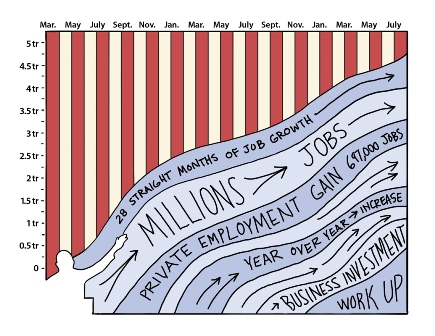 Since the end of 2009, business investment has grown at a rate of 18 percent, and exports have increased 32 percent, for a total of $2 trillion. The American manufacturing industry has added more than 500,000 jobs in the past thirty months -- the strongest growth for any thirty-month period since 1995. So far this year alone, the manufacturing sector has added more than 154,000 new jobs. In 2011, for the second straight year, the number of manufacturing jobs in the United States increased, after declining every year since 1998.
"Outsourcer in Chief" Mitt Romney claims that his business experience will help him keep jobs on American soil, but his business practices have done just the opposite. In June 2012, the Washington Post reported, "During the nearly 15 years that Romney was actively involved in running Bain, a private equity firm that he founded, it owned companies that were pioneers in the practice of shipping work from the United States to overseas call centers and factories making computer components, according to filings with the Securities and Exchange Commission."
President Obama wants to encourage "insourcing" by getting rid of tax deductions for shipping jobs overseas and offering new incentives for returning work to the United States. Big-name companies like General Electric, Ford, Caterpillar and Intel already are looking to create more jobs at home rather than outsource them overseas. The administration is also pushing for a $2-billion-per-year tax credit to encourage manufacturers to invest in struggling communities:
I don't want America to be a nation that's primarily known for financial speculation and racking up debt buying stuff from other nations. I want us to be known for making and selling products all over the world stamped with three proud words "Made in America." And we can make that happen.
In the face of the deepest economic crisis since the Great Depression, Obama has created 4.6 million private sector jobs during the last thirty months, including more than 800,000 in the first four months of 2012, the greatest first-quarter gain since 2006. At the same time, the public sector has cut 607,000 jobs since Obama took office, a 2.7 percent decline.
In contrast, George W. Bush had the worst track record for job creation since the government began keeping records in 1939, with 4.4 million jobs lost during his last year in office alone. But he did manage to put another 1,742,000 people on the government payroll!
Under Obama, 4.6 million new private sector jobs in thirty months versus 4.4 million jobs lost under Bush in just one year... you do the math!
I encourage you to join in the conversation and share your thoughts on Reason #3 or your own reasons by visiting 52 Reasons to Vote for Obama on Facebook... I'd love to hear from you!
To purchase a copy of 52 Reasons to Vote for Obama, visit Amazon.
Calling all HuffPost superfans!
Sign up for membership to become a founding member and help shape HuffPost's next chapter