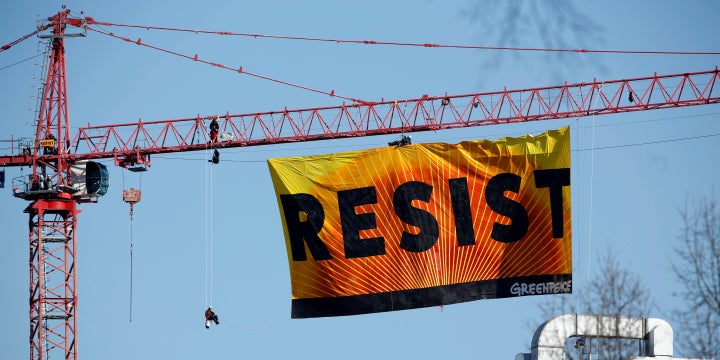 The presidential election result gutted me. I fell into a real depression and I'm still there. When I am overwhelmed, I often dig myself out of it with "to-do" lists — laying out everything I need to do to make my way through the fog. So I decided to create a to-do list to help me fight my feelings of helplessness, to make myself accountable, and to take on some of the burden of caring for our communities while they are so at risk as this new president comes into office.
I came up with one to do for every week of the first year of this unthinkable presidential term. Some tasks take minutes, some will take a lot more work than I personally can fit into a week, some I've already started, some are ongoing. Friends have inspired some of these tasks (and I've tried to give credit where I remember the source). And task number 52 is to come up with part two — as in, the next 52 things to do over the 52 weeks of year two. Surely we'll need some new tasks based on unexpected challenges that creep up this year. In the meantime, suggestions are so welcome — whether for the next list are as a refinement of this one. Please!
"It is okay to use social media to try to make the world better. Start by letting folks know you're making a commitment..."
I've added some explanations and resources to help motivate you and make the tasks easier in case you want to join me in checking off all or just a subset of these boxes as a way of staying sane. But here are my first #52Things.
Things to do right away:
1. Stay mad. The fact that this type of person is going to become president is just not okay. Give yourself permission to remain entirely not okay with it.
2. Register to vote. If you're already registered, great. But uncheck this box immediately if you move, even just down the block, until you've registered again at your new address.
3. Subscribe to worthy sources of news. The good stuff is rarely free. And if it's free, it likely survives on voluntary donations, meaning it's still not free. You don't need perfect. You do need good. Here are some ideas from my current subscription list: The Washington Post (who got their credentials pulled by Trump's campaign last summer for covering him accurately), The Atlantic (who publishes beautiful pieces like this), Think Progress (who logged all 663 Trump campaign promises to track what happens next). Subscribe to as much as you can afford. You are investing in a fact-based reality that desperately needs investment right now.
4. Learn who all your elected officials are. Most people don't know who represents them. But those elected officials are both the pipeline for the future and the potential defensive line for the present. And the lower down the totem pole, the easier it is for you to get to know them. Here are some sites that will help you figure this out: U.S. Senate (sort by state), U.S. House of Representatives, U.S. Congress combined (enter your address), state legislators (but check to make sure your state's data is current — or start at your state board of election's website like this one for Illinois).
5. Find your people. It might be a secret Facebook group. It might be a local community group. Find a group of people who share your frustration, don't mind your venting, and will lift you up when you need it. Invaluable. (My people know who they are and how much I love them!)
6. Unfollow/do not follow Donald Trump on Twitter. Don't retweet him. Don't respond to him. Yes, you can and should pay attention. But don't feed the trolls or his ego with quantifiable attention. He craves it. But he so doesn't deserve it.
Your big project thing:
7. Pick one or two issues to which you will pay close attention so that you can be a real resource to others. My first issue, as everyone who knows me knows, is women's equality. But I'm going to add another. I know we all are short on time for small tasks, let alone new projects. So take a step back and ask yourself, who is forced to carry the burden of caring for my community if I do not? If the answer is someone less privileged than you (and I bet it is), then step up. You will be glad you did.
8. Identify the best organizations and advocates for this issue. Here are some starting points for issues that may be your issue. But these issues and organizations are just starting points — especially because I'm not an expert in most of these issues. From here, you need to read, read, read. Find the voices who speak to you from within the movement and follow where they lead you to other organizations and advocates, both locally and nationally.
a. Women's rights: Planned Parenthood, Feminist Majority, Center for Reproductive Rights, NARAL, Personal PAC, NOW, If/When/How, Emily's List, National Women's Law Center, National Latina Institute for Reproductive Health, Guttmacher Institute
b. Civil rights: Southern Poverty Law Center, NAACP Legal Defense Fund, Black Lives Matter
c. LGBT rights: The Trevor Project, GLAAD, Lambda Legal
d. Economic justice: National Employment Law Project, Political Economy Research Institute, Southern Poverty Law Center
e. Environment: NRDC, Sierra Club, Environmental Defense, Earthjustice, The Center for Biological Diversity
f. Gun violence prevention: The Brady Campaign, Moms Demand Action
g. Healthcare access: Planned Parenthood, Essential Access Health
h. Civil liberties and free speech: ACLU, Brennan Center for Justice, Council on American-Islamic Relations, Reporters Committee for Freedom of the Press
i. International human rights: Oxfam, Amnesty International, Human Rights Watch
j. Immigrant rights: National Immigration Law Center, Border Angels, National Immigration Forum, Young Center for Immigrant Children's Rights
k. (Oh, there are so many other great causes and organizations out there, not to mention individual advocates not tied to a single organization. Please don't think I think otherwise.)
9. Figure out how to hear from these organizations and advocates so you can learn how this issue is being addressed or attacked at the national level. This is why #8 is so important — you need to have the right sources of information before you decide who to regularly pay attention to. Usually there's an email list you can sign up for as an easy starting point.You can also follow organizations and individuals on Twitter and Facebook. And just those steps alone will keep you informed if you commit to actually reading what they put out there.
10. Learn how this issue is being addressed or attacked in your state. Ditto to #9, but make sure you're informed about state and local level issues and developments too. That may be where the most important fights and likely victories happen in the next four years if we make them.
11. Regularly share information with others about your cause and how to get involved. It is okay to use social media to try to make the world better. Start by letting folks know you're making a commitment to invest your time and energy into a particular cause for the next two or four years. Then if something urgent is happening, deliver facts. If action is needed, deliver the information for people to get involved or be heard. As particular folks in your orbit show interest, help them up their involvement by signing up for mailing lists or joining you in your volunteering. If you bring just one friend on board, you'll have doubled your impact.
12. Pledge an amount of time or money or both you will give to this cause over the next four years and then do it. Write it down. Make actual appointments. Put it in your calendar. Set reminders. Ask a friend to check in on your commitment. Whatever you need to do to make sure this becomes an ongoing habit. For example, my pledge to myself is to volunteer at least 50 hours this year and to double the amount of money I donated last year. Now all of you reading this can hold me accountable.
13. Memorize 5 myth-busting facts that will help you respond to the most common arguments against your cause. Correcting false information is mission critical these days. Lots of people won't listen, but some people will. And pulling just a few more folks into the fold on progressive issues can make a world of difference. So create a cheat sheet for yourself, memorize the facts and keep the actual sources for your facts at your disposal.
Things that take less than five minutes:
14. Find out all the contact info for your U.S. Senators and Representative, including their local offices. Phone numbers, emails, addresses, staff names. Sign up for a mailing list if they have one (sometimes just the campaign website does).
15. Email your U.S. Senators and Representative and ask when and where they are holding their next town hall. If they don't answer, cut and paste and send the same email every week until they do. Town halls are the best place to speak directly yet publicly to your representative. Once there's a date, put it on your calendar and treat it like an urgent doctor's appointment.
16. Find out how your U.S. Senators and Representative feel about the issues most important to you. Most will have issue positions on their websites. If your top issues are not listed, send an email through the website and ask. You should at least get a form letter back with a better sense of the position. And if they refuse to be clear, that's an answer in itself.
17. Find out all the contact info for your state senator and representative (and/or other local representatives like your alderman if you're in Chicago) including their local offices. Phone numbers, emails, addresses, staff names. Sign up for a mailing list if they have one. (I love the email newsletter from my local alderman, Ameya Pawar, and I'm more informed about local politics and policies than I've ever been because of it.)
18. Find out how your state senator and representative (and/or other local representatives) feel about the issues most important to you. Not all of them have websites. But they may be a lot more reachable by phone so you can just call and ask!
19. Thank your friends for talking about politics. When a not-usually-political friend speaks up about an issue important to them, thank them for being willing to speak up. Hopefully it will encourage them to speak up again, and we need more thoughtful people joining the conversation.
20. Put a sign in your front yard or front window, or put a bumper sticker on your car. This is in our front yard now.
Things that are ongoing:
21. Sign up for the mailing list of an organization that works for the rights of a community other than your own…. This is different than picking a cause that will become your project. This is making sure we all become more aware of our own privileges so we can think more critically about politics. The media has and will talk plenty about white working class voters. And sadly they are quite at risk from the new administration that they helped install. But there are also a lot of other communities who are more at risk under the new administration and who get even less attention. So let's pay attention. Pick one and learn. If it helps spur your thought process, I just this week signed up for the following Chicago-area organizations' email lists: Chicago Urban League, Latino Policy Center, and CAIR Chicago.
22. … And then read their emails. Really read them. Especially read the individual stories they share. Embrace someone else's perspective, especially if they are more at risk right now than you are. And show up to an event when you can.
24. Read a book or at least a good article on the rise of fascism or authoritarianism, so you can recognize the signs. I'm on the hunt for good ones. And I'll share as I find them. But I'm starting with this article, which is depressing because it's from almost a year ago.
25. Keep a list of things lost, taken away, or destroyed under the new presidency. It will help you not normalize the changes, not get used to them. And it will help you when others try to downplay the significance of whatever is happening in the moment.
26. Speak positively about politicians you like. Not all politicians are evil or corrupt. Many are great, hard-working, devoted, and kind public servants. If you have a good experience with or impression of a politician, share it, especially if the politician is being demonized unfairly. Help re-normalize the truth that government can and should be a force for good in our lives. (This one was inspired by the lovely words an old friend shared about how much he appreciated Obama.)
Just a couple things to do every week (yep — every week, but it's not that much to do!):
27. Commit a random act of kindness. This is fundamental food for your soul and also helps chip at the way at the idea that we all are or should be out for ourselves, in politics and in life. (Thanks to my twin for this idea.)
28. Read about national politics from the sources you've found you can trust. You need to know when major policies are about to change so you can make use of that contact information you collected to CALL, EMAIL, or GO TO YOUR ELECTED OFFICIAL'S OFFICES. We just have to do this.
Things that introverts won't mind as much:
29. Brush up on your civics — the basics. We don't know if people are getting things wrong if we don't have the basics down. Here some baby steps to make sure you know: What are the three branches of government? How many members of House are there? How many can vote (some can't)? How often are they elected? How many Senators are there? How often are they elected? When are your state's Senators elected? How many Supreme Court justices are there and who are they? What big cases are pending at the Supreme Court and what is their potential impact?
30. Brush up your civics — more advanced. Here are three things I want to be sure I know every detail about, but there are lots of other things to learn: How does the electoral college work (how are electoral college votes allocated, how many does a candidate need to win, what happens if a candidate doesn't get enough, and what will it take to get rid of this system for good). How does a filibuster work in the Senate (there have been changes the past few years and more may be coming). How can the public comment on proposed regulations (maybe this will be a new vehicle for citizens to make better use of).
Things that extroverts won't mind as much:
31. Go to your Senator's or Representative's congressperson's next town hall and stand up to ask a pre-planned question the second you are able to do so. Get there early. Sit near the microphones or the place where you have to line up. Have a short, pointed question ready and rehearsed. Ask it.
32. Visit your state capital when the legislature is in session and visit one of your representatives. Your state senators and representatives serve far fewer constituents than U.S. Senators and Representatives. Find out what they are working on from them directly or their staff and the best way to follow up about your concerns.
33. Knock on doors for a candidate or a cause. There aren't as many elections in 2017, but there may be efforts to collect signatures for folks planning to run in the future and there are definitely organizations trying to raise awareness about local issues.
34. Make one hour of phone calls for a candidate or cause. Same as above. Organizations are always making phone calls. Offer up your time.
35. Train to be a Planned Parenthood escort and then volunteer at least once. I did this in the past but have not done it in a long while. It's time to go back. Women exercising their right to control their own bodies and the medical professionals who risk their lives to help those women deserve our support. And the insults you will endure will motivate you like nothing else.
Things that are hard but necessary:
36. Resolve to — and practice — speaking up to bigotry in everyday conversation. No more letting things go. And especially if you have privilege, you have to use it. Even if someone is "joking." Practice saying, "That's not okay." "That's offensive." "Please don't say things like that around me." Find your phrase. Practice it so you have it at the ready. And USE IT EVERY TIME IT NEEDS USING. You're not being mean or rude by speaking up, you're being kind to the person or people you're speaking up for.
37. Talk to your friends about politics regularly. It doesn't have to dominate every conversation or be in any way contentious, but don't hide your opinions. They're good opinions. And speaking up will bring politics back into the regular, civil part of our lives, rather than letting it lurk in a dark corner where frankly it can turn a little rotten.
38. Share your personal stories about how proposed policies affect your life and your loved ones. It really, really helps.
39. Find one person in one (even-somewhat) swing state who you know and who didn't vote for Hillary and ask that person if they're willing to tell you why they made their choice, and then listen if they do. Maybe you'll be enraged. Maybe you'll get some insight into how to bring people into the fold better next time. Maybe you'll realize that progress is not going to come through changing certain minds so we need a different path. Or maybe someone will appreciate being heard and be more willing to hear others in the future. Who knows. But it can't hurt.
Things to do to get ready for 2018:
40. Figure out what fake (or at least not totally accurate) news you believed and why you got fooled. One easy place to start is to think about all the criticism of Hillary Clinton. No one's above criticism, but a lot of the criticism about Hillary was exaggerated. Was there a particular thing you didn't like? Now is a good time to make sure you had your facts right — and if you didn't, figure out why you believed something that wasn't quite true. But it doesn't just have to be Hillary. Have you ever shared a news story with someone else only to learn later it wasn't quite accurate? How come? You wanted it to be true? You didn't check the source? You bought into a stereotype? What makes us react before reflecting?
41. Figure out your bottom line when it comes to politicians you can support. Is there an issue that is a dealbreaker? Are there other areas where you're willing to compromise? Does it depend on the leanings of the politician's state or district? Decide on your lines so it's easier to decide which races to play a part in when the time comes.
42. Pick at least one state where a Republican is the incumbent and one state where the Democrat is the incumbent that you will get a little more involved in. If your home state is on the map, you should almost definitely start there because you can vote and reach the most voters. If a neighboring state or a state you used to live in is on the map, those might be the best picks because you can visit in person down the road. If you know lots of people in lots of places, consider picking the swing-iest of those states. If an incumbent or challenger in a particular state is a strong advocate on your top issues, then jump on board with them. But most of us can't make a difference everywhere, so we should be targeted and pick the ones where we can both make the most difference and stay motivated to make that difference.
a. Republican incumbent states: Arizona, Mississippi, Nebraska, Nevada, Tennessee, Texas, Utah, Wyoming. Those are the states where a Republican is up for re-election to the U.S. Senate in 2018.
b. Democrat incumbent states: California, Connecticut, Delaware, Florida, Indiana, Maine, Maryland, Massachusetts, Michigan, Minnesota, Missouri, Montana, New Hampshire, New Jersey, New Mexico, New York, North Dakota, Ohio, Pennsylvania, Rhode Island, Washington, West Virginia, Wisconsin, Vermont, Virginia. Those are the states where a Democrat is up for re-election to the U.S. Senate in 2018.
43. Email, text, or call five people (or more) who you know and who are sane in (the Republican incumbent state you picked) and ask if they are registered to vote. This is a few tasks rolled into one. You'll need to make a list of who you know there. Then find out the deadlines and technicalities for registering to vote in that state (what identification do they need, where can they register, etc.). Spoon feed the information to them. Ask if you can follow up with them. Half of America is not voting these days. Surely you know some of them. It's amazing how quickly we all can run up on the deadline to register — and their registration might be useful in helping a challenger get on the ballot if they need signatures.
44. Email, text, or call five people (or more) who you know and who are sane in (the Democrat incumbent state you picked) and ask if they are registered to vote. Repeat the same steps from #43.
45. Help five people in your home state register to vote. Make it another five if one of the above states is your home state. But even if there's no Senate race, everyone's U.S. Representative is up for re-election and more of us need to vote. Couple different ways to do get folks registered:
a. Ask friends if they are registered to vote at their current address. Keep asking until you have found five people who are not — they definitely exist. Then bring or send them a voter registration form (plus a stamp and envelope if needed) and sit there or pester them until they fill it out and send it in. And repeat. OR
b. Volunteer with a local organization doing a voter registration drive.
Things that will at least make you feel better even if not directly solving the problem:
46. Boycott bad media for the rest of 2017. One example for me: no more Today Show. It used to be my fluffy default in the morning and I still love Savannah. But it's not okay. Because of the way they, especially Matt Lauer, normalized Trump. Another example: every second of pundits dissecting a political event that just happened. This normalized bald-faced lies as much as anything this past year. Nearly every network had folks from "both sides" and all of the sudden truth no longer existed. Time is limited. Spend a little more of it on good media, good information, and good people.
47. Reduce your carbon footprint. The environment is going to get worse faster these next four years. It sucks, but it's coming. Here is one cheat sheet for taking a little bit more control of your own contribution. A couple highlights: keep your car tires inflated, eat more of the food you buy, and consume less meat. A quick google search will get you even more tips.
48. Buy something made or sold by unionized workers. Unions are under attack and are a necessary counterbalance in politics right now. Buy union-made goods. Buy from union-friendly companies. Just a little bit more than you used to.
49. Volunteer with or for at-risk kids. They may really need to know they are not being cast aside. A couple organizations I love in Chicago: Step Up and Off the Street Club.
50. Read a novel. Escape into something other than social media or television.
51. Suggest a deserving woman for a promotion or promote a deserving woman yourself. Help break the cycle of dislike for talented women who happen to also be ambitious. We wouldn't be in this mess if not for that societal fault.
And last but not least:
52. Make a to-do list of the next 52 things. Because this is not normal or even remotely okay, but we can survive it if enough of us work hard enough for one another.
Popular in the Community