With just one day remaining in the 2016 U.S. election cycle, it's now possible to tally up a near-final total of the last two years of campaign reporting numbers and see how spending by this year's general election candidates compares to those from past presidential elections.
In early 2015, this election had all the makings of a record shattering spending race. The field included Jeb Bush, Chris Christie, Hillary Clinton and a host of other candidates with a proven fundraising track record. Fresh off the 2012 Citizens United decision, the prospect of unlimited spending by super PACs loomed large (the Koch brothers alone intended to spend nearly $900 million in the 2016 campaign). And the historical trend was pointing in the right direction. In each of the last four presidential elections, the general election candidates had spent significantly more than those from the election before.
Surprisingly (or maybe not surprising at all in hindsight, considering both candidates' record-low approval ratings), Donald Trump and Hillary Clinton have spent substantially less money in this election than Obama and Romney did in 2012.
The chart below shows the total amount spent by both parties' general election candidates, 1960 to 2016.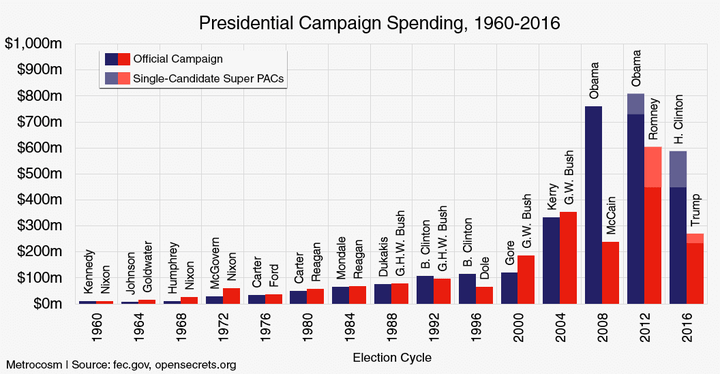 Historical spending, normalized to 2016
To make the comparison to prior years apples-to-apples, it's not enough to account for inflation only. Not only has the value of a dollar changed over time, but the population has grown (more potential donors) and so has the average household income (more money to donate).
When you adjust for all three factors — inflation, population growth and income growth — here is how the numbers shake out (exact calculation described further down).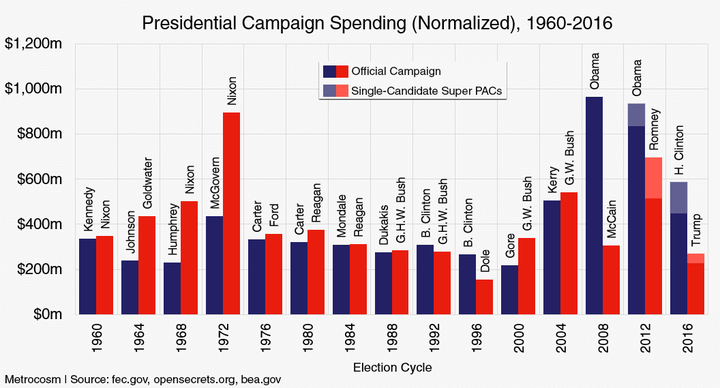 By this measure, spending in this election was big drop-off from the recent upward trend, but pretty average in historical terms.
It will be interesting to look back a few elections from now and see how 2016 looks in hindsight. Will 2016 turn out to be a blip in an otherwise ever-increasing run of presidential campaign spending? Or were 2008 and 2012 the aberration, and 2016 was just a return to an otherwise-stable long-term trend?
Historical campaign spending data is from the Federal Election Committee, New York Magazine and OpenSecrets.org. For 2016 figures, official campaign spending is as of 19-Oct-2016 and super PAC spending is as of 4-Nov-2016. Download the data used for this post.
To normalize the spending numbers to 2016, I adjusted for inflation (GDP deflator), population growth, and income growth (real GDP per capita). When you multiply them together, the result is just nominal GDP. So formula I used is:
2016 normalized spend = (year X nominal spend) • (2016 nominal GDP) / (year X nominal GDP)
Calling all HuffPost superfans!
Sign up for membership to become a founding member and help shape HuffPost's next chapter
BEFORE YOU GO