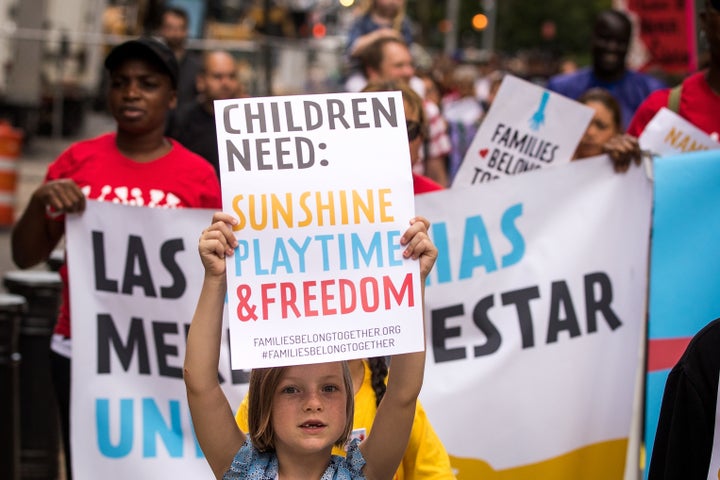 In the court filings, lawyers for the U.S. Justice Department reported that a total of 565 children, including 24 who are younger than 5, remain in government-contracted shelters, separated from their parents.
More than two weeks earlier, the government had reported that there were 572 migrant children still in custody. That's only seven more children than reported on Thursday, though lawyers noted that the total numbers on the reports are approximate as data continue to be updated.
In June, U.S. District Judge Dana Sabraw ordered the Trump administration to reunite the more than 2,500 children who were split up from their families as part of Attorney General Jeff Sessions' zero tolerance crackdown on illegal immigration.
But when the July 26 deadline approached three weeks ago, there were still more than 700 children who remained in Immigration and Customs Enforcement (ICE) custody.
The government said the children who remained in custody were not reunified with family because their parents had been deported, had failed a background check or had yet to be located. According to Thursday's court filings, the parents of 366 detained migrant children were outside the U.S. and have not had the chance to be reunited.
In the report filed in early August, the Trump administration's lawyers argued that it was on the ACLU and its "considerable resources" and network, to locate the parents of the detained children, but Sabraw disagreed.
"All of this is the result of the government's separation and then inability and failure to track and reunite," the judge said in a conference call a day after the previous report was filed.
"And for every parent who is not located there will be a permanently orphaned child, and that is 100 percent the responsibility of the administration."
As of Thursday, 2,089 migrant children of the total 2,654 who were taken from their families had been reunited.
Popular in the Community