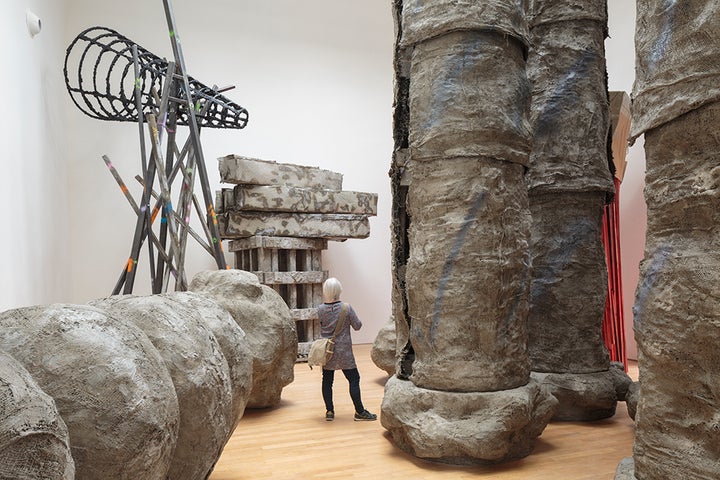 The most important global art event of the year is upon us, as thousands descend upon the slowly submerging islands in the Venetian Lagoon to view the microcosm of the art world that is the 57th Venice Biennale. In keeping with the theme of the exhibition by this year's curator, Christine Macel, Viva Arte Viva, in which she "orientate[s] the Biennale toward the art and the artists," we are looking at the most sensational National Pavilions through the artists whose art will activate them.
United States: Mark Bradford: Tomorrow is Another Day; Commissioners: Christopher Bedford; Curators: Christopher Bedford, Katy Siegel; Venue: Giardini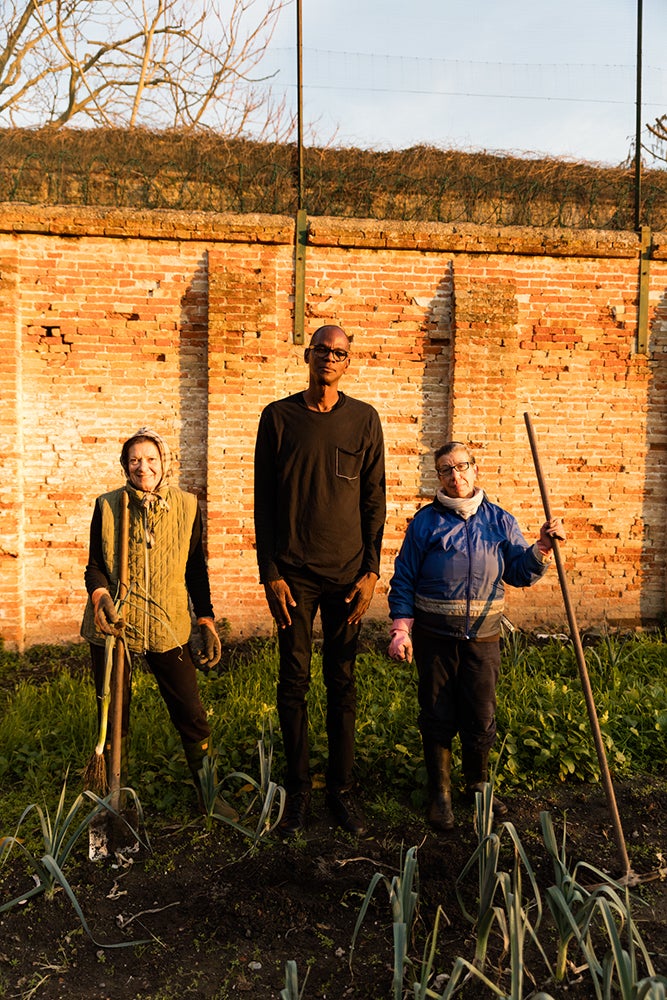 Mark Bradford's large-scale paintings made of layers of paper flyers, ads, and posters find their origins in his hometown of South Central Los Angeles. In Venice, Bradford has expanded into sculpture, with a massive red and black form hanging from the ceiling like a collapsing tapestry that dominates the entrance to the pavilion. Bradford's contribution to the Biennale doesn't end at the aesthetic victories presented in the pavilion, however, just as it doesn't end with art making back home. Echoing his commitment to social activism and community improvement in Los Angeles, an important component of Bradford's project in Venice involves a collaboration with a non-profit that aids in the reintegration of prisoners into society through the production and sale of artisanal goods.
Iceland: Egill Sæbjörnsson: Out of Controll in Venice; Commissioner: Eiríkur Thorláksson; Curator: Stefanie Böttcher; Venue: Spazio Punch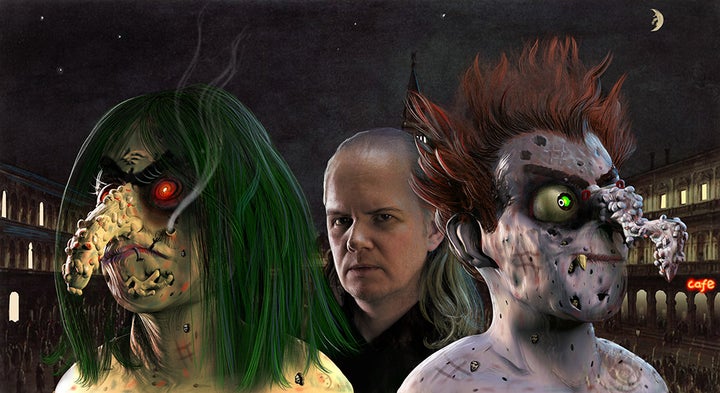 Icelandic multi-media artist Egill Sæbjörnsson caused a stir when he announced that two 36-meter tall, shape shifting, tourist-eating fictional Icelandic trolls, Ūgh and Bõögâr, would be taking over the exhibition at the Icelandic Pavilion. The trolls have been reportedly "wreaking havoc" in Venice since Easter Sunday. Since they have learned all about art from Sæbjörnsson, the trolls have taken over the pavilion with installation, sculpture, and music, with troll-like themes.
Mexico: Carlos Amorales: Life in the Folds; Commissioner: Gabriela Gil Verenzuela; Curator: Pablo León de la Barra; Venue: Arsenale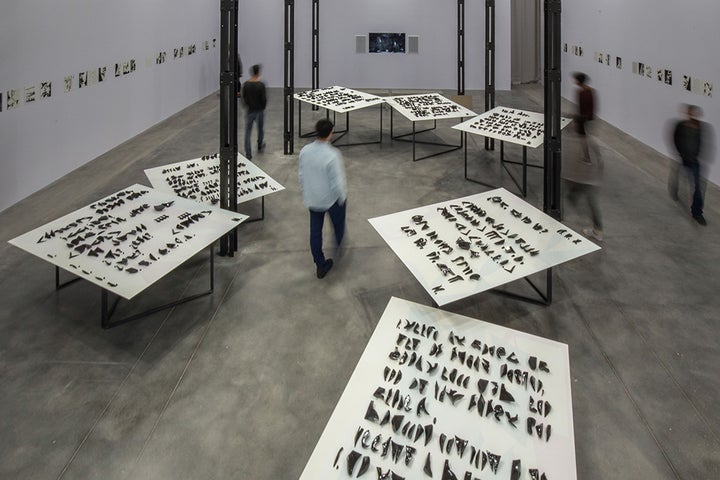 In the Mexican Pavilion, language, encryption, abstract forms, and music come together in this intellectually complex and sonorous installation by Mexico City-based artist Carlos Amorales. The conceit of the exhibition begins with the story of an immigrant family lynched by the village where they seek refuge, translated into an abstract alphabet, which are then formed into musical instruments—a tragic story played as a haunting tune.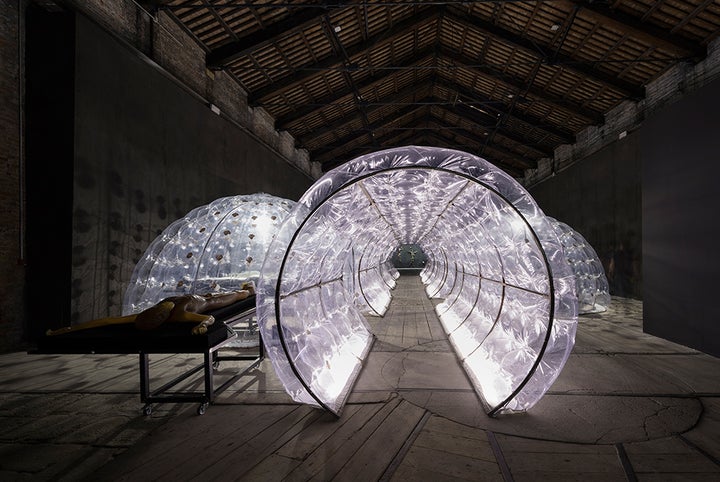 Magic, ritual, and fantasy are the unifying themes to the Italian Pavilion, featuring work by three Italian artists who use "magic…not [as] an escape into the depths of irrationality so much as a new way of experiencing the world," as curator Cecilia Alemani puts it. The watery, mystical landscape of Andreotta Calò's hometown of Venice provides inspiration for his work: a vast installation that splits the cavernous space in two, opposing reflections. The video work of Milanese artist Adelita Husni-Bey involves tarot readings and critical reflection. And the spectacular installation by Milan-based artist Roberto Cuoghi, who is in the Venice Biennale for the third time, has transformed the Arsenale into a futuristic factory of Christ figures, which will continue to evolve throughout the exhibition.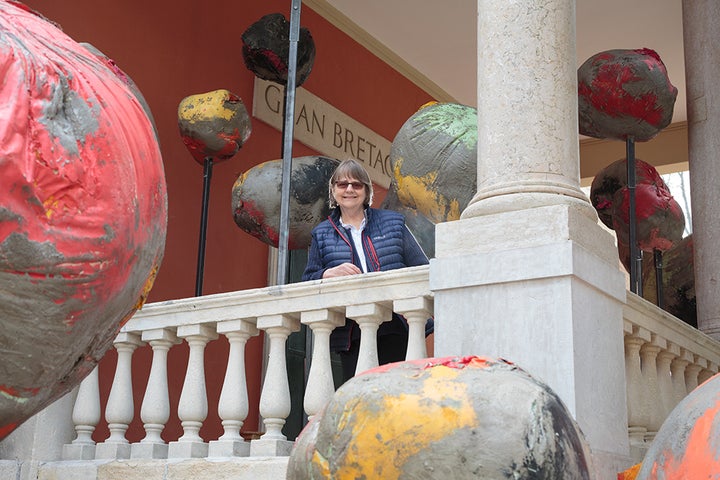 British sculptor Phyllida Barlow has had an astonishingly successful career in the last ten years, after toiling in virtual obscurity for the previous 40. Now, at 73, she has the distinguished honor of representing Great Britain at the Biennale, and she has done so with bombastic aplomb. Her towering, protruding, bulbous structures, overtaking the pavilion and threatening collapse, may seem inspired from her childhood in the destruction of post-war London or "a vision of the wreck of modern Britain," as The Guardian recently put it.
Japan: Takahiro Iwasaki: Turned Upside Down, It's a Forest; Commissioner: The Japan Foundation; Curator: Meruro Washida; Venue: Giardini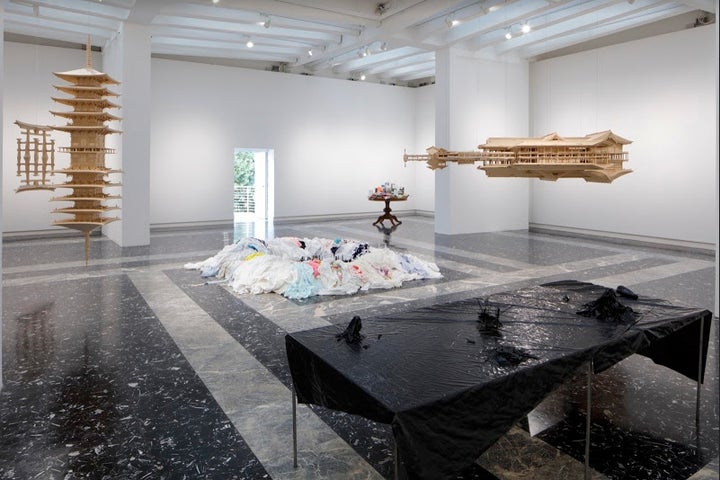 The history of Takahiro Iwasaki's hometown of Hiroshima—as a military stronghold turned symbol of peace through a single moment of utter destruction—has engendered in his work a particular multifaceted perspective. He uses the Japanese technique of "figurative representation" to draw attention to small details that change our perspective of ordinary objects and landscapes. On view in the Japanese Pavilion, Iwasaki presents a series of Japanese buildings, chemical plants, and other structures as though mirrored in water, perhaps inspired by the surrounding canals of Venice.
Taiwan: Tehching Hsieh: Doing Time; Commissioner: Ping Lin; Curator: Adrian Heathfield; Venue: Palazzo delle Prigioni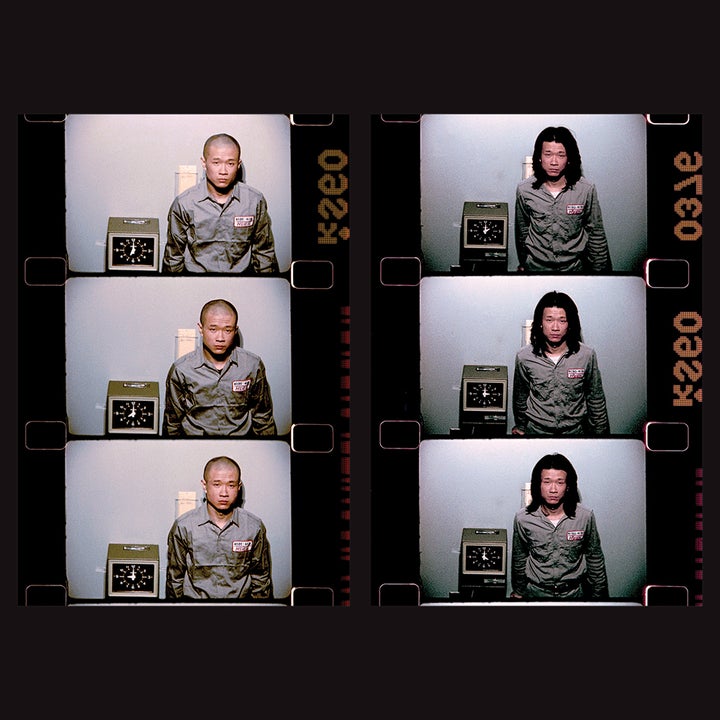 Tehching Hsieh's singularity of vision makes him one of the most significant performance artists of the 20th century. Born in Taiwan, Hsieh immigrated to the United States in 1974, at the age of 23, and lived in New York as an illegal immigrant (until granted amnesty in 1988). His One Year Performances, carried out in the 1970s and 80s, tested the limits of human stamina and addressed issues of invisibility, refusal, time, and struggle. Documentation of two of these performances—One Year Performance 1980–1981, in which he punched a time clock every hour on the hour for an entire year, and One Year Performance 1981–1982, in which he refused to enter any building or shelter for one year—is on view along with previously unseen works made in Taipei before his emigration, and a documentary on his life and work.
Estonia: Katja Novitskova: If Only You Could See What I've Seen with Your Eyes; Commissioner: Maria Arusoo; Curator: Kati Ilves; Venue: Palazzo Malipiero (2nd floor)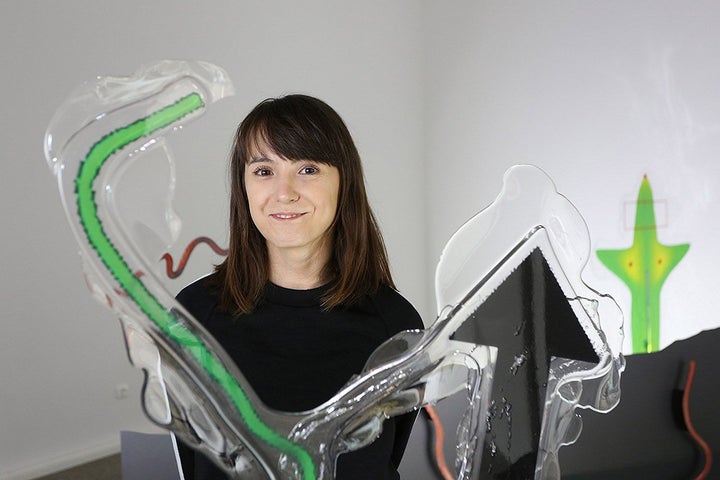 Up-and-coming, Amsterdam- and Berlin-based Estonian post-internet artist Katja Novitskova, whose image-sculptures will take over Manhattan as part of a Public Art Fund commission in June, represents Estonia with a program addressing issues of big data and "biotic crisis." In Novitskova's installations, images inhabit the gallery as though cut and paste from a computer screen, a visual approximation of the divorcing of image and context that routinely occurs on the Internet.
Germany: Anne Imhof: Faust; Commissioner: ifa (Institut für Auslandsbeziehungen); Curator: Susanne Pfeffer; Venue: Giardini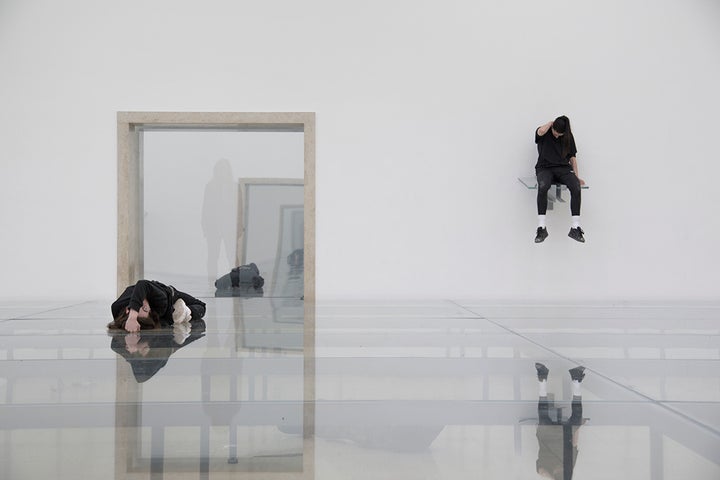 Black metal, barking dogs, a glass floor, and choreography via text message—the elements of the German artist and choreographer's pavilion are disorienting and magnetic. With exhibitions at MoMA and Hamburger Bahnhof under her belt, Frankfurt-based Anne Imhof is well described as a "rising star" in the art scene.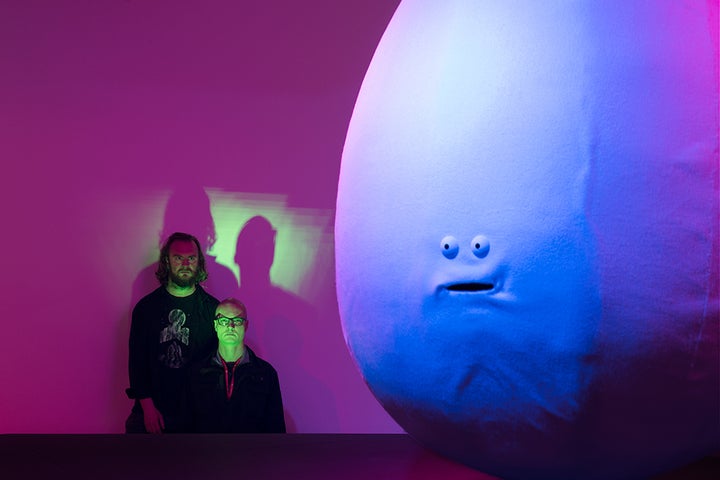 Finnish artist Erkka Nissinen and British artist Nathaniel Mellors present a collaborative exhibition exploring the tropes of "Finnishness," from health care to herring, as a satire told by an enormous talking egg and other characters. The artists met during a residency at the Rijksakademie in 2007, and found an affinity in their humorous and absurdist video works. This is their first collaboration. "We're interested in making room for some kind of cognitive dissonance, or ridiculousness, or being politically incorrect," says Mellors. "That's our shared sensibility."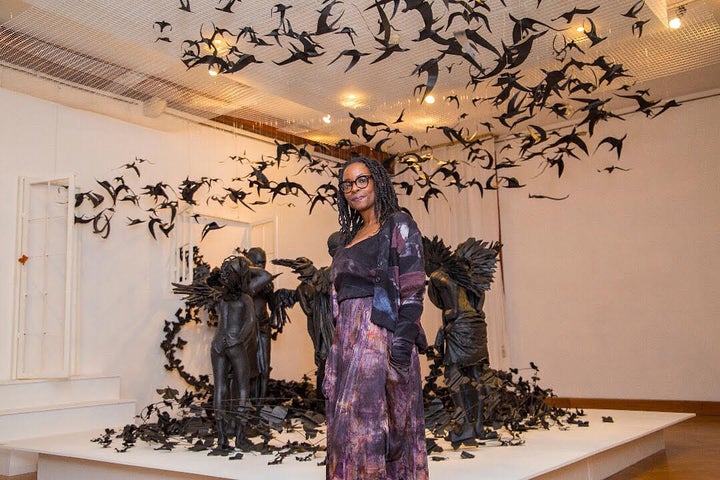 Despite the country's rich artistic contributions and its status as the largest economy in Africa, Nigeria is a newcomer to the Venice Biennale this year, presenting a pavilion for the first time. The three artists selected relate to the past, present, and future of Nigeria: the historian, the performer, and the storyteller. Victor Ehikhamenor, whose career is skyrocketing at the moment, presents A Biography of the Forgotten, an installation of painting, mirrors, and bronze heads, after the plundered Benin Bronzes, as an "homage to my forebears and their contributions to the art world, from the classicists to the modernists." Choreographer Qudus Onikeko, with Right Here, Right Now, shows a live performance as well as a trilogy of films infused with Yoruba spirituality. And Peju Alatise shows her sculpture Flying Girls, based on a story of a ten-year-old housemaid who dreams of flying away, projecting a hopeful future for Nigeria's women and girls.
Correction: This article has been updated to indicate that Katja Novitskova's Public Art Fund installation is not currently open, as previously stated, rather it will open in June.
Related
Popular in the Community