Cairo under the best of circumstances is frenetic, so 58 hours in the Egyptian capital proved an exhausting undertaking requiring a hardy stamina and lots of patience.
I'd hoped to spend longer visiting folks I hadn't seen in years but couldn't so I kept my stay to the initial schedule for a pre-planned business trip with three side gatherings in a limited geographic area.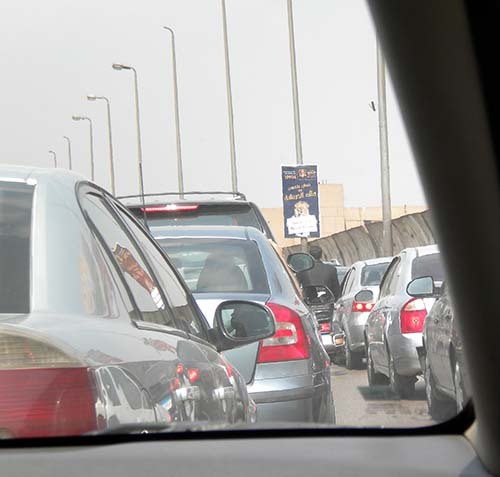 Bumper-to-bumper Cairo traffic (Abu-Fadil)
The trip from the airport to the hotel on the island of Zamalek was a drag.
Traffic was bumper-to-bumper on several main arteries at an hour when you'd think people would be at work and children at school.
No such luck since it was a weekday and countless motorists from the city's reported 20 million inhabitants were out congesting overloaded streets.
But it allowed me to see familiar locations and chat with the driver on the state of affairs.
A can't-miss landmark is the iconic Baron Empain palace named after a rich Belgian nobleman and designed by a French architect who tried to imitate Cambodia's Angkor Wat relics and Hindu temples, and completed in 1911.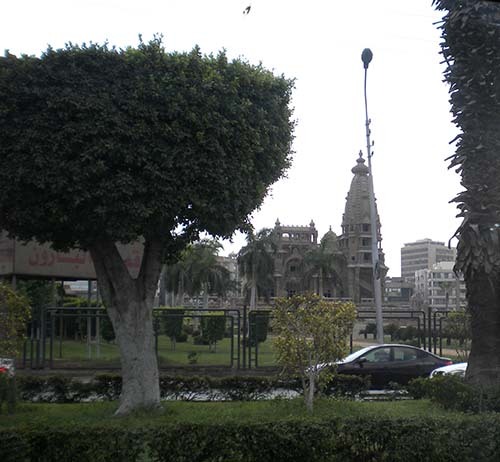 Iconic Baron Empain palace (Abu-Fadil)
The baron was noted for building Paris' metro (subway) and the suburb of Heliopolis, now an integral part of Cairo.
As far back as I can remember the palace has been undergoing renovation. It still is.
But my driver was quick to point out how devil worshippers had taken refuge in it years ago to perform bizarre, illegal and immoral rituals before the police cleaned up the place.
On the plus side, said driver made a point of telling me how things had improved in Egypt after Field Marshal Abdel Fattah El-Sisi (a rank bestowed on him just before he scored a predictable victory in presidential elections) took the helm of a ship almost run aground by the outlawed Muslim Brotherhood that controlled the country for a year.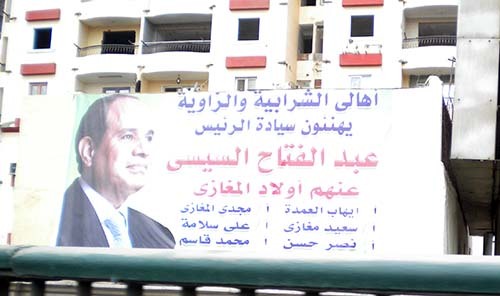 Billboard congratulating El-Sisi on his victory (Abu-Fadil)
Another historic spot is Cairo's main Ramses train station, also known as "Bab El Hadeed" (The Iron Gate).
King Ramses II's statue with fountain spewing Nile water onto a small pond adorned the street outside the station until preservationists decided the poor pharaoh was choking from modern-day pollutants that caked onto his increasingly delicate stone body and moved him to safer grounds outside Cairo.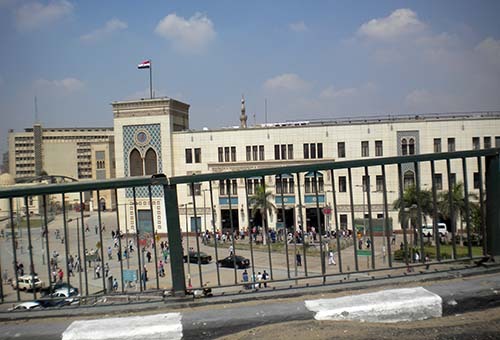 Historic Ramses train station (Abu-Fadil)
The other name is tied to a classic Egyptian movie starring then screen sexpot Hend Rostom, a Marilyn Monroe wannabe, recurring villain Fareed Shawki and directed by the legendary Youssef Chahine, at a time when Egypt was the Arab world's Hollywood.
Once in Zamalek, I was reminded of the distinctive "baladi" (local) bread delivered from bakeries by cyclists with piling loaves on wooden baskets precariously positioned on their heads to distribution spots in the city.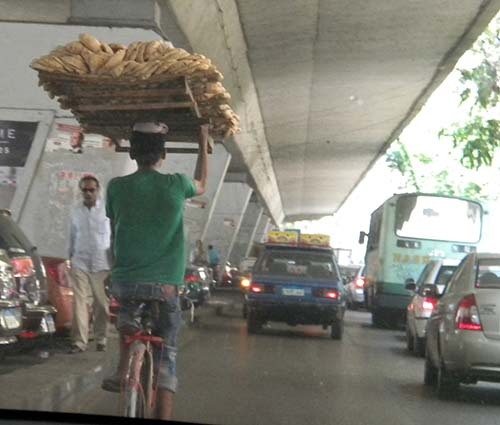 Baladi bread delivery (Abu-Fadil)
It's a challenging balancing act for the cyclists who must also cope with the city's infernally chaotic transportation system.
But bread, citizens' main staple, is competing with restaurants and fast food eateries of every stripe.
A permutation that sprouted since my last visit was a corner stand called Batates & Zalabya, a popular franchise meaning potatoes and a sweet concoction. The driver assured me it was just a catchy name and that there was no dessert mixed into the spuds, but the mere thought startled me.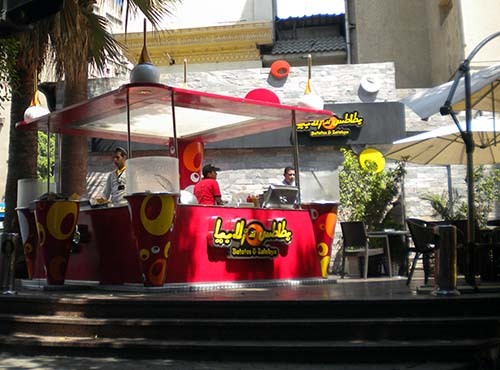 Batates & Zalabya stand (Abu-Fadil)
The hotel food was a predictable mélange of Egyptian and pseudo-foreign buffet fare but one evening hosted by the business meeting's organizers took us to a garden restaurant nearby.
We dined on ample local and (again) pseudo-foreign mézzés (hors d'oeuvres) that were a cut above the hotel's fare, including vegetable, meat and seafood dishes. The local Stella Beer is still good and the locally brewed Heineken draft quenches any thirst from the Cairo heat and dust.
A pleasant surprise at the packed Five Bells restaurant was a saxophonist serenading patrons with romantic golden oldies and cool jazz tunes.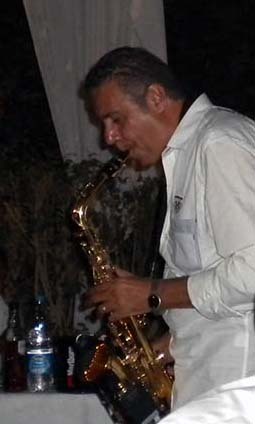 Five Bells saxophonist (Abu-Fadil)
One thing that doesn't change is the eternal Nile River.
This lifeline of Egypt provides water for a ballooning population, irrigates the country's main narrow stretch of fertile land, is used for transporting goods and people, and, enchants tourists on trips aboard floating hotels to the ancient cities of Luxor and Aswan, and towns in between.
It also serves as a housing venue for untold numbers of "dahabiyya" (houseboat) residents dotting the shoreline.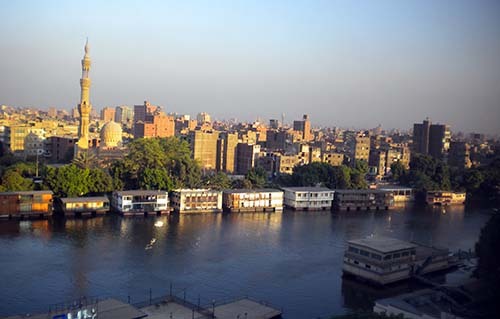 Slow going on the Nile with houseboats dotting the shoreline (Abu-Fadil)
Seeing them reminded me of another smash hit film classic "Tharthara Foq El Nil" (Chatter on the Nile) about the lives of a "dahabiyya's" frequenters who let go of inhibitions by partying, doing drugs, and venting off against a corrupt government.
Today disgruntled citizens, notably of the anti-El-Sisi variety, criticize the government's performance, regular-to-chronic power cuts, bad Internet service, choppy phone connections, dropping tourist revenues, still uncertain security situation, and skyrocketing prices, albeit in different forms.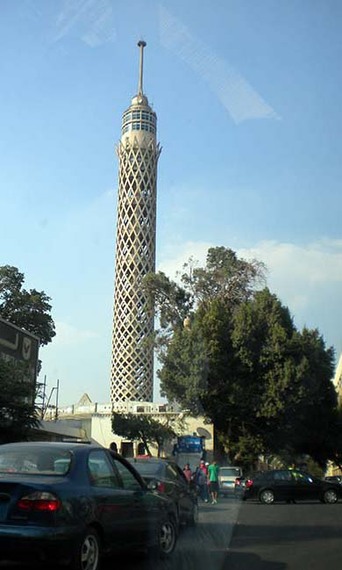 How many tourists visit Cairo Tower? (Abu-Fadil)
Ubiquitous technologies and social media denizens now fill the shoes of once powerful print and drama vehicles, but they, too, are subject to constraints. Complainants do so at their own peril. I would have liked to spend more time listening to Egyptians' take on things but will have to leave that to another, less hectic, visit.